Manchester beer lovers can soon be saying 'booked it, packed it… drank it'. 
Drinkers have the chance to taste their favourite tipples as well as countless new ones at some of Europe's biggest beer festivals thanks to a Manchester company.
Beer Junkets offer ale enthusiasts the chance to experience the best of foreign beer by organising trips to a number of high-profile venues such as Bruges, Prague and Brussels.
People who go on a trip will be able to experience the finest beers that Europe has to offer at some of the biggest beer festivals, such as Munich Oktoberfest and Belgian Beer Weekend.
Director of Beer Junkets, Paul Knight, cites his own 'beer travels' as the idea behind the tours which started two years ago.
"The inspiration behind it was that I had done a few beer trips myself and I thought that there would be a gap in the market," he said.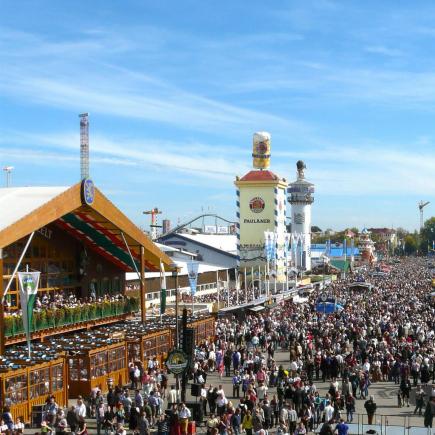 BEER TRAVELS: Germany's Oktoberfest  attracts beer-lovers from all over the world
"There has been an increase in the number of people going to these events over the last two years as I think beer is seen as quite fashionable these days.
"Certainly the number of CAMRA (Campaign for Real Ale) members has grown substantially over the last few years which has helped.
"We have keen beer drinkers and some of them are members of CAMRA but most of them are just groups of friends who just want to drink some good beer."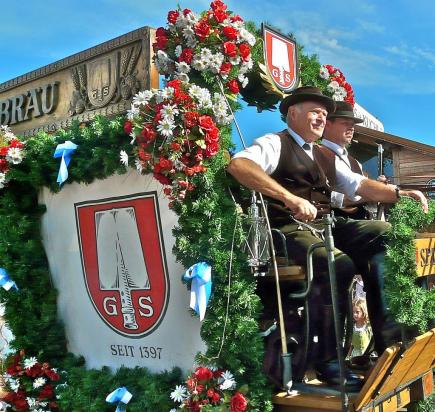 THE ALE MEN ARE HERE: Boozy wagon rolls up at Oktoberfest
While primarily set-up for people to enjoy a drink, Paul is keen to stress that the events are not just about enjoying a pint or two but also to experience the sights and sounds of the cities they visit.
"As well as the beer festival itself there are other things for people to do such as a tour of the local brewery that we organise, he said.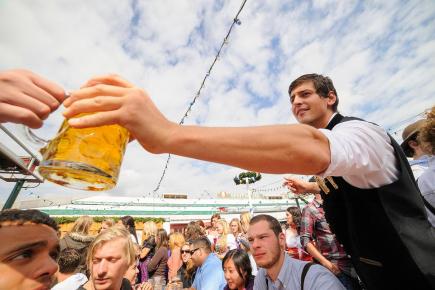 AND ONE FOR YOU…: German steins of beer handed out at Oktoberfest (image courtesy of Julian Schroeder, with thanks)
"It is very much a case of if people want they can go to site seeing as we visit some great places like Prague or Bruges.
"We had some people visit the WW1 battlefields so it isn't always about drinking when we go on these trips."
The Beer Junkets recently helped at the Prestwich beer festival at the beginning of March and Paul believes that for a first time event, it was a big success.
"It was a good event as we had more than 1,400 people attend over three days which is about what we expected," he said.
"We are already planning for next year as so much effort and thought needs to go into creating the event.
"We have to get all the caskets from various breweries and we had to construct a 60ft bar as we don't get support from CAMRA like about 95% of other beer festivals do."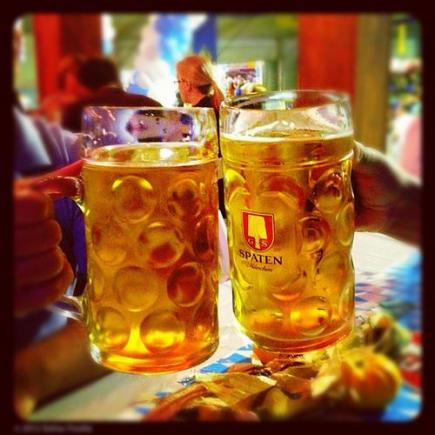 PROST! Beer Junkets have been running for two years (image courtesy of Dallas Foodie, with thanks)
With future events planned with trips to Prague in May and Germany in August, Paul believes the trips are a great weekend away for people.
"If anyone is thinking about doing one of these trips they should as it is great value for money.
"You can get three nights in Brussels and travel for just £199 because we get group discounts when we go.
"People can do what they want when they go aside from drink, such as tour and usually we all sit down on the Friday for a meal together and just a have a good time."
Visit http://www.beerjunkets.com for more information.
Images courtesy of Sanfa Media, with thanks, unless stated elsewhere.