Teenagers are risking damaging their health by drinking sports energy drinks while watching television – and now an expert from a Manchester university claims bottles should come with warnings.
The damaging effect sports drinks have on youngsters who guzzle them inappropriately – which include obesity and diabetes – has been revealed by a recent study.
The study, in conjunction with researchers from Manchester Metropolitan University, claimed that millions of teenagers across the UK could be affected.
Dr Emma Derbyshire, Senior Lecturer in nutritional physiology for Manchester Metropolitan University, said: "The huge calorific content will cause these young people to experience weight gain which then presents issues such as diabetes.
"I think that they're should be a more obvious warning on the labels of these drinks explaining how they should only be used to enhance physical activity and maybe even for which sports they are best for."
A quarter of teenagers think sports drinks are healthy enough to be drank anytime, despite health guidelines stating they should only be drunk during high intensity activity.
However the study explained that 'to have any positive benefit in consuming a sports drink, a person would have to be engaged in a high intensity activity for more than one hour'.
Dr Derbyshire said: "The average bottled energy drink of 500ml contains 16g of sugar which if the consumer isn't burning off if they're sat watching television, is going to lead to health problems."
According to the results of the study only 16% of teenagers who drink sports drinks do so for the reason it's designed for.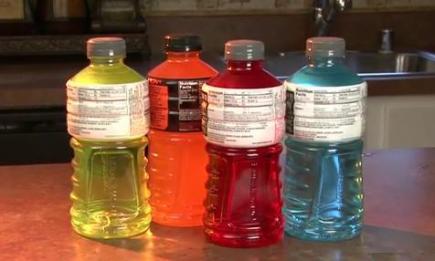 When asked what she thought the appeal of energy drinks was, Dr Emma Derbyshire said: "They're considered trendy and lots of sports stars are affiliated with them which could cause kids to think they're healthy."
The National Hydration Council said: "For most people, keeping hydrated with water before, during and after exercise will be enough."
Images courtesy of Monkey See via YouTube, with thanks.