A Manchester foodie is hoping to revolutionise the street food scene by setting up a new taco business in the city.
Cat Hoang, who has worked in the food industry for most of her life, has set up a Kickstarter project to help get her 'No Tacos' brand off the ground.
She believes her business can become the go-to takeaway in the city by sticking to her three virtues – producing high-quality food that's affordable and convenient.
"At the moment in Manchester, the option for street food is very limited to restaurants and weekend events," she told MM.
"The street trailers we currently have in Manchester city centre are limited to selling burgers and hot dogs.
"Tacos are a great option for street food as they are delicious, fun and portable – no need for cutlery."


NO TACOS: Cat has put a lot of thought into her business venture
Cat, who was originally born in Hong Kong to Vietnamese parents, has lived in Manchester for most of her life and started her first job at the local butchers when she was 13 years old.
She revealed how her love of food and travelling had inspired her business idea and that she was hoping to offer something new to the city's food scene.
"I've always been obsessed with food and travelling and love taking the opportunity to try new foods while on my travels," she said.
"On my travels to other countries I always loved trying street food because it was cheap and convenient, for example America they have loads of really tasty street food, if you go to any major city like New York you can find so many different types of food sold on the street.
"I definitely think my Vietnamese heritage has an important part to play as there is quite a lot of street food in Vietnam and the flavours are so unique, mix that with growing up in England with great British classics; for me that that equals fusion.
"Fusion – the best bits of the world!"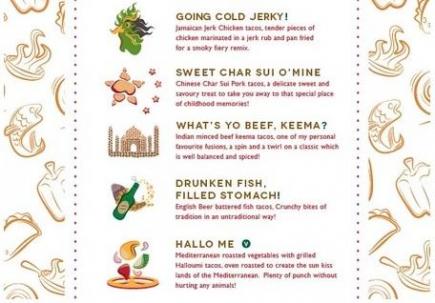 VARIETY: No Tacos aims to offer a wide range of flavours
Cat even revealed that she believed No Tacos could out-do takeaway giants Taco Bell in the taco stakes.
"I think Taco Bell is very good at what it does but I think I offer something more exciting," she said.
The tacos I make are made with love in front of you, and I use only the best ingredients to make them irresistible.
"I think Taco Bell has made tacos more accessible to the public but it's not very personable in my opinion."
Cat has vowed that the prices will be reasonable, with ingredients sourced from local and family-owned companies at very competitive prices.
She explained that she is currently in the process of applying for a street licence in the Northern Quarter, which will match her business's target market,
"The Northern Quarter is well known for hip, independent stores, cafes and bars and for offering a distinct alternative to the shopping experiences that can't found elsewhere in Manchester city centre which I feel this Taco van would enhance," she said.
"I think style and branding of the Taco van is quite alternative and bohemian which reflects the feel and people of this area."
"I really think there is a real need for fast, convenient and yummy food that is accessible and easily available for the people of Manchester and I really believe that adds so much to the feel of the city."
She explained that Manchester was crying out for a takeaway business such as hers due to limited options.
"So often I'm in the city centre and I crave something tasty and reasonably priced but quick and I'm stumped, especially around somewhere like the Northern Quarter because its made up of bars/restaurants," she said,
"I really do think there is a real need for fast, convenient and yummy food that is accessible and easily available for the people of Manchester.
"I really believe that adds so much to the feel of the city and gives the people so much more freedom with food on the go."
You can donate to Cat's Kickstarter project by clicking here.
Image courtesy of Cat Hoang, with thanks.