Cocktails in the City returned to Manchester for a showcase of mixing, swirling, and sipping, exhibiting the newest talent from bars across the city last night.
Held at the Great Northern Warehouse, the event transformed an empty space into a festival of premium liquor and finely-crafted cocktails.
Manchester continues to produce new and innovative ways to enjoy your favourite spirit, and last night proved the local bar scene is thriving.
Among the 20 pop-up stands were the Hilton's Cloud 23, The Midland Hotel's Mr Coopers and Harvey Nichols' The Botanist, a collective powerhouse of extravagance and luxury.
Each establishment worked with its sponsor to be crowned 'best bar in Manchester,' but competition was fierce and no expenses were spared.
First port of call was Epernay Manchester, an intimate cocktail bar nestled away in the Great Northern Square, who were peddling a cocktail mixed with D.O.M Benedictine named 'Friends with Béné-fits'.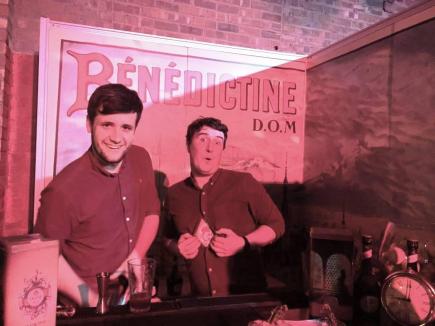 GoT meets D.O.M: Epernay bar staff likened their cocktail to the moment Joffrey died in Game of Thrones
The French Liquor is made using 27 herbs and spices before being infused with saffron, honey and caramel, producing a highly sensorial and distinct flavour.
Lewis Cook, 23, an Epernay bartender from Manchester, said: "This cocktail is like when Joffrey dies in Game of Thrones and you shout yes! But in your mouth…"
The Alchemist, located on New York Street and Spinningfields, boasted a twist on the classic Old Fashioned with their 'Mr Pink's Persuasion'.
Made with Gentleman Jack whiskey, grapefruit liquor and orange bitters, the drink is smoked for two minutes, creating the perfect oaky taste that offsets the sweet grapefruit.
Next stop was Harvey Nichol's The Botanist for a gin-inspired 'Botanical Garden' made with peach, lemon, and thyme, a promising combination.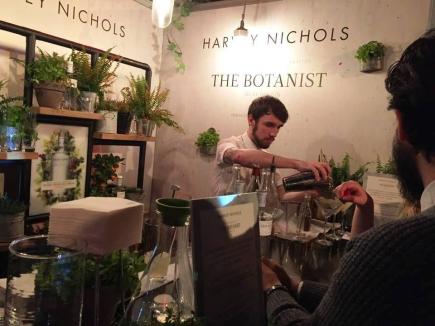 FAILED TO DELIVER: Our MM reporter thought the Botanical Garden was a let down
Unfortunately the drink failed to live up to expectations and tasted more like Robinsons lemon concentrate mixed with soap.
The cocktail was poorly balanced, overly sweet and had the consistency of washing up liquid, a disappointing outcome for the highly-esteemed bar.
Montpeliers in Northern Quarter opted for a fresh and light cocktail made with Lamb's Spiced Rum, passionfruit, cranberry and thyme.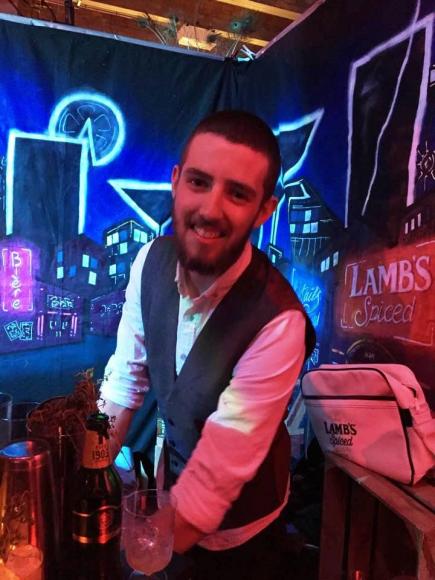 VOULEZ-VOUS GOUTER MES BOISSONS? The Moulin Rouge is 'exactly what a cocktail should be'
'The Moulin Rouge' was served over ice with a garnish of thyme, a simple concept that was expertly executed.
Mat Quick, 22, Montpelliers bartender from Derby said: "It's light, it's simple, it's not over done or overthought. It's exactly what a cocktail should be."
However, the star player of the evening had to go to Elixir Tonic and Treats, an independently run emporium in Deansgate.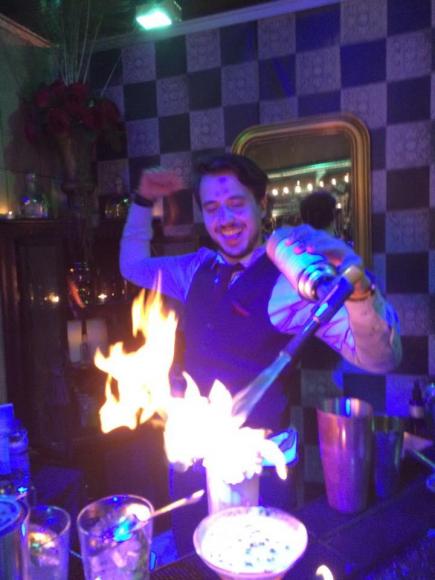 ON FIRE: Elixir's cocktail The Great Mysetery was the run-away winner for MM
Their Patron Silver Tequila cocktail 'The Great Mystery' was strong, smooth, a perfect balance of sweet and sour, and the theatricality of the bar staff would impress even the most cynical drinker.
While the word 'mixologist' is enough to make any one cringe, the two Elixir bar men were well educated in the performance of cocktail making.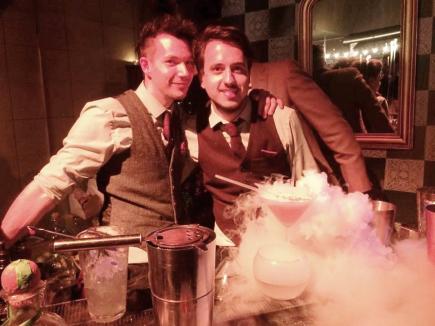 AWAKEN THE SENSES: Elixir barman Jon said Patron is the perfect cocktail ingredient
Tequila was first mixed with 'mystery ingredients,' shaken and poured into a glass beacon where it was then infused with scented steam.
Jon Kloman, 30, Elixir bartender from Essex said: "Patron is the perfect ingredient for the cocktail.
"It has a smooth finish and the infusion awakens senses other than just taste, like smell."
Many other bars made an appearance, including Hawksmoor, Cane and Grain, All Star Lanes and Lucha Libre, and the event illustrated the range of talent across Manchester's bar scene.
Finger in Pie Productions curated a host of eateries for those who needed to soak up a bit of alcohol, with food from Reds True Barbeque, Yakumama and VIETshack.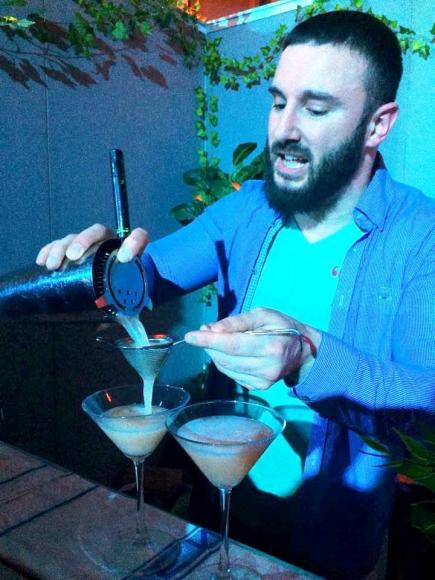 COCKTAILS IN THE CITY: We think an enjoyable and deliciously indulgent night was had by all
Cocktail master classes were held by accomplished Manchester bartenders and a DJ provided disco classics for people enjoying the side-effects of 10 cocktails.
Cocktails in the City proved to be an evening of good booze, tasty food and stellar performances from bar staff.