Manchester and Edinburgh are the UK's second restaurant cities according to a guide published today.
Yearly guide Harden's Best UK Restaurants 2017 has 52 Manchester venues in the list for its 26th edition – a survey this time around of 7,500 participants who contributed 50,000 reviews.
Manchester's total number of entries in the guide was the highest for any city outside of London and included five restaurants on the guide's list of UK top scorers (those scoring 5/5 at any price point, or 4/5 above £60 per head).
The guide's editor and co-founder Peter Harden said: "Manchester's economic boom is there to see in terms of its number of overall restaurants, and there are many fabulous eating places now in the city.
"But it is still losing out to Edinburgh when it comes to the very top-performing destinations over £60 per head. Having been born in Manchester, I look forward to the city nurturing more truly top-tier establishments! 
"Outside of London, top restaurants are still often to be found in leafy rural spots rather than in urban centres: only two of our top-20 most mentioned restaurants outside London are in cities.
"Our metropolitan dining culture is still establishing itself, often with cheaper restaurants aimed at younger folk, and Manchester's progress is fully in line with that trend."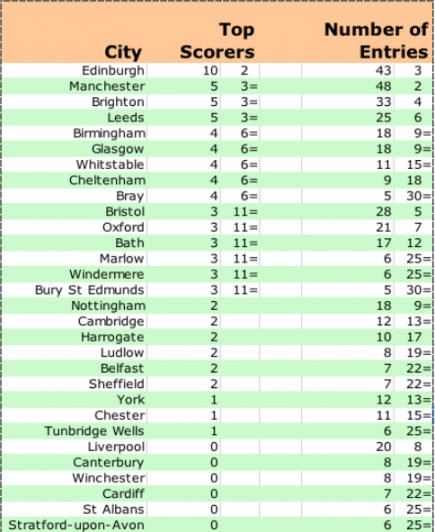 TOP DOGS: Edinburgh pipped Manchester to top spot
Only Edinburgh (with 10 top scorers among 43 establishments included) achieved a more impressive tally of high-flying restaurants.
The difference with the Scottish capital was most marked amongst more expensive high-performing restaurants. Brighton and Leeds achieved equal honours to Manchester, with five top scorers apiece. 
The guide lists over 2,800 eateries at all price levels, comfortably exceeding the Good Food Guide's 1,200 entries. 
Above £60 
Manchester House 
Hawksmoor 
Below £60 
Yuzu 
Akbar's 
This & That 
Below £60 (scoring 4/5) 
Yang Sing 
Wing's 
Lime Tree 
El Gato Negro 
Rose Garden 
Glamorous 
Red Chilli 
Tai Pan 
Siam Smiles 
Rudy's Pizza 
Image courtesy of Duncan Hull via Flickr, with thanks.