This year's Manchester Food and Drink Festival will reflect an 'astounding' time for the city's food scene, according to its founder.
The festival, taking place from September 10-21, has now announced its line-up celebrating all things gastronomical, which is sure to get mouth's salivating.  
Phil Jones, Festival founder, was proud of the 'exciting' line-up they had been able to announce in the hope of whetting the public's appetite.
He said:  "We've worked hard to make sure that this year's Festival is a true reflection of this astounding time for Manchester's food scene.
"This is only the first programme announcement, so keep watching this space as there's lots more in the pipeline."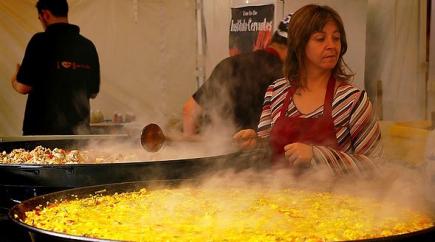 WORLD CLASS: The festival will have food and drink from around the globe on offer (© Steve Garry)
Keen to expand the festival, Phil is seeking to include as many of Manchester's growing food entrepreneurs and established food-proprietors to take part.
He added: "We officially invite every restaurateur, bar owner, grower, baker, maker and anyone who is passionate about food here in this city to get involved, and help us create a world class food festival here in Manchester."
The festival will be centred on the Festival Hub in Albert Square, which will feature a specially constructed 'food-village'.
Elsewhere, Manchester Cathedral will play host to the MFDF Gala Dinner and Awards in Partnership with Harvey Nichols, featuring a bespoke banquet curated by the fashion company.
The awards will be spread over 12 categories, and business are asked to submit their nominations by April 24.
Official Festival Brewers Thwaites will host the Pub at the Hub alongside the 100 Greatest Beers Bar, which will be showcasing local brewers.
The festival will also feature live music and DJs at the hub, as well as event such as the Great Manchester Bake Off on September 13.
Amateur bakers will challenge to become Manchester's MFDF Bake Off Champion if they can survive the first heat to present their creations during the Festival Bake Sale.
Michelin-star chef Fergus Henderson will host a 'Drink A Long Lecture' titled Sunrise to Sundown on September 12 where he will share his drink knowledge during a special evening session.
The Festival Hub will also host BBC's Kate Goodman, The Guardian's Fiona Beckett, and Evuna Manchester's Jane Dowler, collectively known as The Three Wine Women, for an evening of fine wine.
Manchester Town Hall will be the venue for the Big Indie Wine Fest on September 11 and 12, celebrating 'exciting, exclusive and boutique wines'.
The fest within a fest will include multitudes independent merchants such as Pacta Connect and Carrington Wines, alongside local cheese producers Cheshire Cheese and deli delights Epicerie Ludo and Veeno.
For those with a taste for something spicier, the Chilli and Tequila Festival will take place at the Hub on September 11, presented by Thomasina Miers, founder of Mexican restaurant group Wahaca.
The showcase of Tequila brands and chilli growers from around the UK will culminate in on-stage chilli inspired demonstrations by the participants.
If you need to cool down after that, the Experimental Ice Cream Banquet will be at the Hub on September 18, thanks to Claire Kelsey of Ginger's Comfort Emporium.
On offer will be a six course banquet made entirely of ice cream, and although the menu is strictly top secret it promises to be a stunning feast for both a sweet-tooth and a fully rounded palate.
MFDF Biospheric Foundation Partnership will be present at the Hub throughout the festival with their Mobile Urban Mushroom Farm and accompanying Biospheric Streetfood Mushroom Pod.
A special treat from the partnership is planned for September 12, when the first ever MFDF Bio-Historic Banquet will see guests will dine under the shadow of a giant dinosaur skeleton.
The night will incorporate lectures from the museum's curators between courses, with a unique banquet designed by Robert Owen Brown using products grown by the Biospheric Foundation.
Elixir on Deansgate will be the venue for The Liquor Market with The Drinks Enthusiast on September 12, offering the chance to sample the world of boutique spirits with everything from single malts to rare rums on show.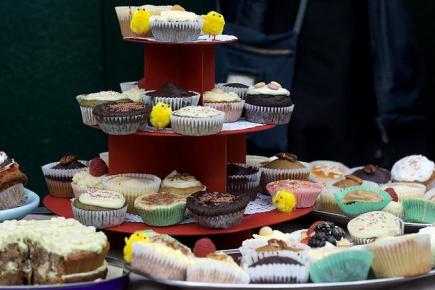 WHATEVER CAKES YOUR FANCY: There will be sweet and savoury, hot and cold, veggie and meaty treats to feast upon (© Pete Birkinshaw)
Simon Rogan's Chef's Week at The French in the Midland Hotel from September 15 to 19, with a brigade of head chefs from Simon's portfolio of restaurants devising a special tasting menu each night.
Taking place throughout the festival and across Manchester, there will be Community Partnerships including 'pass it on' cookery skills workshops, a city-wide schools competition, and a MFDF Apple Press(Juicity!) by Moss Cider Project.
This element of the Festival seeks to provide a platform for some of the exciting community projects in this city.
With plenty to choose from for food lovers of all persuasions, this year's Manchester Food and Drink Festival looks like a must see.
You can find out more information and purchase tickets to the Manchester Food and Drink Festival by clicking here. 
Main image courtesy of Pete, with thanks.