The Lord Mayor of Manchester, councillor Eddy Newman, officially declared the opening of the Oktoberfestival Weekender at the Albert Hall in Manchester on Friday.
The venue was transformed for the three-day event, turning it into a Munich-style beer hall, decked with tents and bench seating.
The evening saw a wealth of entertainment, including live music and a DJ set, playing a vast array of genres, all in celebration of the traditional Munich festival.
An attempt was also made to break the world record for the most 10 inch sausages consumed in a minute, which stands at an impressive eleven.
However, despite the competitor's best efforts there was not a new world record winner (or wiener, if you will).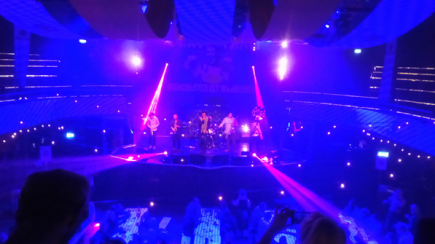 MUSIC: Live tunes accompanied the food and drink
A particular highlight of the evening was provided by Manchester-based band Twisted Tubes, a group which combined brass and percussion instruments to play a range of jazz, pop and indie covers in two separate sets.
For £20 revellers were able to purchase four tokens which could be individually redeemed to receive a choice of food or drink. All in all, a reasonale offer that many people jumped at.
A selection of delicious traditional German food was on offer, including pretzels, sausage, pork or beef bratwurst, as well as ample sauerkraut to be sampled.
Drinkers were delighted to get a taste of some of the many lagers, IPAs and stouts on offer, ranging from famous German brands such as Paulaner, to local Mancunian craft beers.
The event will surely leave people counting down the hours until next year's Oktoberfestival Weekender.