Fancy yourself as something of a cereal connoisseur? Well weetabit longer, and you'll be able to snap, crackle and pop in to Black Milk Cereal, the first ever cereal café to open in Manchester.
Following the success of Shoreditch-based Cereal Killer in London, Black Milk is hoping to leave Mancunians bowled over by its breakfasts when it opens its doors in March.
The café will be located on the second floor of Afflecks Palace, the legendary eclectic vintage emporium in the Northern Quarter, and plans to milk the opportunity with an army of quirky cereals, fresh fruit and locally baked goods.
MM were lucky enough to get the first chat with owner and entrepreneur Oliver Taylor.
The 27-year-old explained that his business was partly inspired by what was happening in London, but sees Black Milk doing something unique and exciting in Manchester.
He told MM: "We had been thinking about the idea before Cereal Killer had even come into the domain.
"Our original idea was something like a flavoured milk bar, and we were mainly inspired by a place called Momofuku in New York.
"We liked what they were doing, and when we were brainstorming we thought it was hard to get away from the whole cereal thing, so why not amalgamate the two."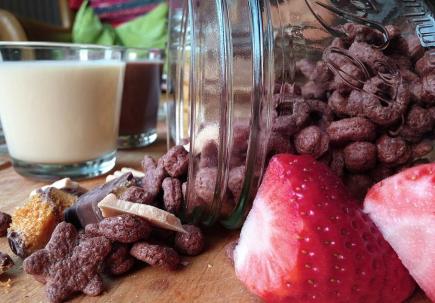 GOT (BLACK) MILK? The café will be Manchester's first cereal bar
The cereal bar concept – which is already massive in the US – is something Oliver felt the city had to get involved with, but plans to offer customers a range of different breakfast cuisine on the side.
He added: "Cereal is going to be the main concentration of what we are doing, but we are also serving a whole host of baked goods, from vegan brownies right through to flapjacks. We've got a rotation of guest bakers that are going to be changing all the time.
"We came to the agreement that we didn't want Manchester missing out on all the fun happening in New York and London, so we thought we'd be the first ones here to do a cereal café.
"I've been inundated with thank you letters and emails since. People are going wild for it."
At Cereal Killer, visitors are able to choose from a variety of cereals from all over the world, and then customise their chosen bowl with different milks and toppings.
Oliver says Black Milk will use a similar system, and wants to build on the idea by combining the cereal staples that everyone knows and loves with freshly produced local goodies you can't find anywhere else.
"It will be a similar setup. It is also very similar to Cereality in the states," he said.
"We're going to be doing takeout boxes as well. And we will also be using a lot of our local, freshly baked goods to put on top of the cereal too.
"We will have a sweetshop wall of every single type of chocolate bar from all over the world, so you can basically have whatever you want blended into your milk.
"We are doing gluten free options, as well as a range of porridges with different toppings, and our own Black Milk Muesli too, that we get organically from a local supplier in Chorlton.
"We are using a lot of independent suppliers and collectors. We want to bring all the names and the brands that we've all grown up with and mix them all together in ways you'd never of been allowed to as a child, whatever the age of the customer. Everybody is a kid at heart, aren't they?"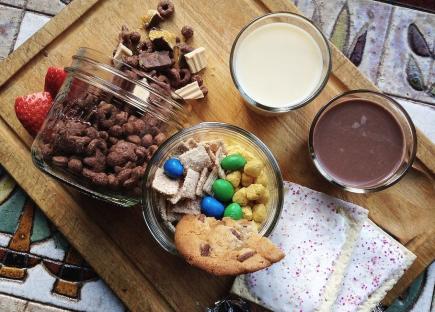 'EVERY BRAND OF CHOCOLATE BAR': Black Milk aren't messing around when it comes to the sweet stuff
Oliver already has another business in Manchester, but likes to keep things independent and build from the ground up.
He has even recruited his baking-obsessed sister to take charge of cookies in the café, and revealed that they are experimenting with crumbling them into the cereal, with delicious results.
The 27-year-old is not surprised that people are taking to the idea, and expects Manchester to quickly get serious about his cereal.
"First and foremost, it is the nostalgia. It takes people back to a time in their childhoods where one of the most exciting things that happened in the day was waking up, getting out of bed and running downstairs for a bowl of cocoa pops.
"We are doing that, but letting you do the things your mum would never let you do. You can mix it up and create what concoction you want.
"I'm very confident that people are going to take to it. We are giving people something they don't have in Manchester yet. That can only be a positive thing.
"Everybody eats breakfast, whether it's a healthy option, Muesli, yoghurt, or something a little bit naughty. Every different type of breakfast cereal or something connected to it, we'll accommodate for.
"One of our big things is going to be fresh fruit toppings, and jams and marmalades for the croissants. The baked goods will be a large part of what we're doing."
One of the criticisms of Cereal Killer was how they priced their cereals, with a large bowl costing as much as £3.50.
The café is situated in a deprived area of London, and one of the owners even demanded an interview with a Channel 4 News reporter be stopped, when continually pressed on the issue.
Oliver said he thought the prices there were completely reasonable, but insisted Black Milk would be an altogether cheaper breakfast option.
We are #Manchester's first #Cereal Dive; @blackmilkcereal. C U REAL SOON! pic.twitter.com/JC2LFfI49f

— BLACK MILK CEREAL (@blackmilkcereal) February 17, 2015
He told MM: "We won't be charging anywhere near what they do. Obviously this is Manchester, that's London."
The café's décor will apparently pay homage to everything concerning milk, and Oliver and his small but 'extraordinarily focussed' team is hoping to bring in a number of local artists to design murals for the walls.
He wants the café to become the hub of Afflecks – as much somewhere you can sit and relax with friends as a quick drop-in and Cheerio on the way to work.
Being the focal point of Manchester's 'alternative arcade' was part of the plan from the beginning.
"Where we are doing it is a very vibrant place that supports a new breed of counter-culture, and it always has done – I think it's the perfect place for us to be," he said.
"We are doing our own thing and not concentrating on anyone else. We're working with local chefs from high end restaurants to create quirky, enthused milks.
"It will be a place where you can put your favourite chocolate bar in your favourite flavoured milk and pour it on your cereal.
"We want to make it as 'Madchester' as possible. There was never any doubt that this is where we wanted to be".
Black Milk Cereal Café is announced as 'coming soon' to Afflecks Palace in Manchester.
Image courtesy of Kinokogallery, with thanks.