Manchester's craving for cow is insatiable – we're a city of burger lovers, but this month's opening of new joint Filthy Cow away from the Northern Quarter is a breath of fresh air.
Joining a tried, tested and loved line-up of Almost Famous, Solita and Byron, Filthy Cow's promise of 'the best value burger in Manchester' is a pretty bold claim.
MM caught up with 23-year-old founder Jordan Gallimore over a quarter pounder to chat about why her new eatery is any different.
"You know what, out of all the years I've lived in Manchester, I've never actually spent a lot of time in the Northern Quarter, it's not really me. This end of town is changing so much: within the next year it's going to be so different," she said.
But don't confuse it like we did with Tib Street – Filthy Cow is no Northern Quarter diner: you'll instead find it nestled in the old Lounge Ten venue on Tib Lane, which has remained empty since the former popular celeb haunt closed its doors in November 2013.
Big thank you to @filthycowuk for my sexy lunch! #filthy #burgers #50shadesofmoo pic.twitter.com/EwXGfTnvU2

— Andy McColgan (@andymcc87) March 7, 2015
"I think that this end of town draws my ideal market. I just don't see really young students, from the ages of about 16-18 as my target market. I don't see that," said Jordan.
"They'll come here, and that's amazing, but the reason why I've got really great wine, is because I see Filthy Cow as targeted at people my age upwards."
Speaking about why she gave up a successful career in finance to become a restaurateur, Jordan said it all began while she was eating out on Christmas Eve 2013 in London.
"I was sat in a burger joint, and I was like, 'this is amazing', there's a great vibe, great food, it's working really well, and I just thought – you could do this," she said. 
"So I was always going to do it, regardless of whether I did it big or small, and luckily I had investors so I could go big straight out! But yeah, I'm really pleased with it; it's everything I dreamt of and so much more."
Word on the street is there's a #filthycow in town. If you spot our filth take a photo & you could #win a burger! pic.twitter.com/1B8h7uq1Gv

— Filthy Cow (@filthycowuk) March 19, 2015
Just over a year ago, she abandoned her job and moved into a 16-bed dorm in London, working long hours and low pay for a range of burger chains in the pursuit of inspiration.
Living off her tips, Jordan started collecting ideas for the restaurant she was so desperate to open, and on February 28 saw it finally open to the public for the first time. 
Describing the process of choosing the menu, she said it's been a challenge.
"It's taken months! But at the end of the day, it's really just one burger because all we did was just add cheese and bacon. A lot of time was spent in 'meat development'.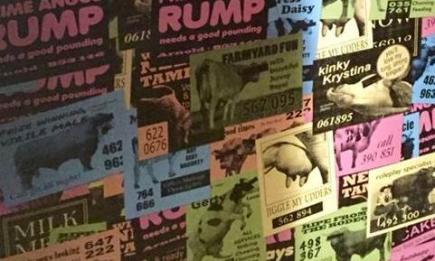 HOLY COW! The trendy eatery is nestled in the old Lounge Ten venue on Tib Lane
"I've had the burgers tested at Manchester University to prove that they're safe to serve pink. I've tried all sorts of cuts of meat, blends of meat, how many times you mince it, the size of the mincer, if we have bone marrow or if we don't have bone marrow. It's taken a long time to find the perfect formula!
"But what's different is that we cook the burgers like a steak; we treat them like a steak. We install it in our chefs that you're not cooking burgers, you're cooking steaks just because you season it on the grill the same way you'd season a steak."
Having narrowed down the recipe, Jordan set out in pursuit of the best ingredients from across the city to make her menu as local as possible. 
Excitedly listing her suppliers, Jordan said: "Meat from Irlam, ice cream from Gingers in Afflecks, wine from Hanging Ditch, IPA from Northern Quarter, fresh veg from Bolton, chips from San Massey's. 
"And then the smoked pancetta is from Italy. I have limits!" she joked. "But everything else is as local as it gets."
Inside, the restaurant has a laid back industrial décor – exposed brickwork, corrugated iron and moody neon lighting which all help give the eatery its 'filthy' vibe.
Tongue-in-cheek murals adorn the walls, with sassy slogans like 'come upstairs and eat me' a reminder of the classy risqué atmosphere that Lounge Ten successfully cultivated. 
Design-wise, it's clearly taken a lot of time (and a lot of money), but Jordan said that all this was secondary to the burgers themselves: "Nothing that you see was ever part of my vision, it was just the food," she said.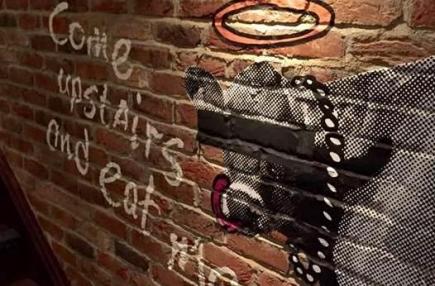 CHEEKY MOO: Jordan's eatery is full of sassy slogans on the wall like this one that says 'come upstaires and eat me'
"I started the food straight away and for the whole time, it was simply called 'the burger joint' in my head, so that's where it started.
"I knew it was going to need a name at some point, and I just vaguely remember it originating from one night involving my best friend and a lot of wine!
"But, you know, 'Filthy Cow' works really well, and you don't forget it tomorrow! Which is great for a brand that's a bit fun, a bit cheeky – at the same time it kind of says what we do. It's a little bit mysterious and the reaction is 'what did you just say?!' … I love that."
Despite competitors like Red's True BBQ, Lucha Libre and Dirty Food all embracing the emerging street food scene in the city, Jordan says Mancunians shouldn't expect to see Filthy Cow at Guerrilla Eats, Friday Food Fight or Urban Food Fest any time soon.
Speaking about the popularity of the three street food stalwarts, Jordan, who was at the opening of Guerrilla last weekend, said: "I love them, they're cool, and I go – they're ace. But trading at them is just not for us.
"One thing that is massive for me is the quality and consistency of our food – everything else is obviously really important still but not quite as important as those two things. 
"I spent four days with head chef Matthew on the grill working out where the hot spots are, how long it takes in the right corner, how long it takes in the left corner, how long it takes if you put a mustard crust on.
"My theory would be that I'd lose the consistency because it's not my grill. So I just worry that because we can't take that equipment with us, we couldn't guarantee that it's that perfect burger every time. So I'd never risk that."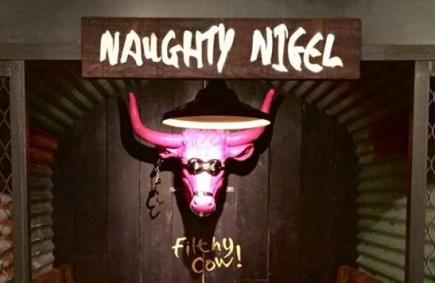 NAUGHTY BUT NICE: The wacky interior designs perfectly set the vibe for the quirky burger joint
With mains starting at just £6 and sides at £2.50, it's a far cry from some of the Northern Quarter's £15+ prices for a burger and chips.
"I always said a burger, side and a soft drink for £10. Filthy Cow should be, and is, the best value burger in Manchester," said Jordan.
"You know, I'll spend any money on food, but I want to feel that it's value for money. I want to think at the end of it, 'actually, that was really good value'.
"At the end of the day, burgers shouldn't cost £20. It doesn't cost £20 to produce a good burger, so I'm just honest. Let's just charge what it actually costs.
"It's more about the quality of the food than the size or any gimmicks. It's stripped back, and it draws a totally different crowd and I think this is their area of town."
Born into a family of entrepreneurs, it was expected that Jordan would break free and start her own business, and she said that over the last two years her family have been so supportive of the risky endeavour.
"My grandma's been the best. How do you tell her that you've got a great job as a trained accountant, but you're giving it up to open a restaurant called Filthy Cow?! She was great but she did ask me if I was alright and if everything was ok!"
The issue for Jordan has been with her friends, who have found it difficult to understand that her work 'absorbs her life'. 
"It's hard to say to them that I'm here 7am-11pm so don't have time to see them. But when they come and see it, they're like, 'oh yeah, I can see why you didn't text me back'!"
"But I love it and I wouldn't change it for the world. It's so much more than I ever dreamt of."