Manchester's Food and Drink Festival 2014 has descended on Albert Square with a burst of flavour, colour and life.
This is the seventeenth year for the fest and punters have travelled from far and wide to sample the smorgasbord of delicacies from across the city at the launch on Thursday evening.
Over ten days, a whole host of exciting stalls, events and opportunities to try something new will bring foodies and booze buffs in their droves to the festival hub.
"It's great for the city I think, there's such a lot of diversity and so many different cultures so it's good for them to meet and for people to experience this," said Denniz Dekos, Owner of V Fresh, the vegetarian stall which has punters queuing round the block for his scrumptiously moreish halloumi and falafel wrap.
"People now know more about food and there's a move away from a lot of the old junk food crap. There is some real fantastic food here, I think street food is the big thing."
There's a stunning plethora of meaty delights for the city's carnivores, and leading the field is Manchester latest hot dog joint Splendid Sausage.
Over the last few months, the restaurant has been 'hiding the sausage' around the city with those who find them winning a wiener on the house.
During their time at the festival, the guys at Splendid have concocted a 'festival dog' which pays homage to all things Manc.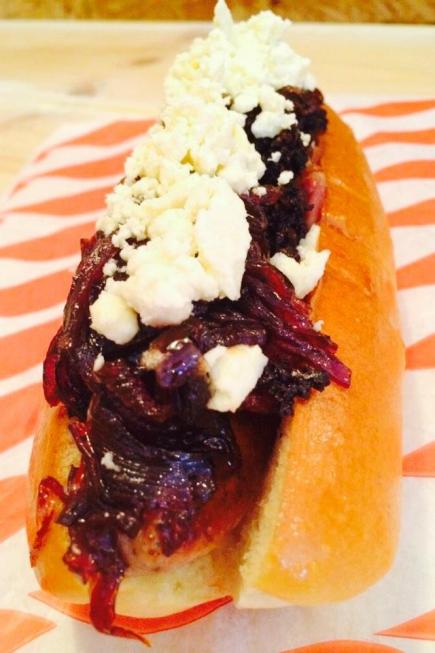 TASTY: Splendid Sausage's hot dog homage to Manchester 
"With the festival dog we really wanted to celebrate all the good things about the Greater Manchester area," Splendid Sausage owner Mike Edge said.
"So we've got the locally produced sausage, local bacon, Bury black pudding, Lancashire cheese and Vimto chimney which is sweet sticky and gorgeous."
Another stall offering a real taste of home is the Albert Square Chop House, bringing back an old school favourite that's rich salty and lovingly made with beautiful locally-sourced ingredients.
Their corned beef hash takes ten days to make. Locally-sourced marinated brisket of beef is marinated in salt brine then slow cooked for 12 hours before it's shredded and combined with onions, potatoes, reduced stock, cream and then chives. 
Albert Square Chop House Chef Tony Atkins said: "It has sometimes been difficult changing people's idea of corned beef hash and there have been people making a face because they think of the tinned stuff, but are here to set them right.
"Once people taste it, they're hooked."
Hip Hop Chip Shop are a fun new addition to this year's food stall line-up, the van can be seen blasting out tunes and serving up the nation's most loved take away with an American twist.
Jon Oswald said: "It's our first year and it's been really good so far. All of our meals are flying off the shelves and the response we've gotten is brilliant.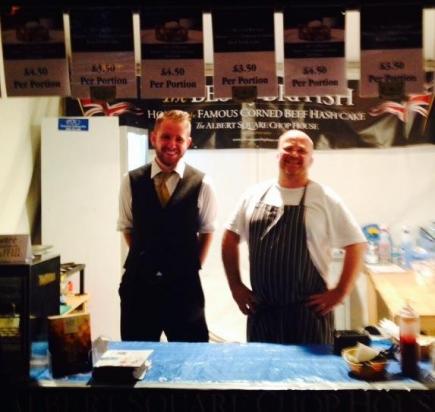 (NOT) MAKING A HASH OF IT: Albert Square Chop House's corned beef hash went down a storm
"I think people like that we're doing something different with something as quintessentially British as fish and chips.
"That said, a real favourite for us is the battered sausage wrapped in bacon."
As well providing a beautiful taste of home, the food festival is also an opportunity to try some exotic grub from sunnier shores.
Manchester Thai favourite Chaophraya is a street food don who has been treating punters to a South East Asian sensation.
A vibrant blend of flavours hits you from across the square and many have been seen approaching the stall mesmerised by the aroma, craving their fantastic selection of Thai curries.
Rachael Gibson, stall keeper, told MM: "The curry always goes down really well, we have real Thai chefs and proper authentic Thai food.
"It's just about giving people something different we get people who have been to  travelling and they do tell us it is just a perfect taste of Thailand."
The Festival Hub is also hosting the majestic Malaysian Market this week which is a vibrant and exciting celebration of the exciting Asian country, where food meets entertainment and shopping.
The festival isn't all about the food and one business that's gone down treat, Vin Van Voom are a portable wine store that are determined to get great plonk to the people.
The boozy venture is part-owned by the BBC food writer Kate Goodman, who is the wine expert of the Good Food show with Michele Roux junior.
Anna Tutton, fellow owner, told MM: "I got fed up seeing crappy bottles of wine everywhere so decided to do something about it an offer individual wines that can't be found in the supermarket for really good wine. We've been really busy so we do think there is a gap in the market.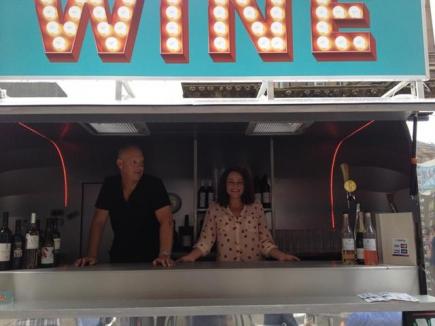 GRAPE STUFF: Vin Van Voom brought wine to the festival
"We also have Prosecco on tap with some beautiful pink grapefruit and rhubarb.
"Our first event was last month so we really are brand new, the response we've has been overwhelming."
This week, revellers can look forward to an amazing selection of live music over the weekend, with the likes of talented singer songwriter Little Sparow and folk rock performer Tracey Browne on the Saturday.
This will be followed by Manchester community choir and local and Stone flowers on the Sunday.
There will also be a Thwaites beer tasting session on Saturday lunch time for those who love a cold one. 
To find out more information about Manchester food festival, visit their website.