Exciting drinking establishments are never in short supply when it comes to a night on the tiles in Manchester.
And with this Friday set to be the busiest night of the year for festive frolics and mischief, we've rounded up our favourite hangouts in the city.
From quirky bars in the Northern Quarter to hotspots down on Oxford Road, thirsty punters don't have to look very far to find a wide selection of boozy delights.
But forget the cask ales, spirits and ciders because there's a whole host of places serving up sweet and sassy cocktails just waiting to tickle your taste buds.   
Whether you fancy a Cosmo or Caipirinha, Dry Martini or Daiquiri, here are MM's Top Five cocktail bars serving up the best Mojitos and Margaritas in town.
Note: These are in no particular order (author couldn't decide) and the choices have caused some controversy in the MM office already… hence the long list of notable mentions below:
Notable mentions: Cloud 23 (best views in the city), Epernay (classiest cocktails this side of Manhattan), Hula (a subterranean slice of tropical Tiki) and Whim Wham Cafe (vintage-inspired, gin-addled drinking den). 
1. The Alchemist
In the centre of Spinningfields, The Alchemist is open all day every day, serving breakfast, lunch and dinner- as well its famous and groundbreaking selection of cocktails.
From meringue martinis to a cereal flavoured cocktail, The Alchemist is the place to go for the budding cocktail connoisseur.
The brainchild of Tim Bacon and Jeremy Roberts, behind such other Manchester favourites as Grill on the Alley and The Living Room, The Alchemist has proved such a hit in its four year life that a second venue was opened in Piccadilly Gardens two years later.
Try the Mad Hatter's Tea Party: indicative of The Alchemist's flamboyant edge, this two person sharer is served warm in tea cups and consists of vodka, elderflower liqueur, Cointreau, boiling water and fresh fruit.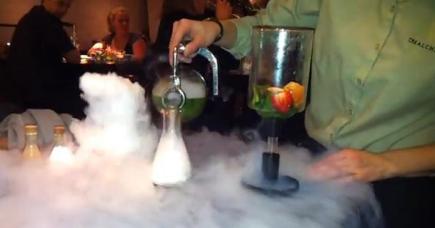 SMOKING: Alice in Wonderland-esque cocktails on offer at Alchemist 
2. The Liars Club
A hidden jewel in the crown of Manchester bars, this basement bar, found on Back Bridge Street combines an exotic Caribbean-inspired décor with the best and most extensive collection of rum anywhere in Manchester.
As well as being one of Manchester's finest Tiki bars, Liars Club also features a shop, allowing thirsty revellers to purchase their own bottles of rum to take home.
With the bar staff showing off their most garish Hawaiian shirts, Liars Club treads a fine line between tacky and enjoyable but always come out on the right side of the divide.
You can kick back with a chilled reggae soundtrack or choose to dance the night away, supplemented by a creative and colourful cocktail menu.
Try the Zombie: a staple of any good Tiki bar, the Zombies at Liars Club are so sensational that they're limited to just two per customer. A combination of rum, absinthe and tropical fruit juice, these flaming delicacies will warm up your evening.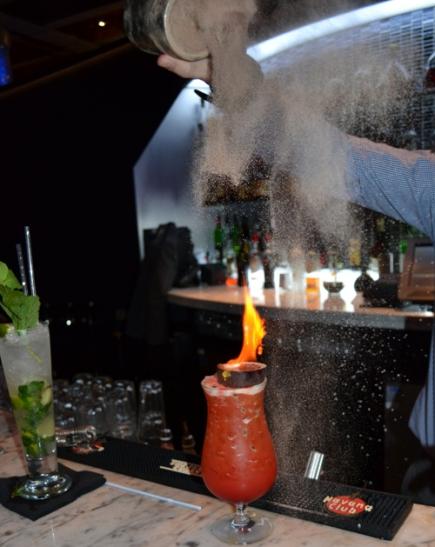 ZOMBIE NATION: the deadly classic cocktail lights up the bar 
3. The Fitzgerald
Perhaps not a surprise given that it's named after the author of The Great Gatsby, The Fitzgerald is a prohibition era den of opulence and indulgence.
This Northern Quarter speakeasy commits fully to its theme, with flapper dresses feathers and waistcoats as far as the eye can see.
Hard to find unless you know exactly where it is, The Fitzgerald manages to maintain a sense of mysterious mischief while still providing an engaging and thoroughly enjoyable experience.
Open less than a year, the Fitzgerald is already well on the way to establishing itself as an integral part of the Manchester bar scene.
RT "@proudveggie: Last night we raised a glass to the late great Jay Gatsby at @TheFitzgeraldNQ #manchester" pic.twitter.com/gzELBCkueF"

— The Fitzgerald (@TheFitzgeraldNQ) August 17, 2014
Try the Aviatrix: this delightful cocktail epitomises everything good about The Fitzgerald. Made up of gin, violet liqueur and lemon, it comes served with dry ice inside a vintage leather suitcase.
4. The Liquor Store
A Manchester bar in every sense, this Blackfriars Street establishment has an entire wall devoted to iconic Mancunian figures: think Morrissey, Ian Brown, Tony Wilson, and Emmeline Pankhurst.
A cafe in the day, a bar in the night, The Liquor Store is open until 3am, perfect for any Mancunian night owls wanting to unwind with a vintage Manchester-inspired soundtrack.
Manchester music infuses its way through the cocktail menu too, from the Sally Cinnamon to the simple but effective Oasis.
With cocktail classes and drinks deal for the post-work crowd, The Liquor Store is the perfect spot for any revellers wanting to embrace their Northern Soul.
Back bar getting a sort out pic.twitter.com/TuhJ2mbG8r

— The Liquor Store MCR (@LiquorStoreMCR) July 2, 2014
Try the Bette Lynchberg Lemonade: A Corrie twist on a well known classic, it combines gin, prosecco, apple juice, lemon juice and Salford's finest export- Vimto.
5. Dusk 'til Pawn
Tucked away on Stevenson Square, Dusk 'til Pawn is a small, dimly-lit speak-easy-style bar serving up some of the most delicious and diverse cocktails in town.   
It's 'disguise' as a pawn shop is executed so well that despite its central location, you could easily walk past it unaware it is even a bar.  Dark, barred windows filled with old guitars, televisions and a large neon "Pawn Shop" sign are enough to deter the casual passerby.
Once you step inside though, it's clear this place prides itself on the quality of its drinks and offers an exciting cocktail menu, which includes favourites like Pawn Star Martini, Hard Candy and Fool's Gold.  
But if you don't fancy any of those, the talented bar staff are on hand to stir up an original and unique cocktail, and have a reputation for asking you what your favourite spirit is and whipping you up something original from that. And what's better than that? 
Try the Pawn Star Martini: it's become a favourite in many a cocktail bar across the city, but Dusk's manages to do something different with it. The big question: does it work? Yes. Fruity, fun and very more-ish.
"A million dollars" from Dusk Till Pawn last night #bourbon #whisky pic.twitter.com/R7Y23cvgMp

— Thom Seddon (@ThomSeddon) June 1, 2013
Main image courtesty of Yelp, with thanks.