Randy's Hardcore Hamburgers is finding its own unique path in a market crammed full of competition, and it has certainly made an impression on its customers.
Originality is right on the doorstep when you are faced with the recognisable American diner-style seating but with hip-hop music blaring from large speakers.
Looking at the menu, the bacon-enthused 'Moonshine Milkshake' seems beyond strange, but the tiny sprinkles, adding that distinct flavour and bitty crunch, certainly works.
The Jody High Roller's glazed bun surrounds a tender beef patty and medium-cooked mini-steak generously topped with parmesan along with crispy bacon and onion.
Its powerful garlic mayo is also a highlight of the £8 burger, which is served with large beer battered onion rings that certainly do taste beer battered, unlike many other restaurants'. 
Their £6.00 Don Pablo burger was also impressive, containing what must be the biggest Doritos-fried chicken fillet to ever lie inside a glazed bun.
The tender chicken was topped with red onions and cilantro, while being covered in nacho sauce, guacamole and sour cream, which turned out to be a complimentary mix rather than an overpowering one.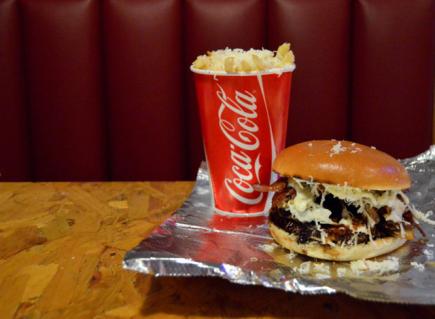 NICE TOUCH: The Jody High Roller with Parmesan fries 
Parmesan fries at £3.50 are coated in distinctly-tasting garlic salt and truffle butter and come in a Coca-Cola cup, which is a nice touch of individuality compared to the usual basket.
The owner, who mysteriously only wishes to be identified as Randy, revealed he had quite a battle to even open the doors in September. 
He said: "The phone company wouldn't confirm the phone number, which is a massive issue because we couldn't print the fliers, update the website or get the promo printed.
"Two weeks later the extraction fans broke and they take the carbon monoxide out, which is a legal requirement so your chefs don't die, so that was a big job."
Randy's personality is reflected on his wacky menu, and he feels that initial customer reluctance to try something new has gone now word has spread. 
He explained: "A few people have been perhaps not coming in because they don't know what to expect, but now people are coming in saying 'oh my mate told me to come here'.
"It has gathered a lot of traction and it caught us off guard a little bit when we suddenly got a lot busier and we had to turn the Just Eat machine off, orders were coming in that quickly.
"I've hired three new chefs, three new front of house and three new drivers in a week."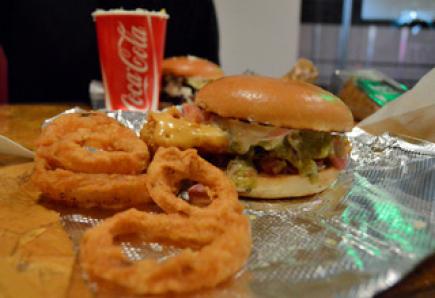 CLUCKING GOOD: The Don Pablo with beer-battered onion rings
The restaurant holds a firm belief in adapting to the customers' desires, so it is clear Randy's won't have a stubborn menu. 
"We're still figuring it out and we're trying to change it as we go along," Randy explained.
"We'll be expanding the menu in January, but we don't want to do it just yet because you want to walk before you can run."
Randy's does face stiff competition with Wetherspoons and McDonald's nearby, but it is clear that the man behind the burgers believes his joint provides a better taste and experience.
Aiming a dig at Wetherspoons, he joked: "You don't have an old man in the corner who smells of bitter.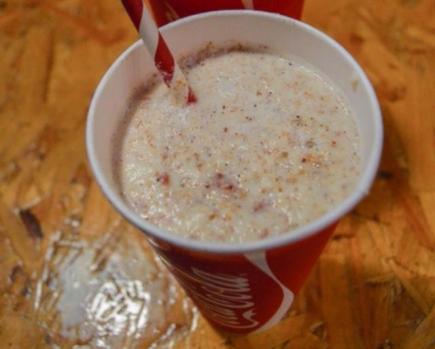 SHAKE IT UP: The Moonshine Milkshake at Randy's
"McColl's will bake it wrap it, and leave it on the counter, whereas you order it and we cook it fresh."
You can see the whole of Randy's Hardcore Hamburgers' menu here.
Main picture courtesy of Randy's via Instagram, food pics courtesy of Lauren Dent, with thanks.