It'll be a weekend of champagne, crepes, baguettes and croque-monsieur, truly la vie en rose, at this year's Altrincham French Festival – and just like Ediath Piaf, you will regret nothing!
So have your boules to hand (not that kind) and whip out your onion necklaces as Alty plans to break all spectator records with its biggest and best fête Française yet.
The event celebrating the joie de vivre of French culture, cuisine, community and camaraderie – which is the only one of its kind in the UK – enters its third year and looks set to bring a little je ne sais quoi to south Manchester.
The director Zainul Sachak promises there will be something for everyone from rugby to Roquefort, gastronomy to graffiti and Citroens to storytelling between July 11 and 12.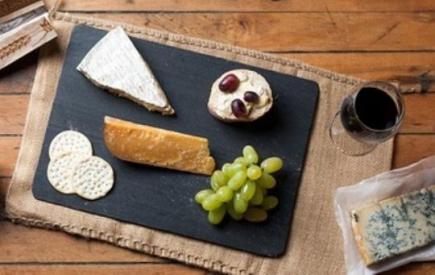 SAY FROMAGE! France's range of famous cheeses will be just some of the delights on offer (© Jordan Johnson, with thanks)
He said: "Every year you have to raise the bar and hopefully this year will be no exception. If it comes off and all the elements come together, I will be delighted."
With a little imagination and a glass or two of fine wine to help make the French connection  Bowdon Rugby Club and Stamford Park will be transformed into Bordeaux, Biarritz and the Champs-Elysees for 48 hours.
The piece de resistance will be Saturday night's Bastille dinner – a three course, taste tour de force accompanied by live music from the French style jazz band Swing Commanders and a fireworks display to guarantee the evening goes off with a bang.
Altrincham and Sale West MP Graham Brady, who will officially open the festival, said: "The French Festival has quickly become a favourite Altrincham tradition.
"Zainul and his team have again worked wonders and brought a slice of France to the middle of Altrincham. I wish them bonne chance for another successful occasion."
In 2013, the festival attracted 700 curious visitors but last year's one day event saw numbers increase to 3,000 and by mid-afternoon most food stalls had run out of delightful delicatessen.
Inspired by local support Zainul has returned to a two-day event with Saturday's Bastille dinner followed by a free, daytime outdoor festival on Sunday with numerous food stalls offering an array of delicious French foods.
But the project manager by profession, who was inspired to start the event after family members settled in France, never expected it to get so big and says it has 'taken over his life'.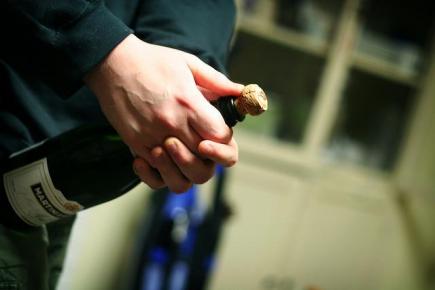 POP THAT CORK! Alty French Festival celebrates culture, cuisine, community and joie de vivre (© Ginny, with thanks)
He said: "I always intended it would be something I would do in my spare time. Now it has taken over my life. When you enjoy something the more you put into it.
"But I have always had a passion for community and corporate responsibility. And because Altrincham is trying to revive its town centre, I decided I would do something about it.
"Equally there are many volunteers, both of native French origin or passionate Francophiles, offering their time to help with the planning and organizing of the event."
So, what else can visitors expect?
After the success of last year's football event, this time there will be an additional Under 10's tag rugby tournament, in celebration of the 2015 World Cup, supported by Altrincham Kersal rugby union club.
For the grown-ups, there's a drinks marquee, French cookery demonstrations by the Vegetarian Society and Trafford College plus an exhibition of vintage Citroen 2CV cars by Manchester Ducks.
There's a live demo of Graffiti art by Manchester based Russ Meehan, magic by illusionist, Guillaume Vallee, jazz music from the Swing Commanders.
There will be performances from Absolute Belters, a 50 strong women's choir, the ABCD School of Dance and Drama dance troupe and French singer, Laura Esther.
Numerous other activities include face painting, a French puppet show, French storytelling, art exhibition, treasure hunt and the results of a Schools' art competition.
In addition, and with £4,000 raised in the last two years, Marie Curie Cancer Care will be holding a raffle draw throughout Sunday's celebrations.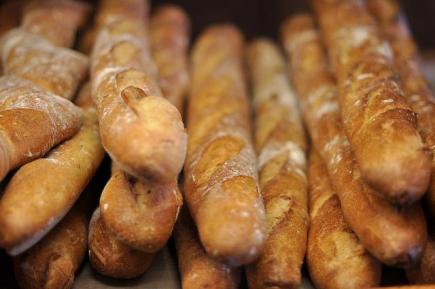 DON'T BAGUETTE! You're advised to get your tickets quickly for the July 11 and 12 event ( © Rachel Hathaway, with thanks)
With a 200 person limit and tickets priced at £30 potential diners are advised to book early or miss out on a culinary and cultural treat.
A full programme and timings can be found on the official Altrincham French Festival website here. 
You can also follow the Twitter handle @AltyFrenchFest or visit their Facebook page. 
To speak to someone about the event for information get in touch with Trevor Baxter, Tree Communications, by phone 07768 846839 or by email. 
Main image courtesy of Rick,Vassil Tzvetanov and Farooq, with thanks.