The Hilton's Cloud 23 is launching a five-course cocktail progression – and it's set to revolutionise the way people drink in Manchester.
The lavish bar – located on the 23rd floor of Beetham Tower – are serving up an array of tasty beverages as part of their new 'Bubble and Berries' taste experience.
Its premise is actually rather simple; once you're seated staff will serve you up a range of fizzed-based cocktails.
These will all be accompanied by autumn-themed food, including a scrumptious course of fresh fig stuffed with brie and wrapped in smoked pancetta.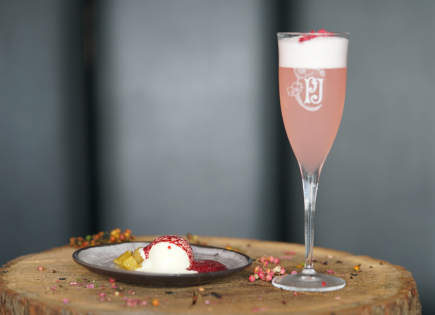 IT'S COMING: The progression launches on Sept 1
It's really all about the beverages however – all of which have been specially chosen to arouse people's palates.
The first drink – called Bold Blackberry – is a fruity concoction featuring Perrier Jouët Brut, vodka, blackberry, lemon and apple.
It's followed by a Zesty Gooseberry, which includes Perrier Jouët Brut de Blanc along with gooseberry caviar.
These are then followed by Crisp Lingonberry (Perrier Jouët Belle Epoque, gin, lingonberry, cranberry, lemon) and then Spicy Blueberry (Perrier Jouët Rosé, ginger, rose and blueberry foam).
The progression then comes to an exciting conclusion with a Rich Red Berry, which includes Perrier Jouët Brut, red berry, vodka, lime, blackberry, red berries and soda.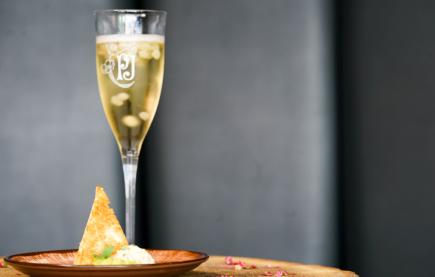 ELEGANCE: The beverages have been specially chosen by staff
These, of course, are all enjoyed while looking over the fabulous city skyline – a view that was recently named the best in Manchester.
The cocktail progression – which runs from September 1 to November 12 – is being launched alongside the all-new Afternoon Tea.
This  includes dishes such as ham and redcurrant croque monsieur, caviar blini with pomegranate pearls and a traditional scone with raspberry jam and Kir Royale clotted cream.
Bubbles and Berries five-course cocktail progression menu is £55. Available Sunday – Thursday 12pm – 8pm, and Friday and Saturday 12pm – 10pm.
Bubbles and Berries Afternoon Tea £35 per person including a cocktail and a glass of champagne, plus unlimited tea and coffee. Available Monday – Sunday 12pm – 5pm.