The final countdown to Christmas is well underway which means it's time to eat, drink and be merry.
Whether you're tucking into a traditional turkey dinner this Christmas or something a little bit different, there's no denying that great food is a highlight of the festive period.     
Former Celebrity Masterchef winner and presenter of Channel 4's What's Cooking, Lisa Faulkner offered her advice to MM readers for the perfect feast.
"Look at Christmas dinner like a roast dinner. It's just a Sunday dinner, and the minute you think of it like that then it takes all the pressure off and you don't have to worry anymore," she said.
"Keep it calm and smile and open the champagne in the morning while you're doing your turkey. And I just think, everyone forgives, everyone's in such a good mood, that if you forget something it really doesn't matter."
Offering a different approach on what to eat is This Morning chef and former I'm a Celebrity Get Me Out of Here winner Gino D'Acampo.
Gino told MM: "I don't really do traditional Christmas things, I don't do turkey and all trimmings and all the stuff like that. I like to do Christmas my own way, the Italian way. Pasta, loads of desserts, antipasti, pork, sea bass, that's what I like.
"Christmas time is the one where you don't sacrifice, and you say 'whatever's going to happen, no matter how much money they're going to pay me, I will be with my kids and wife.
"At Christmas, you need to be happy, and you need to be with your family. What you do with your family, and what you do to make yourself happy is irrelevant – you shouldn't follow anyone –nobody should tell us what to do. Just be happy, and relax, do whatever you want."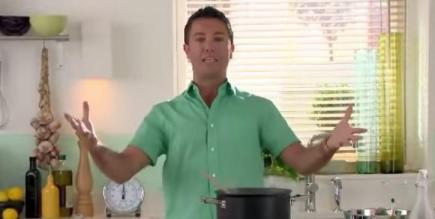 COOKING UP A STORM: Gino D'Acampo says he won't be eating turkey on Xmas day (©Gino D'Acampo, via YouTube, with thanks)
From snowballs to sherry, there's nothing better than washing down a festive meal with an equally festive tipple at Christmas, and the Mail on Sunday's Event magazine editor and resident wine expert, Olly Smith, says there's no better time of year to 'treat' yourself with boozy delights.
Olly told MM: "It's all very well having experts on these things to say 'you should taste this', 'you should try that', but really I think we should listen to our own pallets and enjoy the things we love the most.
"If beer's your thing or cider's your thing, or you're a gin and tonic person, embrace those flavours at Christmas. Treat yourself because you've worked hard and you've certainly earned it."
Mulled wine is a top choice when it comes to festive drinks and Olly gave us his expert advice on how to make a perfect mug of the delicious treat.
"The tip I'd give with mulled wine is don't boil it because you lose the booze and you also burn the herbs and spices and make it taste bitter so keep it just off the boil.
"If you're having mulled wine add port rather than brandy because it boosts the flavour, the colour and the sweetness so it's gorgeous," he said.
Just around the corner after Christmas is New Year's Eve, arguably the biggest drinking night of the year and Olly was also on hand to offer his advice for that night as well.
"You don't need to spend a fortune – the thing about New Year's Eve is pace yourself. Start early, enjoy yourself but don't go nuts on the hard stuff too early. Save that until after we've got through New Year's Eve and then toast away with the big flavours," he said.
Olly also had his recommendations for what to drink this year without spending a fortune.
For just £4.99 he said Tesco's Rose Cava is 'unbeatably good' and if you're looking for a bottle of red to go with the turkey, look no further than the Aldi's £4.99 Venturer Range Garnacha which Olly described as having 'beautifully vibrant flavours'.
Now the food and the wine is sorted, it's time to deck the halls with boughs of holly – but style guru Laurence Llewelyn-Bowen says the key to creating a festive home is not to overdo it.
Mr Llewelyn-Bowen said: "This break that everyone gets in the winter is very important, everybody works very very hard at the moment," he said.
"The thing is, though – don't overdo it.
"Don't sacrifice yourself on the Christmas altar. Yes – make everything lovely, yes – have a really Christmassy experience but don't break yourself as a result financially or mentally."
He was keen to make the point that sometimes it's not a case of all or nothing.
"Always make sure that you hold back a little bit, on a kind of a decorative level, I'm always keen to get people to look beyond the clichés," he said.
"You're very proud of where you live – you've created a very nice space. Decorate that in a way that it works – don't feel you've got to have big green and red bows unless you have big green and red bows in the first place."
Main image courtesy of Ross Strachan, with thanks. Inset images from Rainbella3 and Littlewoods, via YouTube, with thanks.