Manchester House Head Chef Aiden Byrne has given his endorsement to North West gin giants Greenall's at a special event at their newly renovated distillery in Cheshire.
The Michelin star chef and television personality was speaking at the launch event of Greenall's new bottle design, aimed to celebrate the brand's rich British heritage and proud dedication to sprit craftsmanship.
The bottle design draws inspiration from archives at Britain's oldest gin distillers, the G&J Distillers in Warrington. The self-styled 'Great British Sprit', which has been produced there for over 250 years, aims to reflect this heritage with its newly unveiled product design.
Established in 1761 by the forefather of gin, Thomas Dakin, Greenall's describes itself as Britain's first and original London Dry style gin. The Original recipe remains unchanged and is a closely guarded secret, only ever known by seven Master Distillers.
Joanne Moore, Greenall's seventh Master Distiller, is the current recipe's guardian, as well as being one of the world's first female Gin Masters. Each batch uses 100% British wheat, in the aim of achieving a silky, smooth spirit.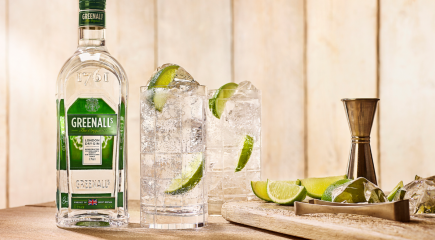 COMMITMENT TO AUTHENTICITY: Made from British wheat, Greenall's deliver a silky, smooth spirit
Its eight botanicals are handpicked and sourced from across the world and include wild Tuscan juniper berries, delicate Moroccan coriander and zesty Spanish lemon peel.
Dermot Hegarty, Senior Distiller at G&J Distillers for the past 21 years, was keen to express optimism for the product's future successes.
He told MM how the brand's commitment to authenticity reflected his own personal connections to the distillery at which Greenall's is still produced.
"I came here after my father and my daughter works here now as well. It's a family affair that's for sure!" 
The new design for the award-winning Greenall's The Original and the Greenall's Wild Berry expression is available from May 2017.
Thanks to @aidenbyrne, @greenallsgin, @Campbell_Bell for a fantastic day at Greenall's distillery. Food was utterly sublime + wonderful gin. pic.twitter.com/SWxJFRmtRC

— Alexander Ritchie (@AlexRitchieMM) May 23, 2017