Sandwiched next to a Ladbrokes and a Dixy's, Elixir is a bar you've probably seen but not heard.
And that's a shame. The Deansgate venue played host to Manchester's latest supper club, the three-night-only excellent pop up dining experience Underground Paris last week.
Styled on the Parisian absinthe bars of the early 1900's, Elixir's large basement room saw the clocks turned back a century with the aid of industrial quantities of red silk and a four-hour mixtape of French accordion music.
The idea was the brainchild of veteran supper club connoisseur Natasha Hood and ex-Channel Five branding guru Shirley Sarker, who created the inaugural event with their 'passion for art, theatre and feeding their friends'.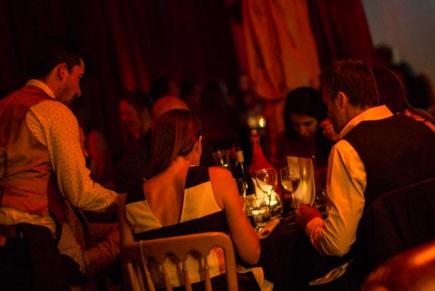 CLOCKS TURNED BACK: The Deansgate bar became a Parisian boudoir for the three night event, which drew out the foodies
The pair had been decidedly economical with the details sent out in advance.
All I knew was that I'd need to get through five courses (all accompanied with wine) while still regaining some composure in front of the five strangers I shared my table with.
And the five of them certainly knew their food.
Almost as if Natasha and Shirley got a kick out of the pressure, they'd placed two restaurateurs, a waiter, a critic and two keen foodies on the same table. We talked little other than food.
The room, which was split into several tables of six, was designed to force diners to make friends – or at least pretend for a few hours.
But getting over that initial icebreaker conversation – which resembled something between an AA meeting (how apt, given the amount of plonk consumed) and a company teambuilding session – was surprisingly easy.
Easing the tension was a brief interlude during which the smoke machine, running on overdrive, pumped out so much of the stuff that the venue's fire alarm was activated, turning the relaxed French café background music into more of a dubstep mashup.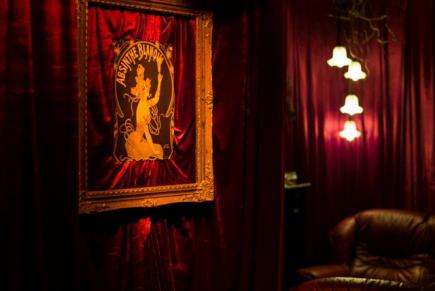 'ART, THEATRE AND FRIENDS': The aim of design/chef duo Natasha Hood and Shirley Sarker was to return to 1900s Paris
The meal began with a spring pea soup with light cheese foam. The soup – deliciously fresh and dainty. The foam – all I want to know is where I can buy some.
It was a tentative first step into what we all anticipated to be an overwhelmingly rich dinner.
No sooner than we'd taken the last mouthful, a selection of homemade pickles and pates were brought over – plates clinking as abandoned glassware was hastily moved from the table to make way for the spread in the middle.
"Potted beef, that's so Famous Five!", one diner exclaimed with pleasant surprise from behind us.
Getting into the swing of it now, we were passing round the jars between us almost like we were in a boozy Enid Blyton story, and when the first glass of vino was spilt shortly after, any awkwardness that remained was immediately lost.
Competing with resident sommelier Nathan Fiske's knowledgeable introduction to each bottle, we all partook in the mandatory inhaling of the aroma, making sure to murmur a comment about the bouquet – loudly enough so we appeared clued-up, quietly enough so the others couldn't decipher that all we'd said was 'lovely'.
Next up was duck confit with red wine braised lentils. A perhaps too generous helping of the tender bird, but delicious nonetheless, with silence reigning supreme as my fellow diners abandoned conversation to prioritise eating.
There was, naturally, a vegetarian option – grilled herbed polenta – but you get the impression being a veggie in 1900s Paris probably wasn't the done thing.
Throwing bourgeois tradition to the wind by introducing the cheese course as a prelude to desert, Hood played it safe with a Roquefort and pear pairing that was divine but just not enough.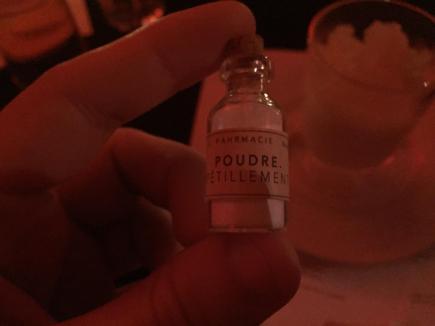 CLEANSE THE PALATE: Tiny bottles of apple sherbet and an absinthe mouth spray introduced the final course of the night
But perhaps that was greediness kicking in. In anticipation, the pair had thought ahead, and brought over six adorable corked miniature medicine bottles, each filled with apple sherbet to cleanse the palate.
And where would the evening be without absinthe – aside from an introductory cocktail, the drink that inspired the menu seemed to have failed to make an appearance until the waiter appeared with a Blumenthal-esque absinthe mouth spray.
Finishing up, we found room for the rich and creamy apple and lemon posset. The absinthe granita accompanying it sounded great in theory, but in reality served as more of a disappointing alcoholic slush puppy topping.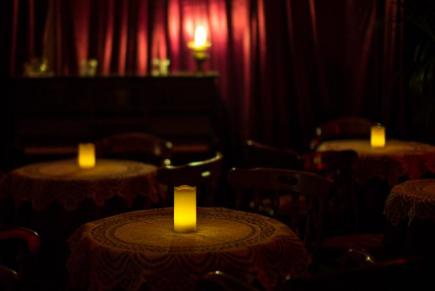 'PERFECTLY CALCULATED FORMULA': The five delicious courses were expertly delivered, never leaving you rushed or hungry 
"More Edith Piaf needed," one of my fellow diners commented when asked what he thought of the evening. "But non, je ne regrette rien."
He was right. Towing the delicate line between not rushing the diners in finishing their courses and not leaving us with an hour wait between each, the formula was perfectly calculated.
As I emerged from Elixir, suitably tipsy and five courses heavier, I walked back past Dixy's, where a fight, which had broken out just outside, had forced the frightened owners to lock themselves in.
I smiled a smug smile and thought – for tonight at least – I'm better than Dixy's.
---
For the moment, the pair are taking a break, but be sure to keep an eye on their next endeavours on their Twitter and website.
Images courtesy of David Lake Photograhy, with thanks