Located in a not-so-vibrant and hip part of the Northern Quarter, Ning is nestled at the end of Oldham Street – unassuming on the outside, anything but once you venture on in.
We went on a busy and bustling Friday night and since the venue itself is rather on the small side it definitely made the evening a more intimate affair.
The bright and bold interior certainly provoked interest, if nothing else. Decorated with bright pink floral prints, it made a change from your bog-standard restaurant backdrop.
Drinks wise, the menu offered a concise list of wines and bottled beers, but also a more extensive list of cocktails.
We opted for a bottle of Chilean Sauvignon Blanc (Vistamar 2011 at £17.50 full of sharp citrus tastes and ripe tropical fruits – a perfect partner for a night of Malaysian delight.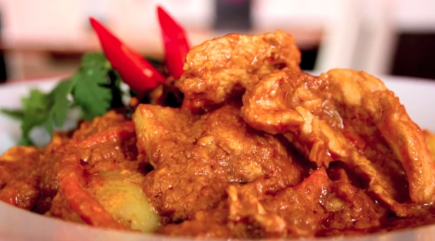 TANGTASTIC: Ning's dishes are bursting with zesty, hot flavours
The food menu had an eclectic mix of Malay dishes, including the national classics such as Nasi Lemak and Rendang, with traditional curries and stir-fries making up the rest of the menu.
Ning also recognises Thai classics for less adventurous punters with interpretations of Pad Thai, Thai Red and Green Curries.
However, we were not at Ning to try everyday Thai favourites, we wanted to chose dishes which were slightly more out there and lesser known, opting for a starter to share of Masalodeh (£5.95).
Indian-inspired lentil fritters flavoured with chilli, cumin and curry leaf – the description was appealing, but this wasn't delivered to the fullest, with the lentil fritters subtly flavoured at best.
It lacked bravery when it came to the heat and spice that you would expect and the texture was unfortunately very dry. The dip was unable to wow too, shy of the promised fresh mint and lacking the acidity and freshness you would want from lime juice – a not so promising beginning. 
However, the main courses completely flipped our opinions.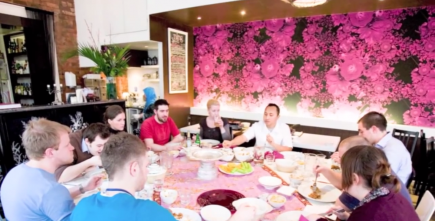 TICKLED PINK: The restaurant's bold patterened decor is hot stuff
I opted for Chicken Gulai (£10.95) – moist chunks of chicken in a sauce rich with coconut milk and spiked with plenty of chill heat that itself was a perfect balance.
The aromatics only enhanced the dish – soothing cinnamon and star anise, along with fragrant pandan leaf made it a very wholesome, warming dish on a cold, grey evening.
My other half went for a more audacious helping of Daging Masap Kicap (£12.95).
Translated into English simply as 'cooked beef black' it didn't sound too appealing on paper, but this seriously impressed us both.
Topside of beef, braised down in sticky and salty dark soy sauce packed full of umami was an ultimate comfort food.
Similar to the Gulai in its spicing, star anise and cinnamon were the prominent flavours. Classic Malay curry seasoning was also distinct, building layers upon layers flavour.
A lovely little touch with each curry too was the neat vegetable garnishes on top – spaghetti shaped carrot, spring onion and coriander offered a bit of freshness through otherwise indulgently rich main courses.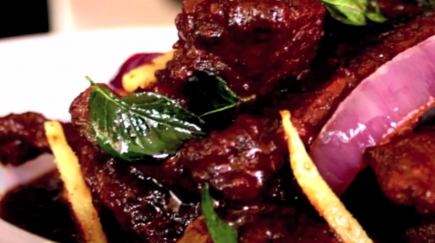 WHO'S UMAMI? The main's offer warmth and comfort on a cold day
The mains were served with Malay-style coconut rice (£3.30) and plain rice noodles (£2.20), the sides tying both dishes together.
After such gluttonous main courses, it won't be surprising to hear we decided to go for a refreshing end to the meal choosing two homemade sorbets (£4.50 each).
Pineapple and cinnamon and lemongrass and lime were two contrasting flavours, which divided opinion between me and my other half.
The lime and lemongrass sorbet was too acidic for me and lacked balance. Although countering earlier complaints about lack of flavour, this went to the other extreme and packed an overly zingy punch.
The pineapple and cinnamon was the favourite for me though – ripe, sweet pineapple partnered with woody, fragrant cinnamon was a beautiful thing.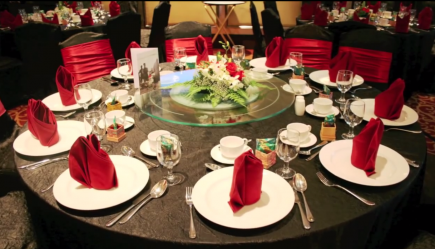 THE FINER DETAILS: Ning has the makings of a top notch eatery
Texturally, however, both sorbets were somewhat grainy, possibly down to a lack of churning but something you would not expect at such a renowned establishment.
Malaysian food is certainly on the up in the UK, there is no doubt about that. However, its sheer diversity makes it tricky for most to judge.
Ning has certainly achieved something remarkable here, popularising and highlighting a cuisine, without simplifying and compromising on Malay cooking values to cater for anglicised palates.
While the evening wasn't without error (most notably the service isn't the quickest or best), with a few small changes, Ning could become the forefront of Malay cooking in the UK.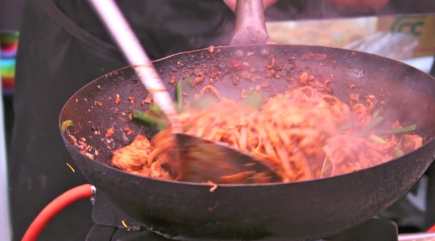 DON'T WOK ON BY: Venture into Ning for some adventurous food
All images courtesy of Ning restaurant, via YouTube, with thanks