The Greek saying 'ever to excel' – from Homer's sixth book of the Iliad and the motto of University of St Andrew's – is one Rozafa on Princess Street, Manchester, most certainly lives up to.
This city centre restaurant is never as busy as it deserves to be and lots of empty tables is not exactly the nudge you need to try out something a bit different on your dinner date.
But consider this your nudge or, in fact, a good old kick through the door because the food and the atmosphere are absolutely impeccable.
The eatery doesn't necessarily 'wow' on appearances. There are no arty dinner mats, statement lighting, food out of a shoe, mix-and-match chairs, or shiny modern finishings.
It is a spacious and clean restaurant with wooden chairs and tables and blue and white table cloths – the colours of the Greek flag.
Nowadays the simplicity of their approach to the décor is not just refreshing, it also makes the place feel warm, inviting and quite homely.
Besides, who needs spirally cutlery and futuristic sculptures from their dining experience when the food is as delicious as it is at Rozafa? (hint, hint the answer is NOBDOY)
.@Rozafa_ has completely stolen my heart. What a feast! Review coming very soon for @MM_newsonline pic.twitter.com/IVcYDw4RP3

— Kimberley Reader (@kj_rdr) January 27, 2016
There is an extensive menu featuring all the favourites from Mousaka to Taramasalata, Tabouleh to halloumi and every single grilled yumminess/meat you could want.
Now, in a bit of a food review faux pas, I ordered exactly the same starter and main as my partner in crime and cuisine – plus we shared wine and dessert – but it won't matter and you'll see why…
To start we had the halloumi salad – thick slices of the salty, squeaky and scrumptious cheese fried and placed on a bed of red onion, red pepper, lettuce, cucumber, tomatoes, and parsley in a light lemon, olive oil and balsamic dressing.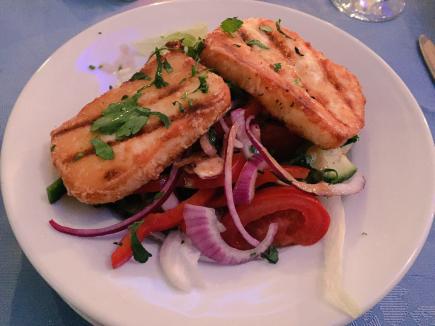 LOOKING FRESH! The fried halloumi on a bed of crunchy salad was divine with a delicate dressing
The dressing was delightful – perfectly complimenting and not overpowering the other flavours – while the fresh, crunchy and colourful veg nicely contrasted the warm cheese.
A word of caution, this salad is filling and it doesn't help that it comes with a hearty portion of irresistible, heated pita bread.
If you're a big eater, everything that follows will be so exquisite you won't be able to stop eating it anyway.
But for the dieters or small-stomached among us it may be better to share or opt for something from the wide selection of appetisers and meze.
In between starters and mains a duo set up their music stands and whipped out their guitars to replace the already fantastic traditional Greek music that had been playing all evening with their own.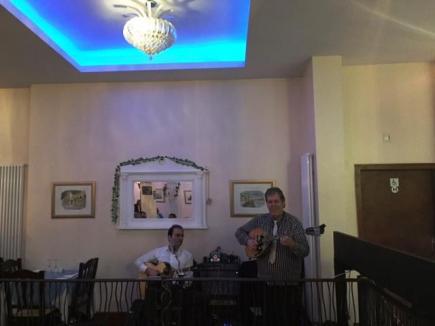 JOVIAL ATMOSPHERE: Rozafa delivered service with both a smile and a song
And the switch to live music energised the already jovial atmosphere as the waiters began to clap, dance and sing along.
Next up on the food front was the mixed grill or Diafora Scaras, which consisted of a skewer of chicken, one of lamb, a minced lamb kebab, Loukaniko (spicy Greek) sausage and lamb chops and a choice of rice, chips or salad.
Side note: This is why it doesn't matter that we ate the same thing because we still ate almost everything.
This grill is truly the food of the Gods. The meats, which are marinated in Greek yoghurt and spices beforehand, were unbelievably tender, juicy and perfectly seasoned.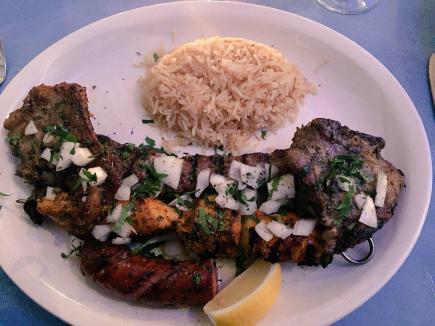 FOOD OF THE GODS: The meats in the mixed grill were tender, juicy and perfectly seasoned
I'd never tried Loukaniko – Greece's far superior version of a Saveloy – before but can now highly recommend it and the minced lamb kebab was wonderfully spicy but the real stars of the show, for me, were the lamb chops.
So if you don't want to over indulge quite as much as we did, go for them… Or you know anything else because it was all glorious.
Throughout our starters and mains we enjoyed a Greek red wine, Nemea Lantides. Having never explored Greek wines before, it was great to try something completely new.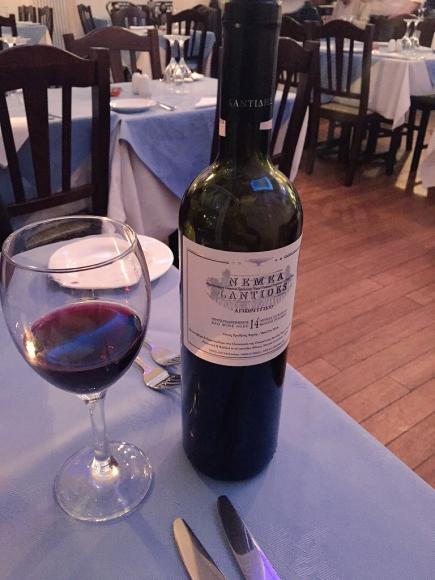 DIONYSUS WOULD BE PROUD: This wine was soft, spicy and packed full of fruity flavours
The wine was soft, spicy and packed with flavours of cherries and prunes – also not overly pricy for restaurant rates at around £20.
The bottle of Nemea Lantides conveniently finished by the time we finished our mains, giving us an excuse to try out a Greek brandy, the Metaxa Five Star, while we satisfied our sweet tooths (surely it's not sweet teeth?).
As a non-Brandy drinker I'm not inclined to go into detail on this but it was delightfully fruity and a lovely accompaniment to our Baklava – thin layers of pastry layered with nuts, sprinkled with cinnamon and doused in honey.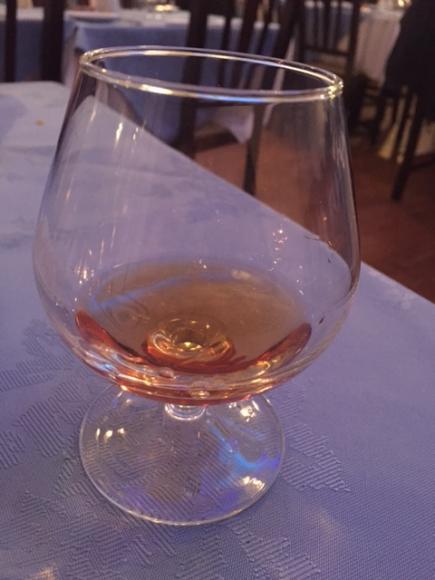 NIGHT CAP: Bring your night out to the perfect close with a glass of Greek brandy Metaxa Five Star
Having grown up in the Middle East, baklava is a taste of home I love to indulge in when I get the chance.
This one was on the too cinnamon-y side for my liking but, in all, delivered the flaky, nutty, sticky and sweet little slice of heaven expected from this traditional dessert.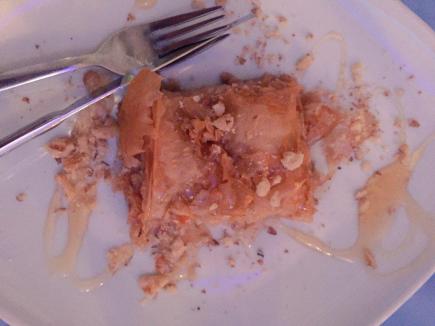 SWEET TOOTH: This fine pastry with nuts, cinnamon and honey will satisfy all your sugar cravings
So what did Rozafa have to offer? Amazing food, a warming atmosphere, and service with not just a smile but a song and dance too. The only thing missing was some plate smashing… Maybe next time!
Our total bill came to £38 each including tip.