January blues were quickly forgotten over the weekend as beer enthusiasts and gin lovers crammed into Manchester Central for the city's annual Beer and Cider Festival.
Taking place over four consecutive days, a range of generations visited the event.
A multitude of stalls lined the grand setting, with a variety of different drinks on offer, including beer, cider, perry's, fruit wine and even a gin bar.
Guests could also enjoy an assortment of different food from various traders, with a hog roast, cheese stall, pork scratchings, snacks and more available to feast on.
And if all that wasn't enough, a range of different games were offered at the venue for people to get involved with such as pub games, shuffleboard, beer pong and crown top shives.
The annual festival has been taking place for six years and has been proving more popular each year, with an impressive 15,000 people being expected over the weekend.
More than 300 volunteers from the Campaign for Real Ale (CAMRA) organisation have helped to organise the event, which has been in the running for the past twelve months.
Festival organiser Adrian Saunders said: "I want to thank our band of volunteers, drawn from the Greater Manchester branches of CAMRA with several from across the UK, and our sponsors who help keep the festival affordable.
"But most of all, thank you to all who come and enjoy themselves and make the Manchester Beer and Cider Festival an essential item in the calendar."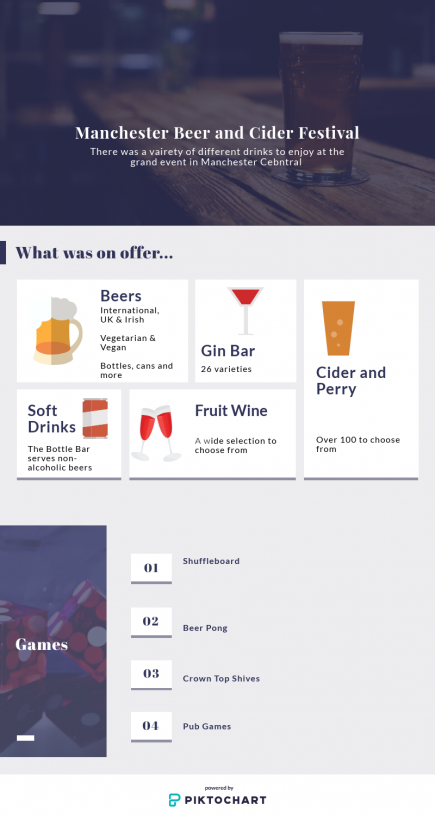 From international, UK and Irish beers to gins and even vegetarian and vegan beers – there was certainly something for everyone to enjoy at the Manchester Beer and Cider Festival.