Fabrice Muamba used to dribble across the field before his on-pitch cardiac arrest in 2012, but now his wife is ensuring the fans keep salivating thanks to her own range of Caribbean cooking sauces.
A proportion of the money made on each jar of the five new sauces sold is going to Arrhythmia Alliance and its 'Hearts & Goals' campaign, which aims to have more defibrillators accessible to the public.
Shauna Muamba knows how important the charity's work is, having seen her fiancée – now husband – collapse while playing for Bolton against Tottenham in March 2012.
She told MM: "A defibrillator saved my husband's life.
"ASDA have put 600 defibrillators in their stores, which I think is a result in itself already.
"Every product that we bring out, if it's on your shelf, my dream is for there to be a defibrillator there as well, be it a corner shop or supermarket."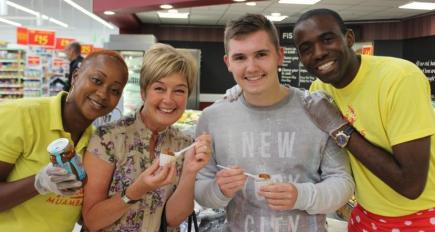 NOT BAD AT ALL! Fabrice and Shauna with two happy customers
A number of footballers have collapsed while playing – Muamba survived but others, such as Manchester City's Marc-Vivien Foe and Phil O'Donnell of Dundee United, were not so lucky.
The problem extends far beyond football too, with Arrhythmia Alliance estimating that 100,000 people in the UK die from a sudden cardiac arrest every year.
They also say that immediate CPR (cardiopulmonary resuscitation) with the use of a defibrillator increases a person's chances of survival by 50%, compared to 9% with CPR alone.
Shauna Muamba spoke while launching her Mrs Muamba's range of Caribbean sauces in the ASDA in Horwich, just across from Bolton Wanderers' stadium.
Her husband helped her give a cooking demonstration, as well as preparing free samples for shoppers.
He said: "I'm very proud, really excited. Shauna has worked for 10 months on these sauces, so it's great to see her hard work rewarded."
Her Caribbean Catering Company has been operating for over three years, and she is already aiming high, targeting the kind of success achieved by 'Heinz, Tropicana or Innocent'.
She said: "I didn't go for restaurants because of my kids, and I needed something that worked around me as opposed to the other way round.
"Family is the most important thing in my life, even with this business."
She added: "Diversifying, adding new products into the range and seeing where we can go with it is what I intend to do now.
"If we do stellar, and everyone really wants a restaurant, then it's something that I'd consider but for now I just need to take it step by step.
"We're invested wholly by ourselves, we don't have any outside funding, so if we want worldwide domination, I think we need to focus on one thing before I try to do everything!"
As for Mr Muamba, he is now working on a sports journalism course at Staffordshire University.
"The course is tough, with a lot of writing, but it's enjoyable," he said.