Manchester's Food & Drink festival turns 20 this year and the anniversary programme is more creative, exciting and diverse than ever.
The jam-packed event has demonstrations ranging from taste tests and panels to cookery demos and cocktail making.
For the brave foodies there will be a blind folded bush tucker trial tasting the popular Vapiano's dishes.
When?
The UK's largest urban food and drink festival takes place from September 28-October 9.
Where?
The gastr-avaganza will be based in Manchester's Albert Square over the course of 11 days!
Shake things up at MAD Cocktail Week!!

Full info & tickets: https://t.co/sWEPCfqiSz pic.twitter.com/gIi0HMdE3d

— McrFood&DrinkFest (@MFDF17) September 26, 2017
How much?
Free entry, while your favourite restaurants will be offering special deals and discounts.
Cosy Club – enjoy three tapas dishes of your choice and a glass of wine for only £12.50.
Byron Burgers – enjoy one of their fantastic burgers plus a drink and unlimited fries for just £13!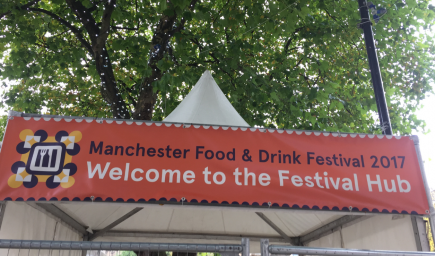 WARM WELCOME: Albert Square has been a flurry of activity and loud music as the city prepares to host another event
Pho – a fantastic offer of a main & a glass of wine or beer for a tenner…
Cabana – mouth-watering offer of three courses & a glass of prosecco for £19.95 per person.
Gino D'Acampo: My Restaurant – offering one course for £11, two courses for £16 or three courses for £20 of their delicious authentic Italian cuisine.
If that doesn't take your fancy then you'll be pleased to know there will be a range of street foods from all different cultures including: Love is Churros (Spanish fried dough with chocolate), Zoe's Ghana kitchen (African food kitchen), Viva la Crepe (fresh French-style pancakes) and Little Somboon Kitchen (Pan-Asian fusion street food).
To top that off there will also be 20 breweries for all the beer lovers.
And if you want something different then make sure to head over to Goatober which is a celebration of the dairy billy goat meat industry.
Ethical meat champion James Whetlor is putting a stop to the waste of goat meat – so far £6,300 was raised for charity Action against Hunger.
If you want to take part in the fundraising then all you need to do is try some of their delicious dishes.
Whetlor said: "As an ex-chef myself, there's nothing that delights me more than seeing top chefs prepping our goat in imaginative, inspired delicious ways.
"Britain has woken up to what the rest of the world has known for some time: goat meat is delicious!"
For full details of Goatober Manchester visit www.Cabrito.co.uk/goatober 
For more information on the Food & Drink Festival visit http://foodanddrinkfestival.com/ or @MFDF17 on Twitter.
Get down to the Festival Hub on Albert Square from Thursday 28th to enjoy fantastic street food, live music, a range of bars & events pic.twitter.com/Dpb46oLX6L

— McrFood&DrinkFest (@MFDF17) September 24, 2017
Image courtesy of I Love Manchester via YouTube, with thanks.