For almost a decade, Ibérica has been the go-to for foodies looking for a Spanish fix in the heart of central Manchester.
The Spinningfields restaurant has just launched their new spring menu, with a selection of new tapas dishes, desserts and, of course, Spanish wines.
It is a tendency of British tapas chains to Anglo-fy the classics of Spain, often resulting in heavier dishes that closer resemble full meals than they do the small snacks found on the Iberian Peninsula.
But it is a virtue of Ibérica that they do not fall into this trap and manage to keep their menu light, delicate and mostly delicious from start to finish.
Their menu claims to marry tradition with modernity, but the meal begins firmly with the former – two platters of Ibérico hams and Spanish cheese.
The hams have each been cured for different periods of time, from six months up to two years, and this coupling of rich and delicate flavour combinations works beautifully alongside a Spanish take on bruschetta.
Similarly the cheeses, though all familiar, are well sourced and combine nicely as an appetiser. The platters may deliver nothing new, or even exciting, but why change such a classic formula? It's classic for a reason.
Along with these first plates comes our first wine – a very sweet Manzanilla from Cadiz in Andalucía – a lovely balance to the saltiness of the ham. 
The first vegetable dishes promise slightly more than they deliver. A baby carrot tempura certainly sounds exciting, new, and innovative, but unfortunately the carrot is so minute within the tempura that its flavour is wholly overwhelmed and what you are left with is a mouth full of batter.
Meanwhile the crispy cauliflower with pak choi proves hit and miss. The twice-cooked crispy cauliflower over cauliflower puree is delightful it must be said, but alongside it are dregs of pak choi – overcooked to the point that they have lost almost all flavour.
The shortcomings of these two dishes are almost instantly forgotten, however, with the next two dishes: octopus a la gallega and ensaladilla rusa (Russian salad).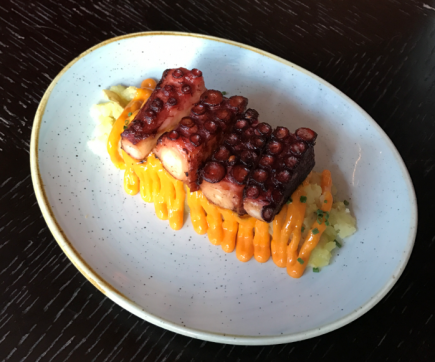 SMELL THE SEA: Ibérica do the Spanish classic of octopus so well you'll think you're in a Mediterranean tapas bar
The octopus is such a Spanish classic – and a mainstay of the Ibérica menu – that it is clear the chefs know exactly what they are doing and it is executed to perfection: textures, scents and flavours that transport you instantly to a tapas bar on the Mediterranean – you can almost smell the sea.
Meanwhile the salad is a real surprise – a kind of Spanish potato salad, stolen and adopted by the Russians (hence the name). Potatoes, mayonnaise, chilli, tuna – it's simple, but wow, it hits the spot.
Again the wine here is perfectly coupled with the lightness of the seafood flavours – a clean, fresh white called Perro Verde ('Green Dog'), exclusive in the UK to Ibérica – so good it's worth dropping in just for a glass of this.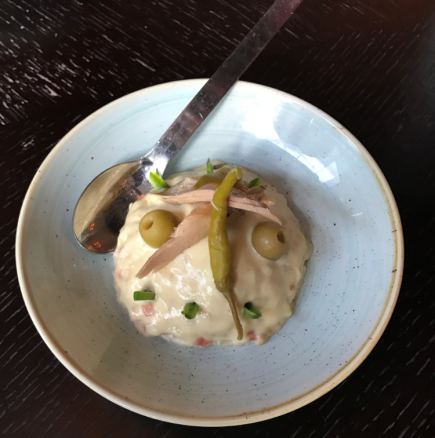 REAL SURPRISE: The Russian salad masters the simple but effective dish
However, with the next set of dishes, a trend began to emerge: hit and miss. The seemingly innocuous trio – ham croquettes, twice-cooked lamb and chicken wings – contained both the star and shocker of the evening.
The ham croquettes, like the octopus and the hams, again proved that the classics are what Ibérica do best – silky, soft and perfectly seasoned, I could have finished off a plate of 20 with ease.
But then again, Ibérica should be good at the classics. What truly impressed me was the lamb. Beautifully spiced and twice cooked so that it fell apart with satisfying ease at the press of a fork.
It came with slow-roasted pimientos, cherry tomatoes and a gorgeous mint pea puree that drew the whole dish together – undoubtedly the standout dish of the evening.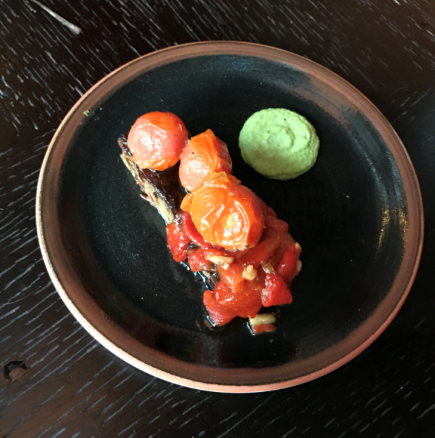 SLAMMIN' LAMB: MM's standout dish of the evening was the soft yet twice-cooked lamb
Unfortunately, alongside it came a dish that stood out for all the wrong reasons. Or perhaps to say it stood out is to give the chicken wings too much credit, because if the dish is to be defined by one thing it is paradoxically its unforgettable blandness.
Served with what was meant to be a 'spiced' sauce, there was absolutely no flavour to the limp wings, and worse still were the accompanying deep-fried plantains: brown slabs of fried tasteless nothingness.
I don't know whether this dish simply went wrong on the night, if a crucial ingredient were somehow missing or whether it was merely a stroke of insanity that caused the chef to serve it, but if you go to Ibérica, I would recommend steering clear of this particular dish.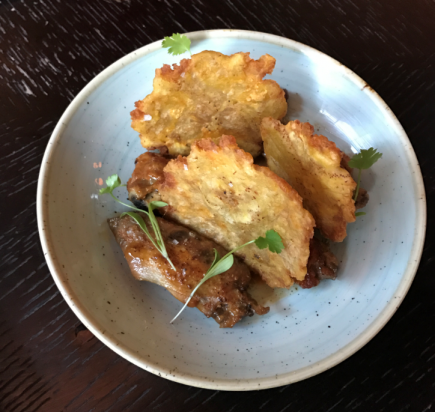 NO FLAVOUR: Steer clear of the chicken wings! 
I must stress that this was the outlier rather than the general standard of the food over the course of the evening.
Luckily, it was comfortably washed away with another superb exclusive Ibérica wine – this time a deep and complex red from Ribera del Duero, the perfect accompaniment for the delicious lamb.
To end, the desserts provided another simple yet effective end to the meal – a rice pudding with a caramelised top to give it an almost crème-brûlée-like sensation, and with it a crema catalana foam served with ginger biscuit crumb and poached pears – you can't ask for more than that.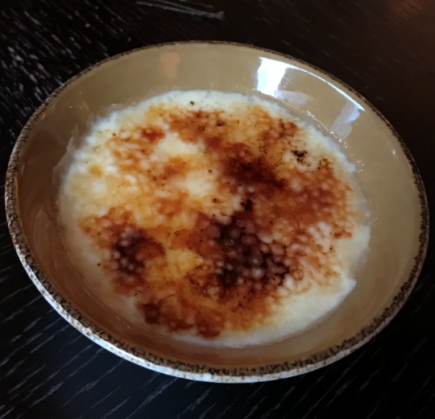 THAT'S BETTER: The crema catalana foam served with ginger biscuit crumb and poached pears ended MM's night on a high note
Ultimately, Ibérica's new menu is a success. If you are looking for a light and well-executed flavour of Spain at a reasonable price then certainly, there is nowhere better in Manchester – but for God's sake, I implore you: stay away from those chicken wings. 
Image courtesy of Iberica Manchester via Twitter, with thanks.