Some bowls of cereal are fueling child obesity as they can contain as much sugar in one bowl as seven and a half chocolate fingers, according to health campaigners.
The campaign group, Action on Sugar, have found that 14 out of 50 cereals were a third sugar, suggesting that the government is failing to keep the industry in check.
Experts are suggesting that child obesity has become as much of a national health problem as cigarettes.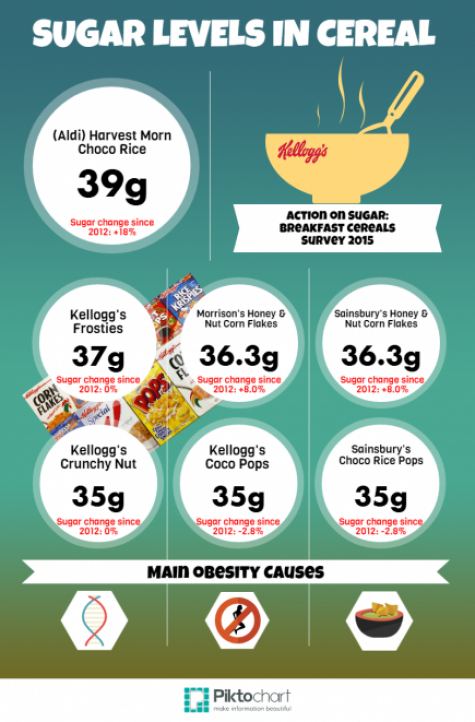 In order to find out the public's view, MM took to the streets of Manchester to ask whether people believed cereal with so much sugar should be marketed to children.
Should cereals that contain very high levels of sugar be allowed to be marketed to kids?
Lizzie Lawrence, a secondary school teacher from Northenden, 30, felt the cereal in question should not be marketed to children given their psychological effects.
She said: "I don't think this should be the case, given the psychological impact of so much sugar on a child first thing in the morning is bound to be detrimental to their subsequent food choices that day.
"Not to mention their ability to concentrate when riding the wave of a sugar high and its subsequent crash. Where these are marketed, there should be a clear warning to parents about the sugar levels."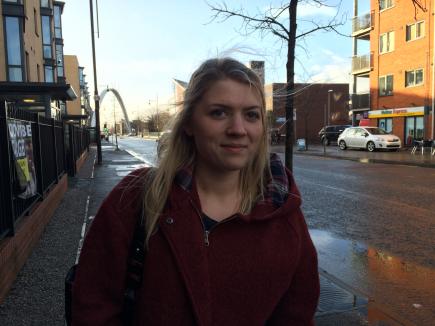 UNHEALTHY HABITS: Amy doesn't want her kids eating unhealthily
Amy English, a Manchester Metropolitan University student from Lancaster, 19, felt that it is easy to fall into habits and we should not be encouraging children to eat unhealthily.
She said: "You get used to eating it and if you do that you just carry on because you don't really think about it. I wouldn't want to do that to my kids so I think this needs to stop."
Simon James, a student from Northwich, 21, was concerned that kids do not care about their food intake and need more education about what they are eating.
"We definitely shouldn't. Cereals are meant to be slow release healthy food, the most important meal of the day," he said.
"At an early age, kids aren't really worried about what's healthy and what's not, so there is a responsibility to market cereals to them which are good for them."
Jemima Palfreyman, afreelance pianist and teacher, said: "We should absolutely not be selling these to kids. Sugar should be regulated in the same way that saturated fat is supposed to be!"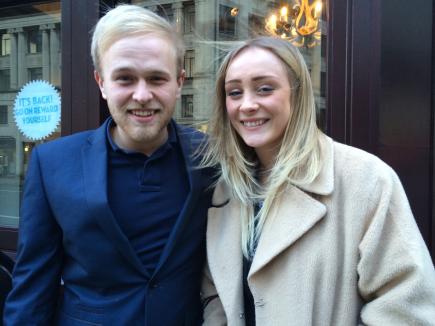 PARENTS' RESPONSIBILITY: Sam (left) believes it's up to the parents
Music student Sam Gibson from Piccadilly Basin, 22, said: "The companies have every right to market it the way they want but it's up to parents or carers to work out what's right for their children."
Henry Alexander, a student based in the city centre, 22, said: "I would say that it's not that different to having sweets marketed to children. It's up to their parents to make sure that they are eating healthily."
Ann Ball, a teacher from Stockport, 48, said: "These are really shocking statistics that are coming out and I don't think they should be marketed. At least the levels of sugar should be more evident."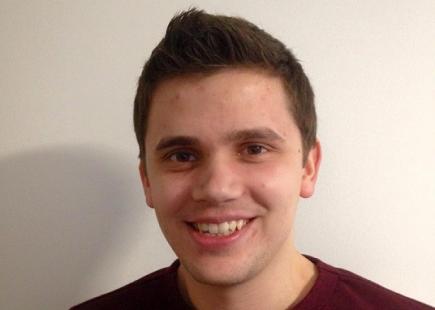 SCEPTICAL: George doesn't fancy high sugar intake for breakfast
Royal Northern College of Music student George Bruce, 21, said: "No. I think breakfast is the most important meal of the day and having most of your daily intake of sugar just in one meal can't be good."
Sam Mather, a barman from Warrington, 21, said: "No there are just too many obese kids out there, this marketing is just encouraging them to eat unhealthily."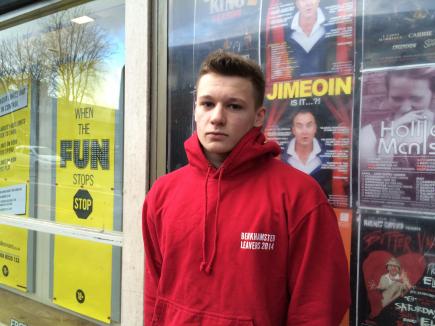 HEALTH FREAK: George eats oats and thinks others should too
Student George Fitch, 18, Manchestr city centre, said: "No way, I'm a health freak myself and all I eat is oats a lot of the time. Kids need to be healthier than this."
Main image courtesy of Amy SIan Green, with thanks.