Forget curry mile, we want a slice of Indian elegance.
Most people immediately think of a food review being about whether or not the food in a specific restaurant was good or not.
Words such as delicious and mouth-watering come straight to mind when describing meals and people usually read up until they receive a 'yay' or a 'nay' on a place.
Don't get us wrong, the food definitely has a large part to play in it all, but should a restaurant be based on more than just the feelings a dish delivers to the pallet?
Manchester has an incredible food scene. You can find good food anywhere. You name the dish and you are more than guaranteed to find not only it, but a sister dish of the same sort with a signature twist to it.
The red brick building streets have a number of cuisines all competing with each other, and it really is quite special to find those restaurants which have a real flare to them.
Dining out should be an experience. One that lingers in the mind for a few days after, luring you back for more. One that excites you and spoils you, enticing all the senses and let's be frank, it should be one which makes you want to hang up those kitchen gloves and put away those frozen ready-meals for good.
Which is why Dishoom has managed to wrangle a way into our Indian-food loving hearts.
'CALMING COLOURS DANCE AROUND THE ROOM'
Located in the Manchester Hall, the former Grade II-listed freemasons building on Bridge Street, Dishoom opened its doors last December and has managed to pay homage to the old Irani cafes of Bombay all the while connecting the links between Manchester, Bombay and freemasonry.
High set, elegant ceilings introduce an open and airy space. Antique pieces of furniture, some found at the Thieves Market in Bombay, sit upon the original parquet flooring, while restored treasures such as the grand masonic in-and-out signboard in the lobby adorn the rooms.
Countless framed family portraits cover the faded looking tan walls, enhancing the original stained glassed windows while bright, yet calming colours dance around the room drawing the eye to the striking domed ceiling.
The room is dark however, and the table is lit with a dim yellow light, casting a ray of light on the table and creating a real-time setting from 1960s Bombay.
Not many places have a distinct smell. It's a hard thing to take in when in a restaurant if you don't include the smell of freshly cooked food blasting at your face the moment you step indoors.
Yet Dishoom does. A soft and perfumed scent of incense floats around the air from the foyer onwards.
Nothing overwhelming, natural if not slightly aromatic, but enough to tip off your sense of smell that you might be in an exotic Indian world.
We managed to select a few dishes from the overwhelming choices the menu has to provide.
Dishoom works on small dishes at affordable prices, which like the Irani Café's from back in the day, come as and when they are ready.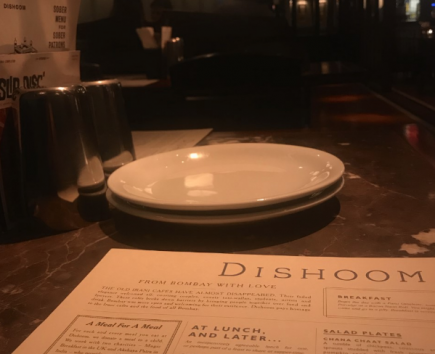 SMALL DISHES, AFFORDABLE PRICES: Dishoom's motto aims to please 
The Pau Bhaji, a spicy bowl of mashed vegetables was our opening dish, and thank goodness it was. The heartwarming dish alongside its home-made buttered bun was a welcoming smooth and desirable treat which set the tone for the evening.
The house Black Daal, the signature dish like its description on the menu, is dark, rich and deeply flavoured.
While being creamy and comforting with a tomato-ey base and ever so easy to eat with the Roomali Roti – a thin and stretchy delicate savory crepe which comes in a tiny bread tin and folds out to the size of a large handkerchief – we had no choice but to tuck in and eat with our hands.
Lime and chilli covered greens gifted a healthy pallet cleanser in between the Murgh Malai – which although a few of the chicken pieces were slightly on the dry side, provided all the distinct flavors and sharp spices our taste buds craved – and the Chicken Berry Britannia Biryani, the dish which never seemed to end.
Sat in a booth, we sip away at our mint tea, desperately wishing we could force a 'kulfi' dessert or two down, but our eyes were definitely bigger than our bellies, and so we take in the atmosphere instead.
Indian jazz sounds from the 1960s fills the air. The tables around us are all content, people are laughing, and the atmosphere is alive with sophisticated simplicity.
A clear finesse goes into each and every single element of the restaurant, however, a comforting type of finesse, one which doesn't expect anything back of you, other than to enjoy.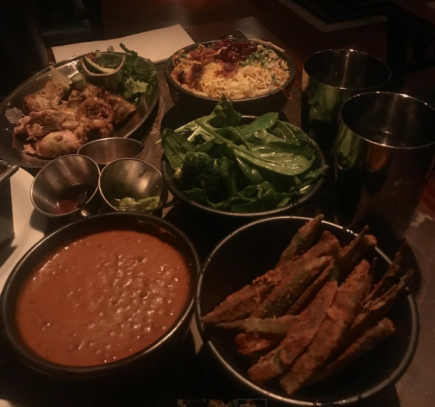 BHAJIS AND DAAL: MM tried the delicious Black Daal and Pau Bhaji while sipping mint tea and listening to Indian jazz. What's not to like?! 
We feel relaxed and cared for. A service which most restaurants lack with their 'in-and-out' mentality.
The service has been attentive, quick and polite and the Bombay-styled Indian restaurant has opened up its doors and made us feel right at home with humility and a carefree environment which only added to our dining experience.
So was the food any good? It was.
The secret to a restaurant worthy of a good food review though, worthy of being noted for that special something, well, there's a whole lot more when it comes down to that, and Dishoom certainly has the touch.
On the 21st day of alcohol abstinence, your mood may be like Bombay in a monsoon – cool, but full of water. Sober patrons, read on… https://t.co/G7pYOB8JGM pic.twitter.com/LGlGtSClME

— Dishoom (@Dishoom) January 21, 2019
Image courtesy of Dishoom via Twitter, with thanks.