This evening, new Piccadilly microbrewery Alphabet will take over the taps at Northern Quarter drinking den Port Street Beer House to officially launch their selection of seven beers.
MM caught up with Head Brewer Tom Evans to chat about the inspiration behind the flavours, why London's still ahead on the drinking scene, and what's next for the tiny brewery company from the owners of Kosmonaut.
Alphabet, whose humble roots began with just a few guys, a microbrewery kit and a small room, had the forethought to get Tom involved with the project to drive Manchester's latest alcoholic offering forwards.
"It's been a challenge," said Tom, who most recently worked for Huddersfield's award-winning Hand Drawn Monkey, but has travelled all over with work.
"I've been a brewer for six years and this is my second job as Head Brewer, but to actually work with a young brewery from the outset is a new challenge for me.
"Especially one in the up-and-coming market that Manchester is at the moment, because it's only been in the past few months or so that brewing has really started to take off, so it's getting very competitive.
"All us brewers in Manchester are very friendly to each other and we've got a collective going, helping each other out, but we all want to be on top of our game."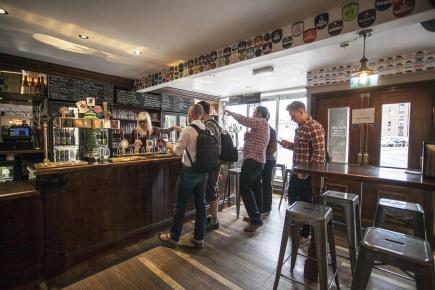 'ON TOP OF OUR GAME': Alphabet said they have big aspirations for the business, including taking the beers abroad
(© Sebastian Matthes/MANOX, with thanks)
Speaking about the brewing scene in Huddersfield, Tom said that it's recognised nationally for the quality of its traditional cask ales.
"If I want a good cask ale, Huddersfield is the place to be, there's so many good breweries there that do that. It's a good place to start and it's where I learnt the trade about beer, I suppose."
Responding to the question of whether Manchester is at the same stage on the cask ale scene, Tom disagreed.
"I think it's slightly behind. For it's size, I would have thought it would be more forward than the state it is.
"Manchester's quite a progressive city, but in that respect I think it's just starting to catch on, whereas other cities like Leeds, Sheffield, Edinburgh and definitely London have been doing it a lot more. So the North West is still just catching up with Yorkshire and London really."
Alphabet, who draw influence from the Manchester design scene, has local illustrator Hammo on board to do all the artwork for the Piccadilly-based brewery whose aim is to make bold beers with quirky flavours.
"The tradition behind it is whatever's available in the season. It can lend itself to any fruits, herbs, vegetables – anything that's got flavour and you can put into it," Tom said.
"We want to generate these clean, crisp beers so that all the flavours that go into it from the beet, hops and malt that we use will really stand out."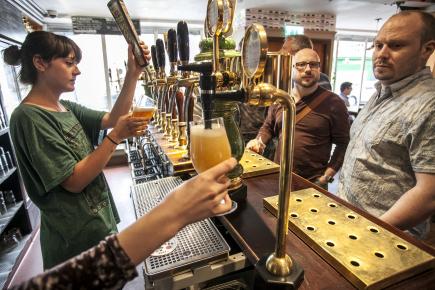 'CRISP, CLEAN BEERS': Seasonal produce is the secret behind Alphabet's range of quirky flavours (© Sebastian Matthes/MANOX, with thanks)
Among the beers on show tonight will be their first ever concoction, Space Invader, a 6% pink grapefruit and tarragon saison; A to the K, a 5.8% oatmeal pale ale; and Kerb Kicker, a 4.4% pale ale of which Alphabet have 30 free half pints to give away.
"The two most popular ones are A to the K and Kerb Kicker. Both are pale and more sessional, more what people are used to.
"Space Invader is quite a niche beer style in a way. It's quite popular but it's not something you see every day and definitely not one that's traditional to this country.
"It was the first beer that we did and we thought we'd try something that was slightly more unusual to start with, just to get a feel for it and do it on a smaller scale."
Looking forward to the future, Tom said that the brewery have got their eyes set on London.
"Now we're happy with what's coming out and the way things are going, we're going to start pushing for further distribution.
"We're looking at London as the next place, just because it's a vibrant scene down there at the moment and I think we could quite happily fit in with the bigger boys down there, the ones that are getting all the recognition.
"London's the next stop and after that, definitely export – Scandinavia, north Spain and north Italy – these are up-and-coming places that are going mad for British breweries."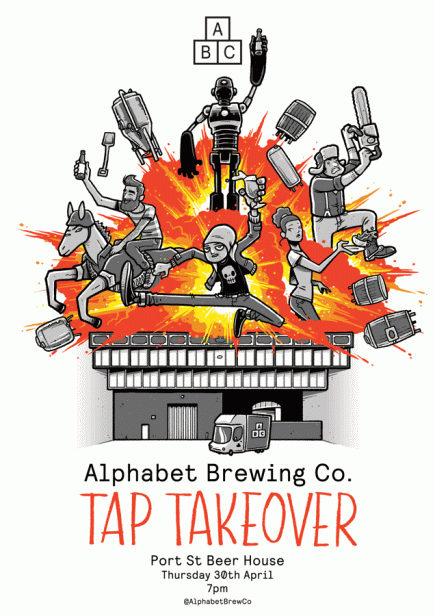 Alphabet will be joining forces with other local brewers at the Manchester Brewery Expo late next month, and then heading west to Liverpool for the city's Craft Beer Expo in June.
But for now, all the team have their eyes set on is tonight's residency.
No ticket is required for tonight's event, which begins at 7pm at the Port Street Beer House.
Images courtesy of Sebastian Matthes/MANOX, illustration from Hammo, with thanks