A treasure trove of tropical treats were revealed at the launch of Manchester's latest Caribbean restaurant and bar Turtle Bay last night.
Punters were given a taste of the islands as friendly staff handed out spicy beef strips, jerk wings, and lovely lamb patties at the £1million Oxford Street restaurant.
The opening was attended by Coronation Street stars Hayley Tamaddon, Sue Cleaver, Lisa George and Krissi Bohn while pop star Shayne Ward and his family also made an appearance.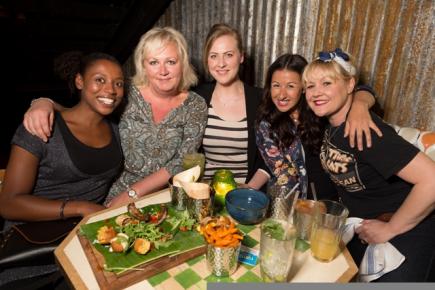 CORRIE-BEAN CUTIES: Some cast members from the cobbles at the opening (© Carl Sukonik)
Turtle Bay was founded by Ajith Jayawickrema, the mastermind behind the Las Iguanas chain, whose dream was to bring a taste of the Caribbean to mainstream audiences.
Ajith said: "Turtle Bay is about great food and good times, simple as that. We think the people of Manchester will love what we have to offer, as it's a city known for its no nonsense approach to high quality food and drink, and, of course, one that knows how to have a good time."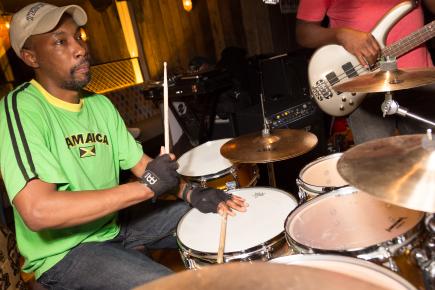 WE'RE JAMMIN': Live music at the venue last night (© Carl Sukonik)
An electric atmosphere engulfed the venue as reggae beats from Troy Ellis, Hail Jamaica and Laid Blak set the tone for the vibrant and lively occasion.  
Authentic in feel, the sprawling restaurant has a colourful and intimate vibe.
@Turtlebayuk thank you for tonight! #turtlebay #Manchester #tweet #Caribbean pic.twitter.com/IL4rt9Y2xJ

— Laura G (@Greavezy) May 29, 2014
Old stereo speakers, twinkling lights, reclaimed bus seats and lanterns made from oil drums give the place a quirky yet chic beach hut feel.
In Manchester, food from the Caribbean has usually been confined to takeaways and smaller more casual establishments outside of the city centre.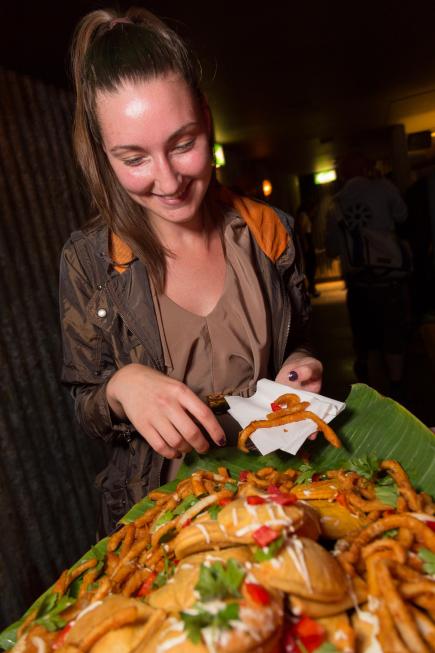 FOOD FOR THOUGHT: Tasty grub on offer (© Carl Sukonik)
The £1million restaurant, which has been a success in seven other cities, will therefore no doubt be welcomed by those looking for a fix of exotic full flavoured delights.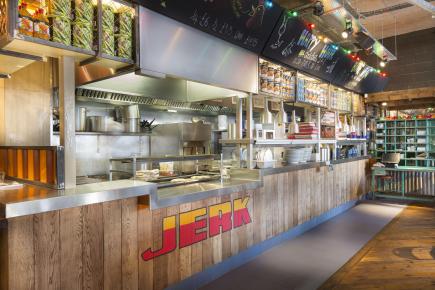 JAMAICAN MEMORIES: Good times will be had at Turtle Bay
The 8,000 square-foot Manchester development is located on Oxford Street in the site previously occupied by Alibi Bar.
The eatery has created 70 jobs and has seating for 250 people.
Turtle Bay has a menu not just confined to Jamaican fare, as the eatery also delivers a heady mix of street food and elegantly styled grub from Trinidad and Barbados.
The chili-fried prawns and jerk pit wigs were the real stars of the evening, both spicy, moreish and transported you from the drizzly North West to sunnier shores, if only for a few moments.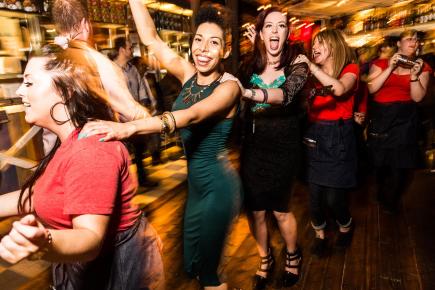 KING CONG-A: Dancing the night away (© Carl Sukonik)
Classic cocktails were given a cool Turtle Bay twist as for rum fans the venure boasts nearly 40 different types of the spirit.
The 'Reggae Rum Punch' made with Wray & Nephew, strawberry liqueur and fresh orange and pineapple certainly went down well and the Marley Mojito with hints of ginger and watermelon was a real crowd pleaser.  
Turtle Bay was clearly a hit, as guests excitedly gushed about the hot new spot.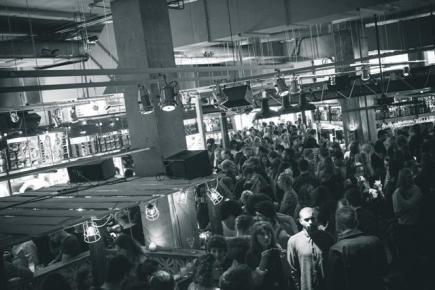 TOP OF THE PALM TREE: The £1million venue was packed at its launch (© Carl Sukonik)
Jak David, 26, said: "When you go to the Caribbean, leave the resort and visit bars and restaurants, you experience the culture; that's what Turtle Bay is bringing to Manchester."
"This place is something different, unique and a niche in the market that's hasn't been filled."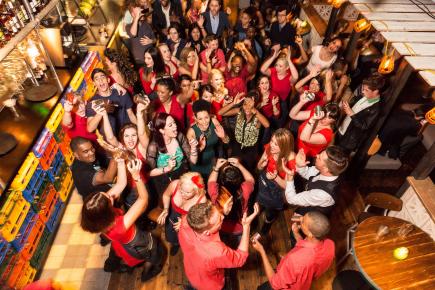 PARTYING THE NIGHT AWAY: Revellers take to the dance floor (© Carl Sukonik)
As the night progressed revelers filled the dance floor and were in high spirits as guests and staff made a congo line right around the restaurant, jammin' until the early hours.
Debs Parkinson, 36, said: "It's not just a restaurant; it's like going on holiday for two hours."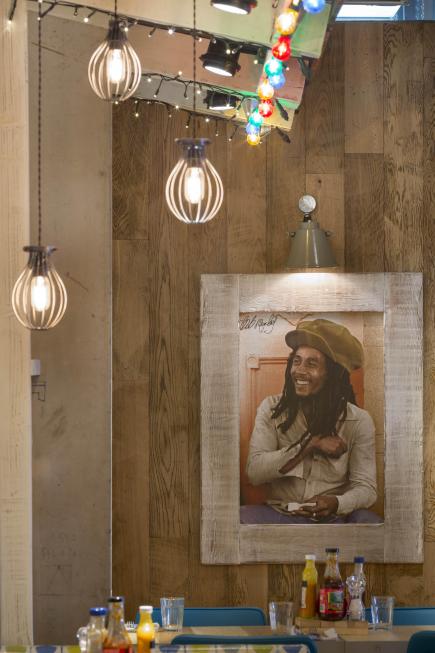 BOB BAR-LEY: Turtle Bay's shrine to the reggae legend
Main image via Carl Sukonik, with thanks