The sight of skilled pizzaiolos stretching, tossing and topping freshly prepared pizzas is something we all secretly wish we could do.
So why not head down to Didsbury's refurbished PizzaExpress on Lapwing Lane to either sample such delights or even try your hand at making one?
There's a 30% off discount voucher (below) now available until November 17 (no longer November 3), but, more importantly, a feel good atmosphere which manager Nathan Kazybrid takes immense pride in talking about.
"The feedback we used to consistently get was atmosphere," he told MM.
"The old layout was more open so we asked for more booth seats and now the feedback from guests is fantastic.
"We have regulars who have been coming here for years and years and a very long-serving team. One of the guys has been here for 14 years."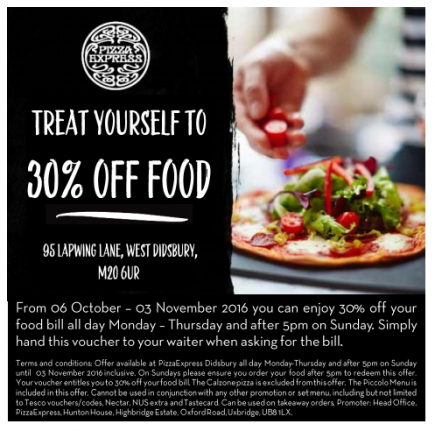 Kazybrid ran pubs in Scotland for 10 years before moving to Manchester in 2013 and it's fair to say he's found a brilliant work environment in Didsbury.
"There's a feel of family in here, I'm so lucky with the team I've got.
"Here, from the cleaners to the kitchen to the front of house it's one big team and we work fantastically together.
"Other places I've managed what you tend to find is the front of house and back of house teams don't work together as much."
PizzaExpress, founded in 1965 by Peter Boizot with the opening of the company's first restaurant in London's Soho (Wardour Street), was one of the first places to adopt open kitchens.
Their Lapwing Lane venue – one of over 450 restaurants across the country – even has an upstairs room ideal for pizza-making parties.
"There's more mess after an adults party than there is after the kids," Kazybrid explained.
"We have dough literally flying around the room."
If that's not your scene, relax downstairs instead and take in the history – the restaurant has been totally tranformed and features artwork inspired by the building's heritage as a Post Office.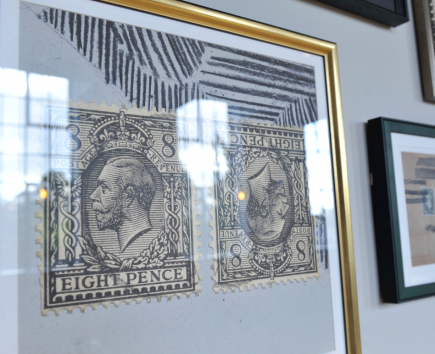 Each PizzaExpress restaurant is individually designed – often using well known places, people or historical events from the area as a basis.
Artwork at the Didsbury restaurant has illustrations and poignant reminders of Britain's postal industry, including reclaimed vintage stamps and 3D scale weights framed in decorative gilt mouldings. 
There's a fresh, new paint scheme throughout including the popular rear courtyard area. New feature pendant and wall lights, leather banquette seating and settles, along with new panelling and featured tiled flooring, all enhance the customer experience.
The restaurant has three sections which cater for different groups – the main room for families, where they can watch pizzas being made. The oak room which is more intimate and lends itself to couples, or the upstairs private dining room for functions and events, where monthly live music sessions will be launched later this year.
For more details visit www.pizzaexpress.com