To celebrate LGBT History Month, MM talk to LGBT figures from across Greater Manchester about their experiences of coming out and what progress they think the city still has to make towards equality.
Yesterday we heard from The Lesbian & Gay Foundation's Andrew Gilliver on the need to unite as a community as he opened up about how his years of insecurity were brought on by other people's narrow views on sexuality.
Today is the turn of Karen Richards, a director of Manchester Pride.
After migrating to the city from Bradford in 2002, she currently works in the construction industry as a health and safety consultant on major high street retail developments.
She joined Pride three years ago as Director of Manchester Pride Events after previously volunteering for the organisation as night events manager.
Karen has a wealth of professional experience in the LGBT sector, her latest accolade being appointed a trustee of the national transgender charity Sparkle last year.
How old were you when you first realised you were L/G/B or T?
I always knew I was different from an early age – probably around six or seven, although I didn't know why. It was only when the BBC televised the series A Change of Sex (1979, featuring Julia Grant) and I thought wow, that's how I feel – it was me, but it took nearly 30 years to come to terms with it.
Could you tell us your 'coming out' story?
Trans- people tend to come out in stages and over many years. I did managed to stay 'stealth' until 1997, then my young puppy ran into the bar of the pub I was running, with what looked like a dead cat in its mouth – my wig.
Fortunately the pub was closed and only my assistant manager was present, but it did take some explaining and quite a bit of Jack Daniels!
When I told my late father, his only comment was 'thank fuck, I thought you were going to say you're a Conservative!' – that's when you know you have cool parents.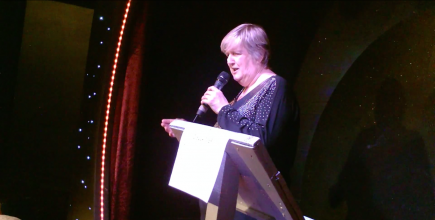 COMING TO TERMS: Karen talks of the personal importance of the 1979 BBC program A Change of Sex featuring Julia Grant (pictured) (©Misty Chance, via YouTube, with thanks)
From coming out to now, what are the lessons you have learnt about yourself with regards to you and your sexuality?  
There is a huge difference in sexual preference (LBG) and gender Identity (T).
Before transition I regarded myself as a straight male. Even now the jury's still out although I believe I'm lesbian with bi leanings that loves cats. I am still learning about my new role in life, and each day is a new experience learning about myself.
What are the biggest challenges still to overcome in the UK for the LGBT community?
Many believe that LBGT people have achieved all the changes we asked for. Please don't believe it – transgender equality still has miles to go, and there are always some who try to put our community firmly back in the closet.
Acceptance and education are also massive challenges. It's no good having laws to protect us unless there is the will to implement them. I do believe no one is born evil or bigoted, it's simply down to peer pressure and lack of knowledge. This has to start in schools, and the message doesn't need even to be graphic, just that it's fine to be different.
And what about for the rest of the world?
Most of the world still has a long way to go, with a small few leaning back to the Stone Age. Sometimes I don't think we realise how forward we are in the UK.
Europe is accepting, some say? Well, try being trans in a continent where 21 member states still require sterilisation before gender recognition, and nine have no recognition at all. LBGT rights are non-existent in many countries and I do think we have a moral duty to try to end these hate-filled persecutions.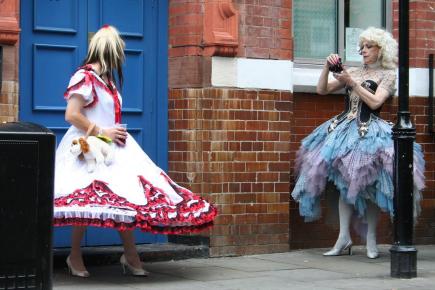 'THE VILLAGE ISN'T BROKEN': Two trans women celebrate Manchester's Sparkle festival in 2007 (©Becky EnVérité, with thanks)
What would you say to your young self or a young LGBT person with the knowledge you have now about coming out?
I personally regret not coming out years ago, but being trans in the UK is our society's last taboo. I would say be confident, be vigilant, be safe, be informed and find likeminded people who will support and guide you – there's plenty of help out there.
How does being transgender impact on your job/career?
Firstly, I have to get out of bed 40 minutes earlier to get ready, that's dedication!
Working in the construction industry was always going to be a challenge. Fortunately no one has ever been rude to my face, although they may have written something on the back of the gents toilet door – but I wouldn't know, I don't use them anymore!
My clients have always been respectful and I definitely don't believe they use my services to tick some imaginary PC box. A good sense of humour also helps.
What are your thoughts on Manchester's LGBT scene? Is the Village still the heart of it in your mind?
I have always loved and supported the LBGT scene in Manchester as it has supported me. I still believe that the village is the engine that powers it.
It may not be as it was 25 or even 10 years ago, and you won't please everyone, but I don't think it's broken. It's ever-changing and ever-evolving – you only need to look at the Pride House, Transgender Day of Remembrance, Sparkle, Pride, World AIDS Day – the list goes on.
When we pull together we can be amazing!
What makes Manchester a good place to live in for members of the LGBT community?
Diversity, acceptance and support. I think everyone in this city knows someone who is LBGT and that's the difference.
Image courtesy of Karl Schultz, with thanks