To celebrate LGBT History Month, MM talk to LGBT figures from across Greater Manchester about their experiences of coming out and what progress they think the city still has to make towards equality.
Yesterday was the turn of Pride's Karen Richards on the 'miles left to go' in achieving transgender equality as she opened up to MM about coming out to her family.
Taking over today is Carl Wharton, a barber and member of the Manchester Canalsiders ARLFC.
Thirty-year-old Carl from Westhoughton plays the position of scrum-half for the Canalsiders, the UK's first LGBT Rugby League club.
Established in 2013, the club gained national attention last year when Leeds Rhinos player Zak Hardaker trained with them by way of apology for homophobic comments made out on the pitch.
How old were you when you first realised you were L/G/B or T?
It was quite late to be honest, I was 18 when I first realised I was gay.
Could you tell us your 'coming out' story?
I told my mum and dad when I was 18, and I was really lucky in that they were 100% supportive.
From coming out to now, what are the lessons you have learnt about yourself with regards to you and your sexuality?
I've learnt that I can be myself and feel comfortable in bars and clubs without having to tolerate homophobic abuse.
What are the biggest challenges still to overcome in the UK for the LGBT community?
Gay and lesbian acceptance outside of the community is a challenge, as well as transgender acceptance.
And what about the rest of the world?
People need to be educated and learn more about the LGBT community.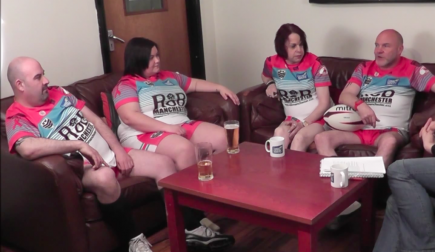 GET EDUCATED: Canalsider Carl says people need to learn more about the LGBT community (©Canal St Sessions, via YouTube, with thanks)
What would you say to your young self or a young LGBT person with the knowledge you have now about coming out?
Come out when you're ready and feel comfortable. There is a lot of support and advice out there.
How does being gay impact on your job/career?
I keep my personal life to myself, but I speak with the clients I'm comfortable with.
What are your thoughts on Manchester's LGBT scene? Is the Village still the heart of it in your mind?
I like the scene now and again, but there is a lot of support out there.
What makes Manchester a good place to live in for members of the LGBT community?
It's a fantastic night life, and there is a lot of support.