To celebrate LGBT History Month, MM talk to LGBT figures from across Greater Manchester about their experiences of coming out and what progress they think the city still has to make towards equality.
Today, MM chat to Danny Beard, a DJ and entertainer originally from Liverpool but who rose to fame on the Manchester gay scene as the face of Poptastic – a long-running gay student night – where he worked until recently.
Known for his cheeky Scouse charm and attitude, his distinct style of DJ'ing and his unique look, Danny began working at Poptastic while still studying in university.
Through his DJing, Danny was able to work in many venues and clubs around the UK. He currently has weekly residencies in AXM Manchester, Kiki Manchester, BaaBar Sackville St and has recently started working with Gaydio as a guest presenter on the Exchange show.
Danny has hosted various events and charity nights such as Sparkle Weekend 2014 (the world's biggest trans festival), Salford Peel Park Pink Picnic, Miss TV Scotland and many more.
When not working behind the decks or on the stage, Danny can be found walking his dog Izzy or tending to his three chickens Beyoncé, Kelly, and Michelle.
Keep an eye out for Danny in Manchester's Gay Village and across many Pride and other fundraising events this summer. You can follow him at @thedannybeard
How old were you when you first realised you were L/G/B or T?
It sounds cliché but I have always felt different, I remember when I was very young and people told me I acted like a girl, sounded like a girl, some even told me I was a girl so I was very confused.
Later, when other kids knew what gay meant, that's what I was called. I was really badly bullied in school and I even had to move from Liverpool to the Wirral because of it.
When I was 13 I was attacked on my way home from school by a few of the older boys that called me gay; one boy even made himself knuckle dusters out of pins from school and taped them to his hands to cut my face.
This experience put everything into perspective for me at such a young age and because of it I thought it was a terrible thing to be gay. I knew myself that I was gay from the age of about 10 or 11.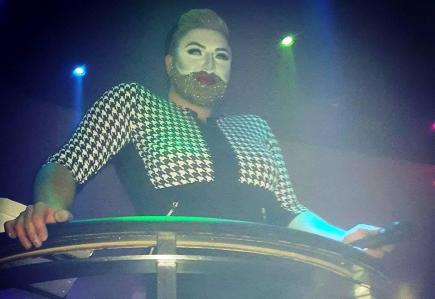 MUM KNOWS BEST: Danny Beard still draws inspiration from his mother's wise words
Could you tell us your 'coming out' story?
My mother kept asking me if "I thought about boys in the shower" and telling me that "it's okay to be different". By this point we had lived in the new house about a year, my new school was great and the bullying had pretty much stopped.
So one day I decided 'next time she asks I am going to tell her'. Obviously she didn't ask me that often because about three weeks went by and she hadn't asked me again and I started to build it up in my own head what I was going to say and what the reactions might be.
So one day I said to myself, "today is the day I am telling her". I waited until she went to bed that night and I remember her bedroom door being almost closed but I could see her reading and I was practising in my head what I was going to say. It took me until she turned her light off to go to sleep and I burst in her room.
She looked at me all bewildered wondering what I was doing and I said I have something to tell you, but then I froze I couldn't get any words out, just tears. She asked me "have you hurt someone?" I shook my head, "have you gotten in trouble?" again I shook my head, "have you stole something?" the list went on, the questions getting more and more ridiculous until she said "are you gay, Dan?" I just looked at her and started crying even more.
She then said to me: "Come and give me a hug, do you know why I asked you all those silly questions? It's because there are so many worse things in the world than someone being gay. It's not really that important, it's just who you find attractive."
Those words have always stuck with me. She told my dad for me because he is a fireman and on nights at the time and being very masculine I thought he surely would be disappointed.
He came in my room the next day and said: "Mum told me about last night son, I'm very proud of you."
I was shocked and gave him a big hug. He went on to tell me that he had always knew. I was shocked to say the least but thinking about it, putting on my mum's clothes and shoes and dancing round the house was a normal thing for me to do so I'm sure he probably did always know.
From coming out to now, what are lessons you have learnt about yourself with regards to you and your sexuality?
I have learnt that sexuality doesn't really matter to most people anymore. That being said, there is still homophobia out there, but I think where there is difference there will always be someone that doesn't like it.
It's about learning to strip away negativity and focus on positivity. Being called gay doesn't offend me like it used to. To me it's like telling me my t-shirt is green; it's something I already know.
What are the biggest challenges still to overcome in the UK for the LGBT community? 
I think one of the biggest challenges still to overcome in the UK is education, not just about gay and lesbian sexualities, but about the whole LGBT spectrum. What it means to be transgendered? What does it mean to be bisexual? What is gay sex and how do people do it safely? Why do some people who identify as straight wear clothes that are usually assigned to the opposed gender?
Educate the young, and the more normal everyone becomes.
I'm back on #theexhangeongaydio tonight from 8. #drag #gay #gaydio #dressingroomselfie pic.twitter.com/8sw4O9Hmgi

— Danny Beard (@thedannybeard) February 9, 2015
And what about for the rest of the world?
I think the same applies for the rest of the world, I think it's just a much bigger task on a much bigger scale. We could start by making homosexuality legal in the 78 countries where it's still illegal.
What would you say to your young self or a young LGBT person with the knowledge you have now about coming out?
There are so many more important things in the world than someone being gay. It's not really a big deal, it's just who you find attractive.
I think the main thing is that you can surround yourself with positivity, whether that comes from other people around you or how you think about things. Positivity is the key. Life is 10% what you experience and 90% what you make it.
How does being gay impact on your job/career?
I don't really know. I am classed as a 'drag entertainer', but it didn't start like that. It's something that evolved. I started DJing as my normal everyday self, but I saw a gap in the market and went for it. Being gay is just part of me so it was part of it also.
I do know of people who identify as straight but dress in drag and entertain people so my answer is I really don't know.
What are your thoughts on Manchester's LGBT scene? Is the Village still the heart of it in your mind?
Manchester is an amazingly diverse place, I moved here for university, and I have found myself staying here, living and working here so I obviously quite like it.  There is literally something for everyone.
The village serves a purpose; not everyone agrees that we need a gay village anymore now that our community is more accepted, but I feel it's about remembering our past and working with the present.
There are aspects of our community that do still rely on the village; a lot of cross dressers, trans people and lots of LGB people, young and old, still feel safest and more at home here. Its important to remember that just because I don't need something doesn't mean someone else doesn't.
For me, I work in the village and I know a lot of people, the village is a community, and I believe it's still the heart of Manchester's LGBT community.
What makes Manchester a good place to live in for members of the LGBT community?
Manchester is very modern and forward thinking as a city even before we look into the LGBT community here. The place is very diverse and caters to the needs of many different cultures, races and types of people.
I guarantee that you can walk into any venue in Manchester's gay village and meet someone just like you, regardless of who you are and how you identify.
There aren't many places in the world that you can say that about. Not just that but also Manchester and the Village is home to some of the UK's biggest LGBT charities, bars and clubs, eating venues, sports teams, radio station's and community of people in the UK.