The UK is the best place in Europe for gay rights, claims a leading network of European LGBT organisations – for the third time running.
The 2014 'Rainbow Europe' human rights survey awards a mark out of 100 based on six categories – of which UK scored the top mark of 82%.
The survey assesses legislation and policies that has a direct impact on the lives of LGBT people such as laws on gay marriage, hate crime and equal opportunities.
However, no country achieved anywhere near the 100% mark – and sadly more than half scored below 50%.
After the UK, Belgium faired best with 78% followed by Spain with 73%, Norway with 68% and Portugal with 67% and Sweden with 65%.
The lowest scoring country was Russia who received 6%, who has been condemned internationally for their homophobic policies and hostile treatment of the homosexual community.
Alongside Russia was the Ukraine with 12% and Belarus and Turkey who both received 14%. 
Meanwhile, the UK's 82% was an increase of 5 % since 2013.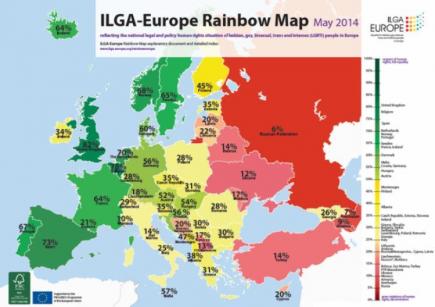 Minister for Equalities Sajid Javid said: "The UK has a strong record of protecting and promoting equality. I am pleased that our work to protect people from discrimination because of their sexuality has been recognized as some of the best in the world.
"The first same sex weddings in March were a momentous step for equality that we should be proud of."
This news comes after some landmark changes for the LGBT community in Britain, and the country has been a pioneer for LGBT rights.
Same sex marriages were legalised and started taking place in April, consensual gay sex convictions can now be legally disregarded, and the government now supports schools in the fight against homophobic, bi-phobic and transphobic bullying.
Richard Lane, media manager at Stonewall, said: "It is fantastic to see the UK ranked top in ILGA's Rainbow Europe map – and we are extremely proud that the country is a beacon of equality around the world."
He added: "There is, however, still a lot to do, not just at home, but right around the world as other figures released by ILGA show."
The 2014 'Rainbow Europe' human rights survey was released yesterday by ILGA-Europe, who track the status and rights of gay, lesbian and transgender people.
Main image courtesy of Flats!, with thanks.