Mancunians are set for an eyeful this Friday as London-based Naked Boys Reading descend on the city for an evening of intellectually-stimulating literature – and full frontal nudity.
The Pride Fringe event, held in the Northern Quarter's Twenty Twenty Two, will see men take to the stage in the buff and read a selection written extracts that fall under the theme 'True North'.
Naked Boys Reading was conceived when Alex Karotsch (DJ aka Duchess of Pork) and Justin Hunt, who sometimes goes by the name Dr. Sharon Husbands, were working together at Dalston fashion hotspot Vogue Fabrics.
Justin told MM: "We were just talking one night and we wanted to create a new art club party thing that would be different. We were inspired by Naked Girls Reading in New York, but what we did for Naked Boys was really strip back the format and made it much more bare-boned.
"I think with people there's just a real excitement about being naked together and, of course, there's the 'will-they-won't-they-get-it-off' kind of thing. Are they going to walk out naked or are they going to get naked on stage? There's that curiosity and that desire."
This is the first time Naked Boys Reading have ventured north and the first time they have come to Manchester.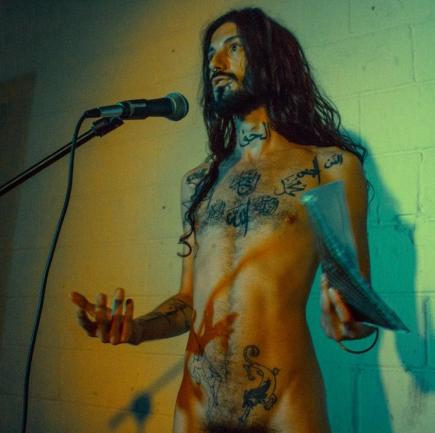 NOWHERE TO HIDE: Perfomers are not even handed a fig leaf to protect their modesty (©VANEK with thanks)
After the readings there will be an extended after-party until 3am where Alex will be joined on the decks by Thom Docking, one part of Manchester's disco kings; Drunk at Vogue.
Thom told MM: "As a concept, it's something that hasn't been done up here before and hopefully it'll be given a bit of a northern twist. It's just one of many brilliant alternative things that are happening in the build-up to and over Pride this year.
"Manchester has an incredibly diverse and exciting queer scene at the moment, which is always very appreciative and welcoming to new nights and ideas, so I think it'll go down a storm."
"Besides, naked boys, literature and disco – what more could you want from a Friday night?
All of the texts read by the guys on stage have been carefully chosen by curator Bren O'Callaghan, Justin said: "Bren has selected some beautiful and hilarious readings under the heading 'True North' so northward travel, the push northwards and also on the spiritual and sexual relations we have to certain things that point 'northward'.
"I've read through the readings and they are really funny so I am definitely looking forward to it.
"I think the people of Manchester will be more up for it. My experience of Manchester is that the people are a bit more vocal and there's a strong community so I think you'll be able to feel that camaraderie in the room which will be great."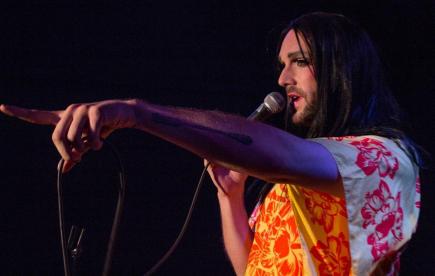 AUTHOR: Drag queen Sharon Husbands (Justin Hunt) will host (©VANEK with thanks)
Justin's drag character Sharon Husbands will compere the event – since creating NBR he has used the shows as an artistic output, combining literature and drag seamlessly.
He laughs: "As it's a salon setting, people will be getting drunk and having an extremely tall loud American bitchy drag queen helps control it all.
"I'm also an academic and I Iove literature, so having a giant drag queen all of a sudden start discussing literary theory is great.
"We have a huge connection to the trans community and so we've always had trans readers and trans curators."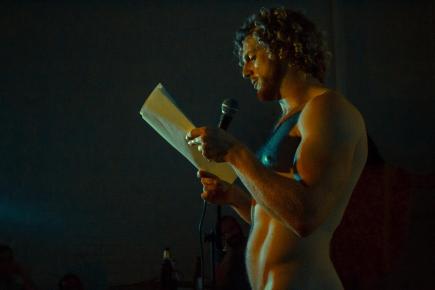 NAKED AMBITION: Performing helps 'conquer insecurities' (©VANEK with thanks)
As well as providing the audience with entertainment, the literary extracts will focus on certain concepts or themes allowing for thought-provoking discussion and the events helping readers to conquer their own insecurities.
Justin said: "When we started, we had no idea that people were going to get it or like it, but we've had such a positive response. There are a lot of dorky boys who love it, need it in their lives and it's become like a community.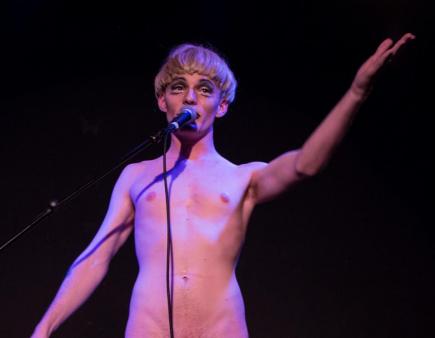 GAY ABANDON: There are no inhibitions from performers (©VANEK with thanks)
"A lot of my readers have said to me 'thank you so much, as I was terrified but I've got really good response', so I think It does really sooth the problems that gay men have around their bodies and vanity and other issues."
That said, there is always something fledgling readers have before they get on stage for the first time.
Justin revealed: "People always say beforehand that they are very concerned that they are going to get a massive erection before they go on stage and how embarrassing that would be.
"And I tell them 'it would be amazing if you get hard, but I very much doubt that you're going too'!
"There's always time at the after party honey!"
Images courtesy of VANEK with thanks, more pictures are available on Instagram at @vanekphotography