A festival celebrating LGBT people within Black, Asian and ethnic minority communities is set to take place in MediaCityUK.
Fusion is being run by Queer Media UK, and will bring together a host of media professionals from across the globe for a selection of talks, films and discussions that explore LGBT life in the 21st Century.
The event is part of black history month, and its aim is to promote LGBT visibility in the media and will run on October 19.
Organiser and curator Jamie Starboisky, told MM: "It's a celebration of LGBT story telling through a range of different mediums, we also want to show that LGBT people can be represented positively in the media and that people can become advocates and champions for the community through being encouraged and inspired.
"What's really special about Fusion is that alongside incredible speakers, we will be a screening of so many amazing short films. Short films don't get much of a screening anywhere, so there's a lot of brand new films, from the film festivals, fresh off the press."
A host of exciting speakers who work in the media will be on hand to offer advice, and share their experiences.
Freelance sports journalist Jessica Creighton is on board as is political editor of Pink News, Scott Roberts.
Aashi Gahlot, editor-in-chief and founder of website shorlgbtq.com will also be attending the event which will be held at in the Compass room of the Lowry.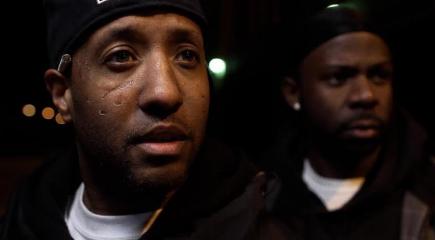 LIGHTS, CAMERA, ACTION: Warren Burke and Scott Manuel Johnson in short film Dawn
Jamie said: "Manchester has a strong history of LGBT culture and sense of community, from the creator of Coronation Street Tony Warren, to Canal Street, to organisations like the Lesbian and Gay Foundation.
"Manchester is also a real creative hub, with so many opportunities and innovative things to get involved with.
"Fusion offers people to connect with loads of other professionals, share ideas get advice. It's not some lofty elitist thing; it's a real opportunity to connect.
"Interaction is key, and we're creating a space where people can create bonds and build their network."
The event ties neatly into black history month, and is being supported by UK Black Pride. The organisation promotes unity and co-operation among all people of African, Asian, Caribbean, Middle Eastern and Latin American descent, as well as their friends and families, who identify as Lesbian, Gay, Bisexual or Transgender.
Co-founder and trustee of UK Black Pride Phyll Opoku-Gyimahwill be speaking at fusion. Phyll was in the Independent's Pink List 2012, a top-100 entrant in the World Pride Power List 2012, and received a nomination for David Cameron's Big Society award.
She said: "It's a wonderful way of being able to tell telling stories about overcoming barriers, difficult situations and expressing yourself.
"There are definitely challenges that people from BME backgrounds face,  just in terms or cultural heritage and identity, the coming out, the religious backgrounds, and in about 77 countries where is illegal for gay lesbian, bisexual and transgender people just to be. There are certainly more challenges. "
"There's a wonderful array of people at the event. When you are not visible, people don't know how to deal with issues they are experiencing for just being LGBT", Phyll said.
"If your there and you're seen, you can't be missed."
For ticket information, click here.
Image courtesy of Neil Haward, with thanks.