Italian fashion designers Dolce & Gabbana came under fire earlier this week for condemning children born by in vitro fertilisation (IVF).
Domenico Dolce caused widespread offence in an interview when he branded IVF babies as 'synthetic children' and blasted 'there are things that should not be changed.'
"I'm not convinced by those I call the children of chemicals, synthetic children," he said.
"Wombs for rent, sperm chosen from a catalogue… psychiatrists are not ready to confront the effects of this experimentation.
"I am gay. I cannot have a child. I guess you cannot have everything in life.
"The only family is the traditional one. Life has a natural flow. There are things that should not be changed."
The comments sent Twitter into a frenzy and caused baklash from the likes of Sir Elton John who posted a message to the 'judgemental' fashion designers on his Instagram page, vowing never to wear Dolce & Gabanna again with the hashtag #BoycottDolceGabbana.
Later, the fashion power house designer defended his comments and 'freedom of expression' saying they were down to his Roman Catholic upbringing in a 'traditional' family made up of 'a mother, a father and children.'
However, a Cambridge University scholar recently claimed family structure and the sexual orientation of parents do not matter provided children have love, security and support.
Susan Golombok examined four decades of empirical research into the effect of both traditional heterosexual, two-parent families and non-traditional 'family forms' before making the conclusion.
Steve King, 46, and Toby Hinson, 44, are Stockport's first gay foster parents, and Professor Golombok's conclusion comes as no surprise to Steve, who feels it is part of a wider trend of growing acceptance of LGBT people.
"It doesn't surprise me in the slightest," he said.
"We do the same job, like every other parent. We do it to the best of our abilities, just as all parents try to do.
"Sometimes we get it wrong as parents – I'm talking in general. We get things wrong and we make mistakes.
"But as long as your child feels love, supported, cared for, nurtured and you're there for them in times of trouble, you're going to have a happy family, no matter what the dynamic."
Professor Golombok reviewed 40 years of research into different family structures on children's performance and emotional wellbeing.
A 2005 study showed children of single mothers were no more likely to experience stress anxiety or depression than those with married mothers.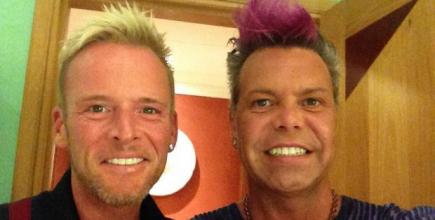 LEADING THE WAY: Steve and Toby are Stockport's FIRST gay couple to foster children
In a US longitudinal study, by age 17 the children of lesbian mothers showed greater social, academic and general competence than the general population.
Repeatedly, the studies she reviewed show that the quality of relationships matters most to the well-being of families – not the number, gender, or sexual orientation of the parents, or whether the child was conceived with the assistance of reproductive technology.
"Attitudes towards same-sex parent families in the UK have changed enormously over a relatively short period of time," said Golombok.
"In less than half a century we have moved from a situation in which lesbian mothers were ostracised, and gay men were at risk of imprisonment, to a time where same-sex couples can marry, adopt children jointly, and become the joint legal parents of children born through assisted reproductive technologies.
"But it's important to remember that these laws are far from universal. Lesbian and gay relationships remain a criminal offence in some countries of the world with lesbian and gay people still living in fear of their lives."
Councils across Greater Manchester have also been showing their support for same sex parents this week by encouraging lesbian, gay, bisexual and transgender people to come forward to cover a national shortage of adopters and fosterers, to coincide with LGBT Adoption and Fostering Week (March 2-8).
New Family Social, a UK charity offering support and information to prospective LGBT parents, estimates 4,000 children nationwide need adopting each year and that 1 million LGBT people are eligible to foster or adopt.
Lovely ad featuring #canadian #LGBT #adopters http://t.co/rtOKLMWVot http://t.co/dXY2utjC3R

— New Family Social (@lgbtadoptfoster) November 7, 2014
Councillor Mike Cornes, Executive member for Children's Services at Trafford Council, said: "We know from experience that Lesbian, gay, bisexual and transgender people often come to adoption and fostering with an open mind and real enthusiasm.
"Many of our children have had a very traumatic start to life, and we have seen them thrive with their new LGBT foster carers and adoptive parents."
Two years ago Steve became an ambassador for New Family Social, and a year later he became an ambassador for Barnardos, who have been welcoming LGBT parents for more than a quarter of a century.
Steve and Toby fostered their son and two daughters nearly three years ago, and they couldn't be happier.
"I would say that it is possibly the most rewarding thing I have done in my entire life and the benefits to the children are immense," he said.
"Everyone can make a difference, so I would encourage them to go forward, even just to go and get some information by going to a meeting and finding out about adoption and fostering.
"You can do it and it really would change their life and change your life."
For more information on New Family Social and the support and assistance they can provide prospective LGBT parents, visit.
Image courtesy of DJM and CNN, with thanks.