Rainbow stripes and matching flashing lights – this is one police car that won't go unnoticed.
Greater Manchester Police have found a new way of showing their support for the gay and lesbian community with an eye-catching rainbow police car – just in time for Manchester Pride.
The Elmo-style Hyundai patrol car has been decked out with a multi-coloured exterior to symbolise gay pride. It even has matching flashing rainbow lights.
The police's crackdown on hate crime is a driving factor in the car's design and the force hope the flashy vehicle will lead to more incidents being reported.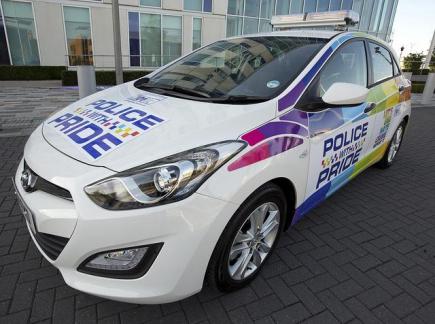 RED AND YELLOW AND…: The rainbow car in all its glory
Chief Constable Sir Peter Fahy said: "One of the strengths of Greater Manchester is its diversity and the fact so many people have come here from different parts of the world and we have so many different lifestyles and backgrounds.
"This can create tensions when people are living so close to one another and there are different traditions and belief systems.
"On the other hand, it can never be right for this to be turned into harassment or violence, and for people to be targeted because of their race, religion, sexuality or any other personal characteristic. This car shows our commitment to taking hate crime seriously and encouraging victims to come forward."
The car has received mixed reactions from the public, with some loving the bold statement the police have made while others would prefer it to have stayed in the closet.
Police to be made a laughing stock and drive around in this. Even the gay lobby think its tacky. Ffs http://t.co/w4kEE1dnXv

— Kevin Riddiough (@kev927riddy) July 18, 2014
I think @GMPPrideNetwork definitely deserve a follow. Hats off to @gmpolice supporting their LGBT staff.

— Bev Craig (@bevcraig) July 18, 2014
#Plodwatch the rozzers come out with a rainbow car to show gay pride, a great use of taxpayers money. I am sure… http://t.co/A6EPEzWmcS

— paul goddard (@fidothedogstert) July 18, 2014
In spite of some of the public's scepticism, GMP's Pride network, who commissioned the car, believe it will have a positive effect on the amount of hate crime reported to them.
Police and Crime Commissioner Tony Lloyd said: "I am very proud that Greater Manchester Police takes such a visible role at Manchester Pride.
"It sends an important message to Greater Manchester and the world that the service is committed to equality and supports the rights of lesbian, gay, bisexual and trans people.
"We have come so far on the road to equality in this country, but it is still the case that people face intolerance, bigotry and hatred simply because of who they are.
"Decking a police car out in rainbow colours isn't just a colourful statement – it's a bold one. It shows that GMP is on the side of equality. I also hope it will give confidence to any victim of hate crime to come forward and report it."   
To report hate crime, call police on 101 or report online at report-it.org.uk  
You can also visit one of the third party reporting centres listed at gmp.police.uk/hatecrime