Manchester's Gay Village will be awash with canines and pooches primed to perfection as Vanilla Bar hosts its inaugural Cruffs and Poofs Doggie Do competition.
Organisers are calling on the LGBT community and their furry friends to enter and see if they have what it takes to take home the Fur Baby Cup on June 29.
Cruffs and Poofs, named with a playful nod towards the national dog show Crufts, is a fun, camp and family friendly event that will celebrate man's best friend while raising money for Manchester's dog home.
Vanilla owner Steph Kay told MM: "A lot of people treat their animals as babies so this is a great opportunity for people to show them off and have some fun.
"We've been in the Village for 15 years, and recently Vanilla has been trying to think of events outside the box that aren't so alcohol fuelled and when we came up with this idea everyone just went mental for it."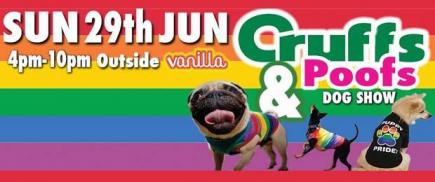 The event will be hosted by the hilarious Louise Twomley AKA Fanny the Nun and judged by Village legend Polly from Taurus, dog loving celebrity hairdresser Andrew Barn, Pug Mania founder Kirstie Beasley and Mancunian Matters LGBT writer and four-legged friend fanatic Josh Willacy.
Music will be provided by Vanilla DJ's and drink offers will be will run throughout the day as homemade cakes, vegetarian finger foods teas and coffees will also be available.
There will be six finalists who will be judged on their look, costumes, how cute they are, and any special tricks they may be able to do.
The event marks a shift for the Village, as the iconic district has been going through a time of real positive change.
Steph said: "The Village is going through a period of regeneration and rejuvenation, everyone's been working hard to make it brighter and return it to its former glory.
"The hanging baskets, voluntary village clean ups, new graffiti commissioned by the Village Business Association, it looks fantastic and just what we need."
Exposure photography Paul Jones will be on hand for those who want to pose up a storm with their pup and doggie apparel by Gourmet Pooch will also be available to browse and purchase on the day.
The Village Business Association, The Lesbian & Gay Foundation, Taurus Bar, Serenity Security, The Village Off-Licence and of course Manchester Dogs Home's are also getting behind the fun and free event.
"The sun sets just outside Vanilla, so if the weathers nice we'll have the swingball out, we'll have the cocktails out and it will just be a really lovely Sunday afternoon," Steph added.
The show starts at 4pm on the car park where Manchester Pride is held.
Image via Frantisek Fuka, with thanks