Ex-director of Manchester Pride, champion of Village businesses and all-round LGBT hero Jackie Crozier writes on the importance of not being a bystander to crime.
I've spent a lot of my career trying to fight prejudice and stereotypes – and promote equality – particularly among LGBT communities.
When I was Chair of Manchester's Village Business Association, I pushed for a new art project to inject life and pride back into 'Our Village'. One reason behind the street art scheme was to demonstrate to passers-by that we are proud of who we are and our history. We also wanted to show that we stand up for ourselves, together, through thick and thin.
As Manchester Pride's Festival Director I was privileged to lead celebrations of LGBT lifestyle and culture in Manchester and, together with our staff, supporters, volunteers, patrons and partners, raised hundreds of thousands of pounds for LGBT community groups and charities in the process.
Despite no longer holding either of those posts I know that I can still help make a difference. I know that we all have a duty and a responsibility to make the world a better place – no matter what we do. That's why we all need to step up and make a difference.
This Anti-Bullying Week 2014, I've been particularly struck by one campaign in particular from lesbian, gay and bisexual equality charity Stonewall.
Stonewall's #NoBystanders campaign is simple, hard-hitting and inclusive of all and any group who may suffer bullying and prejudice. Its campaign video shows children hearing hateful language from a young age, and demonstrates the way it can progress into adulthood.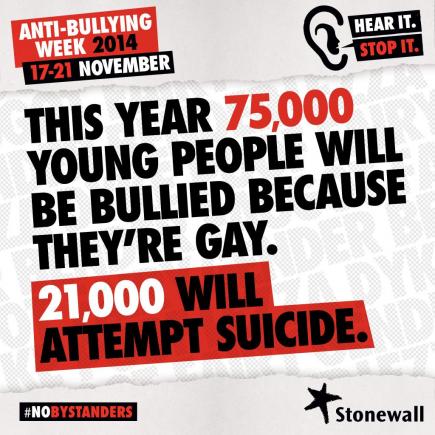 And what does #NoBystanders ask of its audience? Pledge to not be a bystander – and stand up for those around you who are being bullied or abused for being who they are.
Sounds pretty simple, I think?
Then do it. Be a role model. Don't be a bystander. If you hear it, or see it, then stop it. I know I will.
And I know that, as a city that looks after its own, that you'll do it too, Manchester.
No Bystanders is gay rights charity Stonewall's campaign to tackle bullying and abuse in the LGBT community. It takes place during Anti-Bullying Week from November 17-21.
Image courtesy of David Jones, with thanks.