Box-kicked in between two footballing giants and competing with league, rugby union in the north-west might be scrum-half in size compared to other English counties.
But that hasn't stopped the region following the lead of London's King's Cross Steelers in being home to the North's first openly gay rugby club, Manchester Village Spartans, established in 1999.
"Three or four years ago we were struggling to get players down to training," Gareth Longley, a former Spartans player and now one of the coaches at the club, tells MM.
But the Sale-based club have grown significantly since then, now boasting three competitive teams and seeing their first team achieve back-to-back promotions in the past two seasons.
As trailblazers in raising the profile of the LGBT rugby in the UK, the Spartans have recently helped to set up Merseyside's first LGBT rugby club, The Liverpool Tritons and next week head to Madrid to take part in the Union Cup – the Europe's biggest, biennial gay rugby tournament.
And as the club wait to hear if their bid to host the 2019 tournament has been successful, the club have released a promotional video in the hope of shattering stereotypes and encouraging more young men – regardless of their sexuality or physical stature – to try the sport.
Supported by the Spirit of Rugby Programme, an RFU initiative born out of the legacy of the London 2012 Games, the film targets 16-24-year-olds who might not traditionally identify themselves with the sport because of their physical stature or sexuality.  
"There's no barrier in terms of sexuality. You can be whatever sexuality you want, as long as players stand by our principles of teamwork, respect, employment, sportsmanship and rugby ethos," Gareth says.
"A good 80-90% of players are gay, or bi-sexual. It's actually great to have people mixing."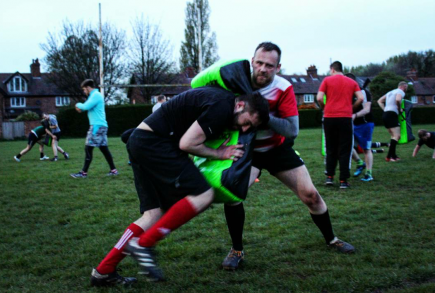 HOOKED: Regardless of sexuality, Manchester Village Spartans' gay, bi and straight players gel superbly on and off the pitch
One of those in the mix is Karl Bee, the captain of the men's first XV and older brother to the club's chairman, Dean.
As one of the club's straight players, Karl joined the Spartans shortly before his brother came out to him about his sexuality – and he isn't fazed by sharing the pitch with gay or bi-sexual men.
"The LGBT side of the club didn't come into question really. I'm not going to lie, at first, I was a bit dubious – like thinking what would happen at shower time. I was a little bit sheepish meeting the guys for the first time.
"I had my first training session and got my first game as a substitute on the following Saturday. I put my first tackle in and that was it really, it was like being a kid again. I've been hooked ever since."
Now in his tenth season at the club and his first as captain, Karl has come to relish the all-inclusive atmosphere at the Spartans, which he is determined to keep free from homophobia.
"As a club, you kind of protect each other anyway. There's a brotherhood, a team bond in most that you find in most football or rugby clubs. Even though I'm straight, I find homophobic comments really offensive," he says.
"When I first started years ago, there was a lot of that on the side lines, there was some horrible stuff said. People thought we'd just come down with our handbags for the sake of being in a team.
"But we play some really good rugby and over the years it's made teams think, 'Let's take you guys seriously,' and that's what a lot of the teams in our league now realise what we're about."
While they might be a rare occurrence in the gentleman's game of rugby, Gareth also remains optimistic when it comes to attitude tackling homophobia and maintaining the welfare of the squad. 
"Most of the time I don't think it's necessarily homophobic, they're just throw away comments that kids make, like 'Oh that's so gay' kind of thing – things that are said in the heat of the moment.
"There are still those pockets there and I think they will be there forever. You're never going to completely get rid of things like that because there are people who play with small minds.
"But hopefully it will get better, because you don't find people shouting racist abuse from the side lines.
"I think rugby's generally more of an accepting sport anyway. Let's face it, if someone on the pitch calls you a faggot, you'll just deck them anyway."