Manchester is to celebrate LGBT History Month with a series of exclusive film screenings, discussion groups and a programme of talks by some of the world's leading gay filmmakers.
Organised by Manchester Metropolitan University (MMU) and supported by Film Hub NWC, Queer Contact and Macdonald Hotels & Resorts, the fortnight of events will take place at Taurus on Canal Street and at the university.
Seeing Queerly: A Season of LGBT Cinema was the brainchild of Dr Andrew Moor, Reader of Cinema History at MMU.
Dr Moor said: "The British Film Institute's fantastic new audience development scheme got me thinking about ways of bringing together colleagues at MMU who work in film studies and sexuality studies, and was an added incentive to partner up with organisations like Contact and LGBT History Month to launch some events for the LGBTQI community."
"We have some smaller screenings, discussion groups and talks but I'm particularly excited about the Q&A with Justin V Bond after the screening of John Cameron Mitchell's beautiful and upbeat film Shortbus.
"V, as Justin is known, was best known as Kiki – 50% of the great drag act Kiki and Herb."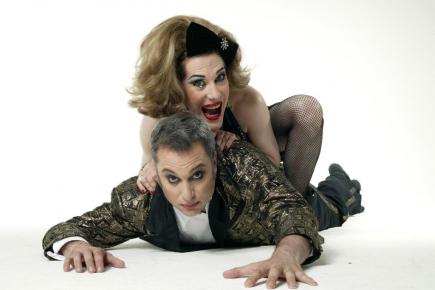 KIKI & HERB: The festival will host a Q&A with Justin V Bond (aka Kiki, from the famous drag duo) (©The Huntington, with thanks)
"The other highlight of the season is an extremely special screening of an almost unseen film by Britain's premier queer artist / film-maker / writer / gardener, the late Derek Jarman.
"Derek personally shot Will You Dance With Me? for the director Ron Peck, who needed some gay club footage for a feature film of his own. 
"It's only been screened so far in the UK at the BFI Flare, the London LGBT Film Festival, so this is a very special event."
The film will be shown on 20th February and will followed by a set by DJ Greg Thorpe with money from donation buckets to be given to the George House Trust and the Albert Kennedy Trust.

'ALMOST UNSEEN': Footage shot by the late great Derek Jarman of 1980s gay club cruising will make a rare appearance 
(©Gorup de Besanez, with thanks)
Other highlights are Jeffrey Schwartz's documentary about the AIDS activist and film critic Vito Russo, and Frank Ripploh's Taxi Zum Flo which are screened on February 11 and 12  respectively.
The first of the two public lectures will be given by Dr Andrew Moor and is entitled 'Being a Gay Film Critic in the 1970s'. 
The second talk, from MMU's Jon Binnie and Christian Klesse, takes place on February 23 and will discuss LGBT film festivals and activism. 
For full details and booking information, click here
Image courtesy of John O'Nolan, with thanks