Fear of judgement and injustice mean around 35,000 victims of LGBT hate crimes fail to report these unthinkable incidents to the police every year.
But in a bid to stop so many suffering in silence and their abusers going unpunished, Manchester's LGBT Foundation is teaming up with 31 organisations to raise awareness and empower the LGBT community.
The campaign – funded by the Human Rights Commission – hopes to encourage people to stand up against hate crime through education and training and the message 'Recognise it. Report it'.
LGBTF's chief executive Paul Martin OBE said: "The simple fact is if hate crime isn't reported then nothing can be done about it, and we'll never know the true extent of the problem.
"It could also mean that other people might receive the same or worse abuse.
"We believe that every single incident of hate crime, no matter how big or small, should be reported."
Evidence – collected by the University of Leicester's Centre for Hate Studies – shows around 35,000 cases o0f hate crime committed against people because of the sexual orientation go unreported every year.
And 88% of lesbian, gay, bisexual and trans people have experienced some form of hate incident leaving them with emotional and physical scars, according to the same research.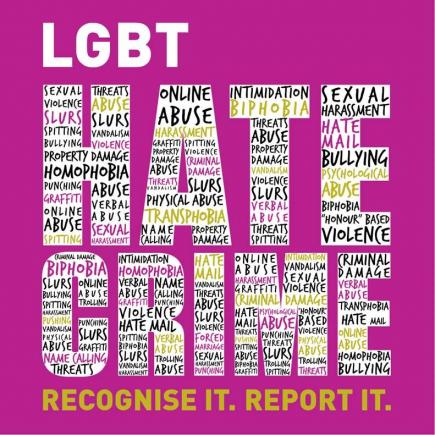 END INJUSTICE: Don't let people who commit LGBT hate crimes get away without facing the consequences
The university also found that while victims of transphobia can be targeted up to 50 times in just one year, only three in 10 reports the incident.
Reporting of LGBT hate crimes is especially low in rural areas, which is why they will be made the focus of the new campaign.
The awareness drive, led by the LGBT Consortium, signifies the first time groups from across England and Wales have all come together to tackle these injustices.
The consortium's chief executive Paul Roberts said: "LGBT communities are already working with the police to remove barriers to reporting, and offer practical and emotional support.
"However, too often, LGBT people don't know they are experiencing hate crime or just shrug it off.
"Collectively, we are saying it is time to move on from this. Our message today is recognise hate crime when it happens, report it, and get support when you need it."
A variety of reasons for under-reporting incidents were given by participants in Leicester uni's study, such as, the 'normalisation' of hate incidents, concern about wasting police time, fears about being outed and previous negative experiences with the police.
Report author Dr Stevie-Jade Hardy, a lecturer at the university's Centre for Hate Studies, said: "Hate crimes are a routine, and mostly unreported feature of many LGBT people's daily lives.
"Simply expecting victims to report without taking meaningful action to dismantle perceived and actual barriers is futile, particularly when the evidence shows that many have little confidence in the capacity of authorities to act empathetically or effectively."
A series of recommendations are made to tackle issues surrounding the reporting of hate crimes in the report, including increased community outreach by police to build trust with LGBT communities.
A greater number of third-party reporting systems, more awareness of how and where to report hate crime and looking at what can be learned from the reporting of other types of hate crime were also recommended courses of action to overcome the problem.
Equality and Human Rights Commissioner Evelyn Asante-Mensah called for a committed and collective action to put an end to this blight on the LGBT community.
I hate the word homophobia. It's not a phobia. You are not scared. You are an asshole.

— Morgan Freeman (@Morrgan_Freeman) May 19, 2013
She said: "Pride season is upon us and it seems an opportune moment to reflect on the great steps made towards equality, while highlighting the hidden scandal of underreporting of LGB and T hate crime.
"Just as the Commission is doing with disability hate crime, we need to bring this problem into the open and create a culture where victims are confident to come forward and society confronts all forms of abuse."
LGBT Foundation has been a third-party Hate Crime Reporting Centre for over 15 years and can help to support people with reporting hate crime.
If you or someone you know needs to report a hate crime you can call the LGBTF helpline on 03453 303030, pop into the centre of Richmond Street M1 3HF or send an email here. 
Or you can use the easy access Hate Crime Reporting web-app and report it anonymously by clicking here.
The Equality and Human Rights Commission is also funding the UK's only 24/7 nationwide LGBT hate crime helpline, run by Stop Hate UK – 0808 801 0661.
Other regional helplines can be found here.
Image courtesy of Denise Coronel, with thanks.