A policeman from Oldham put his best paw forward at the annual Mr Bear Scots contest, earlier this month, and brought home the 2014 title.
Peter Morley, a GMP detective, beat off stiff competition from seven other men in the unusual twist on the standard beauty pageant.
Dubbed as a 'get together for larger, hairier gay men', the Edinburgh-based competition is run across the first weekend in October, and is currently in its 13th year.
Peter, a Child Protection Officer with Greater Manchester Police, told MM: "It's a bit like a beauty pageant, in that you're not expected to do much except stand on stage and just look pretty. It's more for fun than it is for anything else.
"They have a compare on stage who gets you up and takes the mickey a little bit and then asks you some questions, very tongue in cheek. You know, how will you change the world if you are Mr Bear Scots 2014? Which, if you take it in the right spirit, it's all fun."
Peter was put forward for the competition by his boyfriend Ben who admitted he was shocked when he received an email encouraging his partner to take part.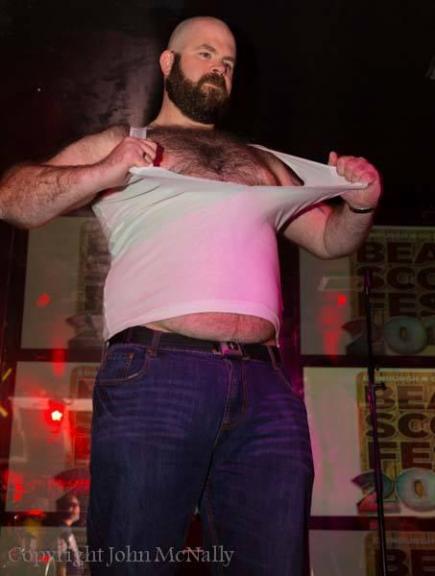 Ben said: "I think he partly did it to see whether I would go through with it, and partly just as a laugh, really.
"So I was a bit shocked when they emailed me about a week before, saying, we'd like you to take part. If you're still up for it, tell us a bit about yourself and send us a picture. So I did, and the rest is history."
Unfortunately Mancunians will not have the chance to see Peter in action, as he is more than happy with his 15 minutes of fame, and wants someone else to step in to follow in his paw prints.
Colleagues at Greater Manchester Police Force have been overwhelmingly supportive, insists the 33-year-old, with many jokingly asking for his autograph.
Peter was crowned Mr Bear Scots after the crowd at the event voted him their winner.
Each member of the audience was given a token, and after they've seen all the competitors, they place their token in the jar of whose ever they want to win.
The competition is set to run in Manchester next May. For more details, visit: gmh.org.uk.
Images courtesy of John McNally, with thanks.