Thinking about giving Veganuary a go? A New Year's resolution heading into the next decade?
Maybe you have tried meat free Mondays, being a flexitarian, or just want to eat more vegetables.
The number of vegans – and therefore restaurants and vegan products – has increased massively over the last decade and this trend is expected to continue into the next.
More than 500,000 people in 178 countries have taken part since Veganuary began in 2014, with numbers doubling every year. 
In January 2019 more than 500 companies promoted Veganaury and veganism, while more than 200 plant-based products and menus were launched. 
There are three main reasons why people choose to be vegan, to stop animal cruelty, to protect the environment and to improve their health.
Animal Cruelty
First of all should we even kill a sentient being to have something to eat when we don't need to?
Will future generations look back on industrial animal farming and judge us the way we look back and view the horrors of slavery?
If you can get past killing an animal to eat, then the issue is not how they die, but how they live.
Cows, pigs, chickens are sentient beings. They have emotions, they can experience joy and suffering, they are sociable and intelligent animals.
Their physical, emotional and social needs are redundant in most farms. They may be called farms but the reality is most animals are kept in dreadful conditions.
Chickens are kept in cramped miserable cages. Intensively farmed pigs are locked inside a small space. Dairy cows are impregnated again and again so they can keep producing milk.
They have their tails and horns mutilated and mothers are separated from their new borns.
Suffering is real.
There are some organic farms which look after the welfare of the animals, they are free from suffering and are able to express their natural behaviour.
However, just 3.3% of cattle raised is organic, 2.4% of pigs, 0.7% of sheep and 1.8% of poultry.
In the UK, where more than 900 million farm animals are reared every year, that's a staggering amount of animals who live a life not worth living.  
And the ones that do still end their lives in a slaughterhouse. 
Environmental Protection  
Avoiding meat and dairy is the "single biggest way" to reduce our impact on the planet, concluded a leading professor from the University of Oxford. 
The research concluded that plant foods, such as tofu and peas, have a significantly lower environmental impact to produce compared to animal products.
Today's food chain causes 26% of anthropogenic (originating in human activity) greenhouse gas emissions.
Meat represents 18% of our total calorie intake, and 37% of our protein intake yet takes up 83% of farmland.
Forests are cut down at a rate of one football pitch per second, a lot of it for agriculture, while the loss of wild areas to agriculture is the leading cause of the current mass extinction of wildlife.
According to a peer reviewed analysis by the Proceedings of the National Academy of Sciences of the USA (PNAS), we are taking part in a "biological annihilation."
They conservatively estimate almost 200 species of vertebrates have become extinct in the last 100 years.
Under "normal" extinction rates based on the last two million years, the 200 vertebrate would have taken 10,000 years to disappear. 
This devastation of our planet has been caused by habitat loss, overexploitation, pollution and climate disruption. 
Health
If there is any universal consensus on a healthy diet it is that we need to eat as many plant-based foods and as great a variety as possible.
There are five hot spots in the world with a high concentration of people over 100 years old, which also have an older generation without major health problems like heart disease, diabetes and cancer.
These regions – Ikaria, Greece; Okinawa, Japan; Ogliastra region Sardinia; Loma Linda, California and Nocya Peninsular, Costa Rica all have a diet rich in plant foods with either none or little meat and dairy consumption. 
Plants are full of vitamins and antioxidants, which keep our bodies functioning as they should and fight off any potential damage such as from inflammation and unstable chemicals known as 'free radicals'.
There are also numerous athletes who utilise the power of plants to fuel their athletic greatness.
Lewis Hamilton, the Williams sisters, Lionel Messi and Novak Djokovic have all spoken out on how their change to plant-based diets has improved both their health and performance.
Our #Veganuary2020 Ambassador @DustinWatten has a little message for you…
2 DAYS! https://t.co/gBiXakXaTg pic.twitter.com/9dfBoYObXU

— Veganuary (@veganuary) December 30, 2019
Vegan Manchester
If you want to give Veganaury a go for any of the above reasons, or if you just want some great tasting food, here are three restaurants to try in central Manchester.
Earth Cafe
Located in the basement of a Buddhist centre with an ever-changing freshly made menu which includes vegan dishes like chilli, Caribbean curry and black-eyed pea and sweet potato pie.
They also serve organic tea and coffee, fresh juices, dairy free and gluten free cakes and vegan ice cream.
Vertigo
Great for breakfast and brunch with cinnamon waffles, breakfast bagels and smashed avocado. Eat in or take out lunch with soup, sandwich of the day and a salad bar. Or dinner with a pre-theatre menu option including buffalo cauliflower wings, jackfruit and black bean chilli and cheeze and leek pie.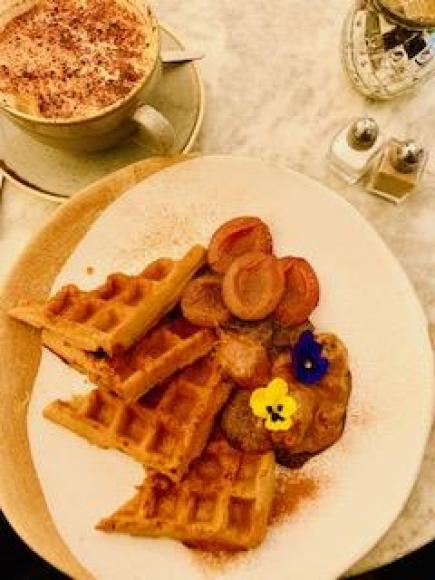 They also serve tea and coffee with choices of plant-based milks and a delightful selection of cakes.
This completely vegan restaurant has their original site located at the bottom of Market Street with a new and bigger site opposite HOME theatre.
V-Rev
A vegan American diner serving pancakes, mac & cheez, hot dogs and a large selection of burgers. Complete your diner experience with sundaes, brownies and shakes.
Set in a trendy, retro and youthful surrounding on Edge Street.
If you want to sign up for Veganuary you can do so on their site which provides recipes, tips on shopping and eating out and nutrition information.