Last night saw the first of three new renditions of the Illuminate production held at the Longsight Library.
The performance was originally commissioned in the Manchester Central Library in November of last year where an audience of 450 people got taken through the contemporary art performance.
However, the sellout production inspired Library Live and Company Chameleon to reshow the Illuminate production in three smaller libraries with a smaller cast.
Choregrapher and co-founder of Company Chameleon, Kevin Edward Turner, told MM: "We are really excited to be taking it out into the branch libraries. We hope to give people a new and exciting experience of dance to remember."
The dance theatre performance takes inspiration from seven archetypal stories, all of which have underpinned literature since the beginning of time and brings life to the characters and stories in-between the books that surround them in different areas of the library.
Kevin explained "that the site specific dance performance" was an idea of his to bring art and performance to the people as he still believes many find theatres an "unfamiliar space."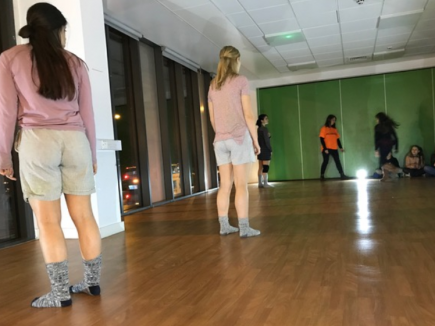 MORE FAMILIAR: Illuminate choreographer Kevin Edward Turner believes performing in spaces like libraries helps engage the audience
By bringing the performance to the library, a safe area within the community, he hopes to inspire people with his art and wants them to be introduced to something they don't know about.
Last night's performance, although slightly altered to only four of the seven stories, was a breathtaking explosion of emotions.
The opening scene, in the corner of the ground floor of the library, had a large crowd sat around to watch a young man leaving, experiencing and coming back from war, all through theatrical dance.
One was clearly aware of the difference in his mood and acrobatic movements throughout this scene, and easily aware of the post-traumatic stress the dancer was portraying and how it affected his relationship with the female dancer.
PUPPET LIKE MOVEMENTS
The promenade performance had us all scuttling from one section to the other in desperate anticipation of what was coming next.
Scene two, with its small and controlled puppet like movements depicted the "value we place on female beauty." There was a heavy feeling to this scene with almost a haunted undertone to it with the music that was playing in the background.
The two girls looked as if they were being controlled, maybe by modern day society, but telling their story through a dance surrounded by story books themselves.
Two stag like animals fought for power and status in the following scene. We were treated to a brutal, yet beautiful bout of physical intensity. The movements created in this masculine standoff were those of strength, balance and trust.
Illuminate – Branch Libraries from Company Chameleon on Vimeo.
Both of the male dancers used not only their own, but each other's strength to complete this fierce and dominant scene which including fighting like movements, handstands, jumping onto and over each other and using each other's body weights to counter act falling to the floor, all while some audience members sat within touching distance.
We later found out that one of the dancers, Oliver Sale, had only taken two days to learn this intense routine.
The final scene was that of tragedy. This piece, involving five of the six dancers, closed the performances and was mesmerizing. It was strange scene which left much to be interpreted by the mind.
TRANSFORMING LIVES
The crew held intense long eye holds with the audience, and looked lost and "disconnected", as were their dancing and movements. It was a very emotional scene, with almost two different dances going on at any given time, but closed the evening with question and inspiration of theatrical art.
The music that surrounded the Longsight library throughout the night drastically enhanced each dance, and set the mood of the specific area ranging from slow war like trumpets to fast paced tribal dance sounds to melodic piano playing.
The normally "quiet only zone" was a depiction of grace, tragedy, battle and movement.
"It's not often you get to see exquisite dancers moving in and around books in a library," said Kevin.
"It breaks a lot of social conventions of what a library is and can be."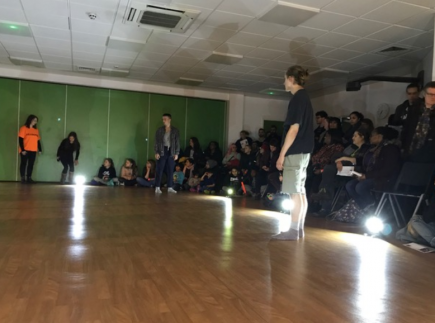 'HARDER TO FAKE': Performers say the crowd's energy and proximity aids their dancing
After the performances were done, the dance crew and rehearsal director and co-founder of the company, Anthony Missen, held an interactive question and answers session with the audience.
"Our learning and participation is a huge core part of what we do. I think dance has the capacity and power to really transform people's lives in lots of ways," Anthony started.
We learnt that the cast was made up from a variety of national and international dancers, two of whom were apprentices. On being asked about the levels of intimacy and closeness to the audience in comparison to being on a stage, two dancers spoke to MM.
"I prefer performing with people closer to me, it becomes like a journey we all go on together. It's more personal," said Helen Andrew.
"You really feed off of each other's energy, it can change how the performance goes, and it makes it a lot harder to fake," added Alice Bonazzi.
A Mancunian at heart, Kevin admits that although they have a lot of international dancers, they very much have their roots and feet in the locality of Manchester.
"We want to make sure we are bringing this excellence back to the city," he said.
The great initiative by Company Chameleon and Library live brought this visual outlay of a library experience to life with such passion and managed to captured all the senses and more.
There are still two nights to catch this performance, tickets are free, but booking is essential:
Book tickets at library counters or visit www.companychameleon.com
Thu 1 February, 7pm – North City Library
Fri 2 February, 7pm – Wythenshawe Forum Library