"When I take on Dickens I feel larger than life and I have my moments when I am half me and half him," exclaimed the experienced actor and director Frank Kennedy.
World-renowned writer Charles J.H. Dickens will be brought to life in Chorlton today as the 56-year-old transforms into 'The Chief' himself and some of his most legendary characters.
Reading from a variety of works including David Copperfield, Great Expectations, A Tale of Two Cities, Hard Times, and A Christmas Carol, 'Dickens' will entertain his audience all night with literary delight.
The evening will include passages from Dickens' works interjected with 'personal' comments and fascinating historical details and Frank hopes to make the performance as authentic as possible.
"It is a little tricky getting into character physically as I try and look as similar to him which means putting on a fake beard and making sure all my clothing is of the period," explained the English language teacher.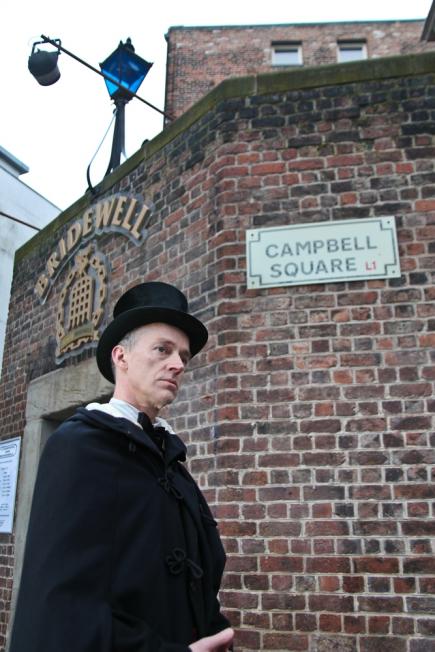 NO LAUGHING MATTER: Frank Kennedy completely immerses himself into character
"The best way to mentally prepare is to really jump into the pieces I am reading – I have to fully commit to the passages and the best way is to read over in great detail and depth and know them inside out.
"It isn't too hard to do though because Dickens' writing leaps out at you and speaks loudly from the page. I mostly perform pieces where there are several characters in a dialogue and so I take on the different voices which provide a great contrast for the audience."
During the latter part of Dickens' career, his dramatic public readings of his own works generated perhaps more excitement than even the books themselves.
The author had nearly become a professional actor before dedicating himself to writing and packed halls the length and breadth of the country – as well as touring the USA, Canada and Ireland.
It is this celebrity persona which inspired Frank. "He is one of literature's first international superstar's and he was brought to my attention when it was the bi-centenary of his birth (2012) which really made me think of him," he said.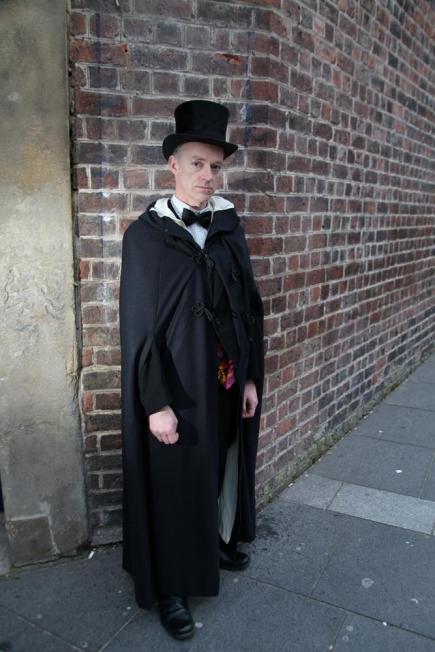 LARGER THAN LIFE: Frank Kennedy 
"Dickens is such a major influence on me because if he had not been a writer he could well have been a major actor at his age and I too share those passions.
"Also he was larger than life in every way and he wrote characters which as has been proved in recent years have created amazing characters in films and plays because he created sublime creations."
Although a writer from the Victorian era, Dickens' work transcends his time, language and culture and the impersonator firmly believes it is very relevant in society today.
"Dickens work is so important because you can see similarities in modern day society.  For example at the moment you are seeing the rich believing they have every right to protect their own and their power and the poor getting poorer," explained the chair of the Liverpool Network theatre group.
"There is a very poisonous atmosphere of blaming people who are at the rough end of society and you can see this with so called benefit scroungers being blamed for a lot of the current problems.
"Also Dickens focused a lot on poor conditions for workers and you can see that today with the punitive job centre practices. There just seems to be an ever increasing separation between the rich and the poor and this was prevalent in the Victorian era also."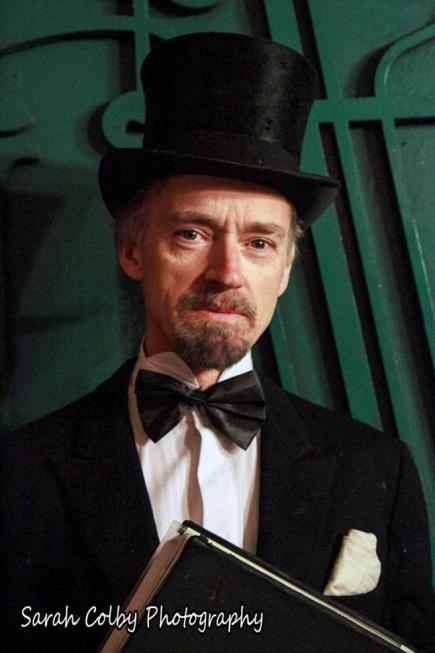 The Oliver Twist author wrote 15 major novels and countless short stories and articles before his death on June 9, 1870.
Countless times Frank has donned an outfit including a top hat and tails to perform but he is still unsure of who his favourite Dickens creation is when acting.
"A reading that always goes down well of course is Oliver Twist when he begs for more food because it is so well known," said the actor.
"But for me it is a very difficult choice to pick a favourite character because there are so many. I suppose one is Great Aunt Betsey Trotwood from David Copperfield because she takes in poor David when he runs away from his evil step-fathers factory.
"I also of love all of A Christmas Carol because I play Scrooge, the spirits and Bob Cratchit- very challenging but it's worth it because so many people identify with the story and sometimes you can even see people mouthing the words because they know it so well."
The experienced actor has performed at various locations across the country but most frequently in Liverpool and Manchester and is impressed by the diverse audiences he is able to reach.
"I have done shows for youth groups and the kids loved it because they connected to the characters and understood the issues of justice and injustice for example the character of Oliver Twist," he said.
"They were so engaging and one group got me to dress up as Scrooge and Dickens after one another and we had an interview scenario where the children could ask questions.
"I'm delighted because both young and old and all those in between get to see this remarkable man and his tales brought to life. I hope I get to continue channelling his energy for as long as possible and there is something for everyone in my performances."
A Date with Dickens is being performed on Saturday March 1 at 7.30pm AT St Werburgh's Parish Hall, Chorlton, M21 0UL.
Tickets are £4/£6 and for reservations contact: 07786 746704