For actress Arielle Haller-Silverstone life almost seems like one long romantic comedy.
From disastrous dates to awkward sexual experiences, the down-town New Yorker has seen it all.
Speaking after the preview of her short film Sac de Merde at the Manchester Film Festival, MM were lucky enough to sit down with the Connecticut-born actress to discuss everything from her new short movie, her background in politics and theatre and what life is really like under President Trump.
The prologue
After growing up in the state of Connecticut, Arielle was unsure of her career going forward and explained to us how she initially fell in love with acting.
"When I was a kid, I loved acting and being on stage and it was a real passion of mine.
"When I reached college, however, acting seemed like something in the past for me. I wasn't a fan of academic theatre studies and, in America, acting is not revered in the same way it is here in the UK.
"Obviously the fact that it is such a big market means it's very competitive so I suppose it just seemed too risky."
The actress earnt a degree in Political sciences and looked set to forge a career in politics until she came across an opportunity in New York that she just couldn't turn down.
"During one summer in my early 20s, I was drawn to an experience at Michael Howard Studios in New York which I took up as a spur of the moment thing.
"It turned out to be the life-changing moment for me really as I fell in love with the studio there and I fell in love with New York and its people. From then on, I never looked back."
'Whatever will be will be'
With that said, Arielle continued to flourish in her new environment and it wasn't long before Michael Howard Studios gave her a first real opening in the limelight.
"As part of the programme at Michael Howard Studios, it is expected that you take a private moment from a Hollywood's icons life and make it suitable for a theatre production and I chose Doris Day.
"I ended up writing a full length play for her where I embodied her, as well as performed as her and I was even lucky enough to end up meeting her at her 90th birthday party which was incredible.
"For three years we sold out shows at the United Solo Festival in New York, which is the world's largest collection of solo shows, and it is my ambition to bring her back as soon as I can."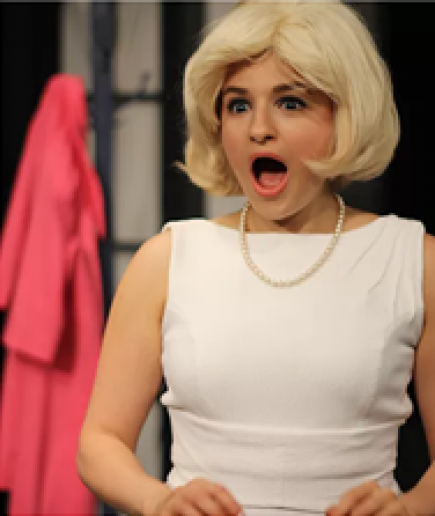 DAY IMPETUS: Arielle said Doris Day was the inspiration for her taking up a career in acting
Her love for Doris didn't stop at that, and for Arielle she was just the inspiration she needed to move into the film industry.
"For me, Doris was a huge inspiration in making a movie to be honest.
"I appreciate they are totally unrelated, but she was the impetus for my theatre show and the success of that gave me extra belief that I could continue to forge a career in this industry.
"I suppose I thought to myself that the next logical step from theatre was to make a movie, so I owe a lot of it to Doris."
Life on the big screen
Arielle has now created and starred in her own short film, comically named Sac de Merde (translating as 'bag of s**t' for non-French speakers), as her first major step into the film industry.
After previewing at the Manchester Film Festival during the first shorts session on Friday March 2, the New York actress explained the roots of her film concept, her love for comedy and combating the stigma of some of the industry's worst kept secrets.
"It's a true story from my past and really it's centred on a time when I had a one night stand with a man who had a colostomy bag.
"Despite being awkward, it was pretty funny and I decided I would make a movie about it."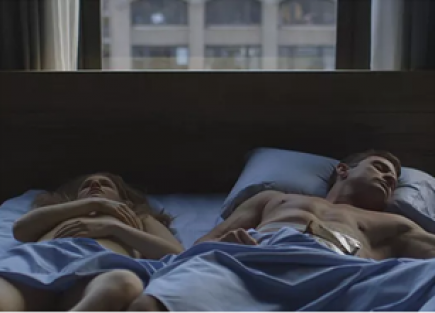 ANTI CLIMAX: Arielle in her film Sac de Merde
Incorporating other elements of her dating disasters, the actress made it clear that she wanted to raise awareness about colostomy bags and people with related issues and use comedy as a platform to represent them. 
"I think that the movie, by default, is raising awareness of those individuals living with colostomy bags and other distinctive aliments and realising that they are human and just like the rest of us.
"In this case the man, with the colostomy bag, is seriously ignorant and, of course that helps with the comedy, but really it is just about suggesting that these people can still engage with the same experiences as the rest of us."
This is a Man's World
On her admiration for Doris Day, Arielle spoke about her inner love for comedy and how it inspired her to move into this genre.
"I think that Doris Day paved the way for women in comedy in particular and I don't think she gets recognised for that.
"She could be a beautiful woman who could make people laugh and, for me, that was a really inspiring experience to watch.
"I still think we struggle to figure out where women in comedy live and that is where the problem still lies."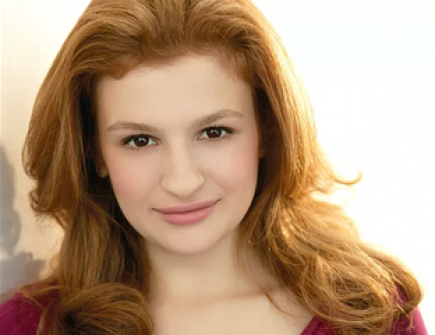 PAVING THE WAY: Arielle praised Doris Day for helping put female comedians on the map
With that said, the New Yorker expressed her desire to be the change that she wanted to see in the film industry and explained how her movie represented female empowerment.
"By making it a sexualised experience, we are making it funny and saying we can do it too.
"It isn't the traditional happy-ever-after but she finds her own empowerment as, despite all the things she goes through, she still comes out on top."
Oh Britannia
Despite becoming a seasoned traveller through her work, Arielle is relatively new to British culture and outlined her first impressions of Manchester as she embarked on her festival tour.
"Coming to England was a breath of fresh air for me, I do honestly love it here.
"I think Manchester in particular is a great place as there seems to be a thriving arts community on the face of it.
"What strikes me here is that everyone is very polite and that's refreshing for me coming from New York."
Manchester marked Arielle's first public screening and she had nothing but praise for the festival and city in general for providing her with the platform.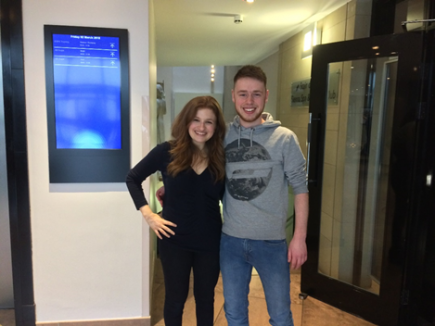 VERY SUPPORTIVE: Arielle, pictured with MM reporter Jacob Bentley-York, says British film culture is far more welcoming to women than in her native USA 
"It was kind of a watershed moment for everyone involved as we have been working on the short for so long so I am grateful for the opportunity that Manchester has given me."
"I think England, in general, is very supportive of female actors which is way more than in the States, and that is something that the British film industry can be really proud of.
"I am lucky in that I have a very lovely and supportive community around me that have helped me get to this point, but it is certainly something I have noticed."
From delirium to despair
The political science graduate also touched on the state of her country's political system and her opinion on the man the world cannot stop talking about.
"I have to say I'm happy to be out of politics at the moment to be honest.
"I'm not a supporter of Donald Trump in any shape or form but one positive is that he is generating interest and people are becoming more politically aware as a result."
Arielle recollected the results day of the presidential election in 2016 and described the sombre scene as many New Yorkers were left devastated by the news.
"You walked around the place and it just seemed so low and deflated.
"There were people crying, people hugging each other and, for a city where you don't say five words to the person next to you on the subway normally, the collective despair weirdly brought people together which was truly surreal.
"It was in stark contrast to the scenes I saw in DC when Barack Obama was elected in 2008 which was a hugely joyous and historic day."
The visual difference between Trump and Obama when talking about or visiting the aftermath of a school shooting is striking. Did anyone tell Trump it's not a celebration? pic.twitter.com/cgwy32ql8S

— Brian Klaas (@brianklaas) February 17, 2018
Admitting she was concerned by the developments in the White House, she added: "My biggest concern as a US citizen is the damage he is doing to our international relations.
"I think our reputation and regard from other countries has never been poorer."
'The future's not ours to see'
Wrapping up a fascinating interview, the future film star gave a final few words on her personal ambitions for the future.
"My dream really is to make my short into a web series which would feature many of my dating stories.
"I'd love to continue in both film and theatre really but, as a filmmaker, I think making movies is simply really cool and I just want to continue doing it as long as I can."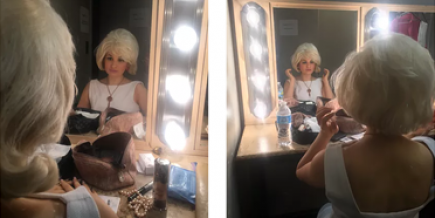 MIRROR, MIRROR: Arielle hopes to continue making films while doing bits of theatre