It's Friday night. You've found yourself deep underground in Soup Kitchen's basement dancing non-stop with your eyes on the DJ booth.
The purveyors of the tunes sustaining you are cast in silhouette. Suddenly the strobe flashes and you notice your good time is once again chaired by "four guys behind a DJ booth wearing all black."
It's frustration with this that inspired Tracy Duah (main pic bottom), Anna Cooper (far left), Sophie Hayter (far right), and Rosa Méthol to form All Hands on Deck (AHoD): the perfectly named DJ collective creating an inclusive platform in Manchester for women and non-binary people to flourish on the turntables.
But what created the need for this to be formed?
A long time bedroom DJ, Hayter told MM: "There was a particular way of talking about music with my guy mates that never felt that inclusive. It felt judgmental and I never felt confident putting music on at parties. There was a bit of competitiveness and one-upmanship.
"All girls have the same issue especially in university cities. [The scene] is super dominated by young dudes who are very serious about Techno. There isn't a lot of space for a relaxed way of approaching music for beginners."   
The collective's grown swiftly since the project's conception in July 2018: a point which illustrates how necessary this was for a lot of women and non-binary people who share Hayter's sentiments to get the confidence and the platform to break into an oft-too closed scene.
Meeting at a workshop for female DJs at Partisan – a co-operative activist space in central Manchester – Cooper and Duah bonded over the lack of a space that catered to women and non-binary DJs. 
They then met Hayter when they were blessed with an opportunity to get on the decks after an open call-out for female DJs to play at a fundraiser for the Rojava conflict in June 2018; a fitting beginning.
PLATFORM FREE OF JUDGEMENT
The conflict occurring in Rojava is defined by the vast amounts of women fighting on the frontlines.
Both Isis and Assad's forces have focused on the large-scale killing of men and boys forcing women to take up arms in Kurdish Women's Protection Units and many women freed from capture have set up their own all-female battalions.        
When I met Cooper and Duah, they were reticent to accept my hyperbolic labelling of AHoD as a female battalion, instead focusing on their philosophies of inclusivity and expansion.
They aren't trying to fight male DJs but simply create space for women and non-binary people to have the same opportunities.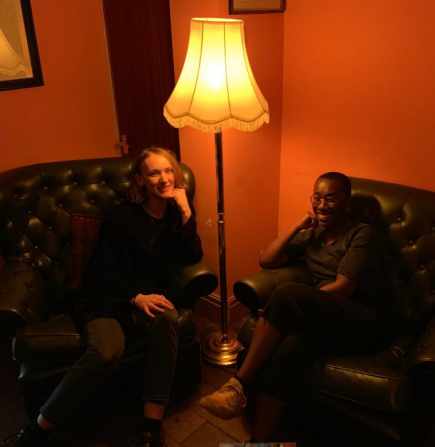 THE SPARK THAT STARTED IT ALL: MM caught up with Anna (left) and Tracy to hear how All Hands on Deck came about  
London native Cooper spoke of the anxieties that kept her from DJing for years due to how intimidating various scenes were for women starting out.
It wasn't until the Rojava gig when she realised nights didn't have to be judgemental, saying: "People were just there to have a nice time and that's something that we can create."
It's this sentiment that developed the ethos of AHoD which runs as a collective rather than simply a brand for the four founders.
Bringing in people of all levels, AHoD have set up a platform that the central four didn't have when they first wanted to get into DJing: a platform free of judgement and one that enables its participants.
A core pillar of how AHoD do this is through open deck nights to encourage people starting out to simply get up and have a go.
Duah said: "The whole point of open decks is to create a platform for people you usually don't see anywhere in the city.
"Whoever plays at our nights or whoever's interested in playing is part of the collective. It can consist of experienced DJs or beginner DJs and we're trying to expand it so that sound engineers can help us out as well.
"Through that we'll have a lot of skill sharing."
This core philosophy has been ever-present since day one as Méthol became a founding member through chatting to Cooper on a bus back from the electronic music festival Free Rotation.
She became the fourth founding member a mere two weeks after Cooper, Duah and Hayter discussed the idea.
This carries through to how they run the collective with all four having all hands on deck for All Hands on Deck.
Méthol said: "We all organise everything and we all get involved in everything. It's like a full time job but it's a really good fun one."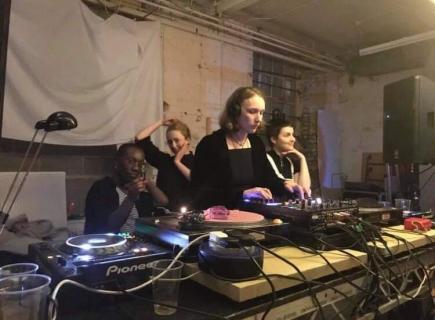 'SKILL SHARING': AHoD is open to anyone, from DJs to sound engineers 
The four founding members, once beginners, have progressed to the point that AHoD now have residencies at The Deaf Institute and Common alongside the workshops, open deck nights and club-nights they run for women and non-binary people to perform at.
Of course, those who identify as men are welcome to attend these nights as punters.  
They've seen members such as Kiana, Maracuya Soundsystem and Princess Anna – who all started out at AHoD nights – flourish and find residencies of their own: a feat that may not have been possible if not for AHoD. 
Cooper stated how much fulfilment they get from seeing members of the collective growing in this way: "People have come to our events, they never played out and now they're playing all over the city. It's great to see, we feel really proud." 
Yet even with all the success they and the collective have seen, these tireless women still maintain the collective's founding principles.
Cooper stated that the workshops and nights that they run are always inclusive: "We don't want people coming in, standing there being really judgemental and reactionary if [DJs] do a bad mix. We want crowds to be supportive."          
Duah added: "We don't focus on specific genres at our club nights. We've had some people come in and play new wave or rock, and some people come in and play grime. We just want people that are playing to be comfortable and emanate that confidence."
It seems as though AHoD will be here for years to come, inspiring and enabling women and non-binary people all over the city of Manchester to get into the DJ scene.
If you identify as such and want to join the collective, or even just meet the founding members, AHoD will be performing at Common on April 4.     
Images courtesy of Nick Kagame Jones, with thanks.