If you're looking to inject some vintage va va voom into your wardrobe this season then there's no better place to bag some pre-loved bargains than Greater Manchester.
The area itself is huge and is bursting with charity shops, vintage stores and fairs so whittling them down to just five is tough.
But I'm not one to shy away from a challenge and I reckon these five are absolute belters, so without further ado here are my top five places to grab a bargain.
 (5) Wigan & Leigh Hospice shop, Wigan 
Tucked away from the main shopping area in Wigan is this gem of a charity shop – one of 13 shops in the borough that support people when they need end-of-life care.
In addition there is a wonderful eBay shop which has all manner of bargains including a vast selection of men and women's clothing and household goods.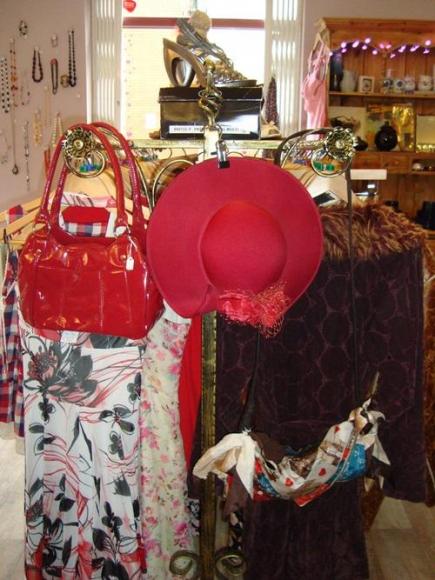 VINTAGE GOODIES: Treasures just waiting to be unearthed
The volunteers here are so lovely and instead of trying to push sales they like having a chat at the till (and I do love a good chat!)
I've scored some great bargains from this place over the years but if I think an item's been under-priced the Catholic guilt kicks in and I donate a few quid more – all in the name of good charity karma.
My favourite buy has to be this tiny evening bag which was just £2.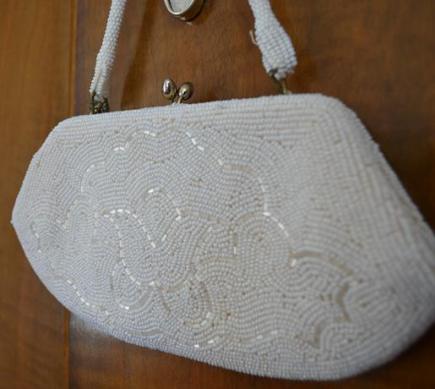 BEAUTIFUL BEADED BARGAIN: On sale for £2
It's certainly worth veering off the main stretch for, and even if nothing tickles your fancy, there are plenty of bakeries along there – perfect for a post-shopping pie (well you are in Wigan after all!)
 (4) RSPCA Manchester & Salford Branch, Northern Quarter 
I love this shop and written about it a few times before.
I'm usually happiest when I'm faced with a teetering piles of stuff to have a nosey through but I love how this place is a charity shop but with a boutique feel.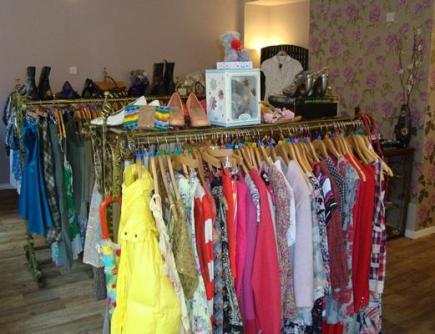 SHOP THE RAINBOW: Myriad of vintage treasures for sale
It's also a great place to pop in at lunchtime and have a nosy around.
Unlike other places in the country where a boutique name would equal boutique prices, this shop offers all the benefits of gorgeous stock but at bargain prices.
Not only does it stock beautiful, and sometimes designer, vintage garments, accessories and books it also sells stunning homeware.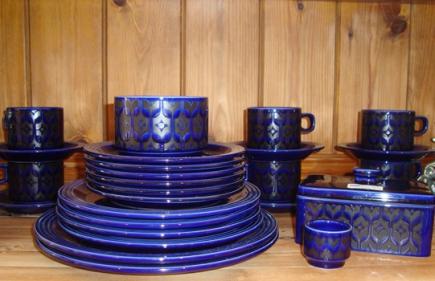 FEELING BLUE: Gorgeous retro tea set
 (3) Oxfam Originals, Manchester
Oxfam Originals is the store where things are selected based on their vintage credentials.
You won't see any well-worn Primark or H&M numbers popping up here, that's for sure.
I've spent many a spare 20 minutes, usually killing time ahead of a train journey, wandering around the place as you would in a costume gallery.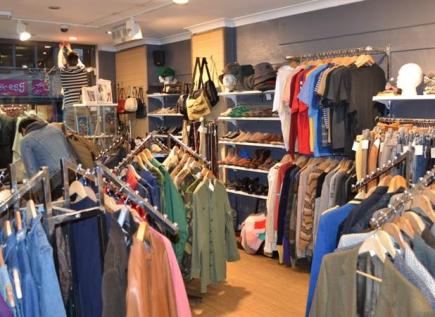 OXFAM ORIGINALS: Quirky buys guaranteed
But unlike a museum here you're allowed to touch, try on and even buy what you can get your paws on.
Granted it's pricier than the Oxfam Emporium across the road and some of its fare is a little more avant-garde, but it's there where I believe the appeal lies.
I love just how eclectic the stock is whether it's full-length froufrou 1970's dress, a gentleman's tweed jacket or an outrageously fluffy hat, here you're bound to find something that tantalises the senses.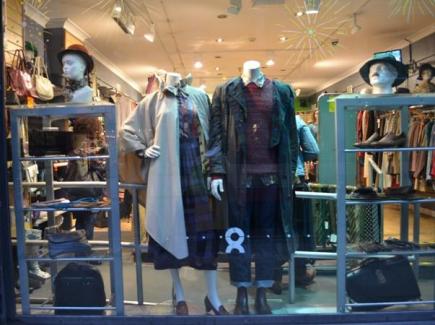 TANTALISING: Vintage fans can unearth gorgeous buys
If you're unable to make it down to the shop Oxfam has its own dedicated online vintage section.
Some pieces are a little more expensive than I would usually fork out, but equally there are some great value outfits that I'd 'add to basket' in a heartbeat if they were my size… and I had a bigger wardrobe.
(2) Retro Rehab, Manchester
Just further down from Oxfam Originals is Retro Rehab, my go-to place for quirky dresses.
I try not to visit too often as undoubtedly I end up finding something I like and buying it.
It's a wallet hazard to all vintage fans…. be warned!  
It also stocks some rather dreamy kimonos, perfect for flinging over an outfit this summer, and as summer gives way to autumn there'll be a range of lovingly warn-in leather jackets to peruse. Ding dong!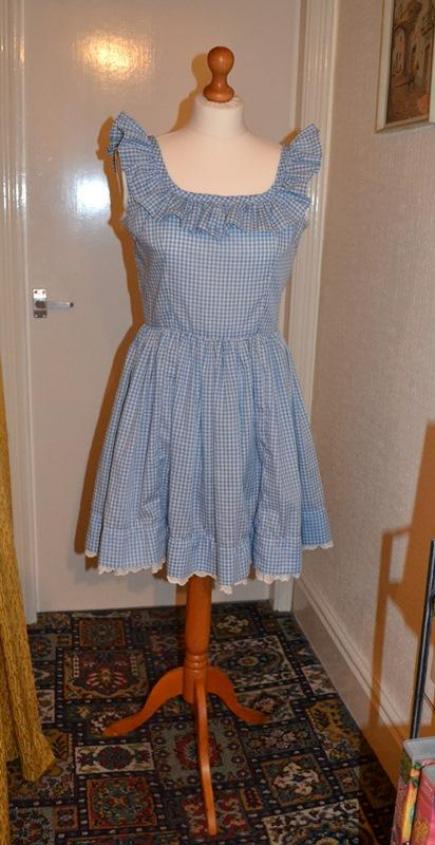 THERE'S NO DRESS LIKE THIS! Gorgeous 'Dorothy' dress
It's worth following their Facebook page as even if you can't step a foot over the shop threshold you still get the chance to see their latest stock.
You can also buy online via the ASOS Marketplace shop.
(1)    Salvation Army, Wigan
So we've made it to the top spot, this shop beat off stiff competition from the likes of charity giants Oxfam and the RSPCA – ladies and gentlemen I give you the Salvation Army shop in Wigan.
I'm almost loathed to reveal the location of my favourite charity shop stomping ground for fear vintage aficionados will descend on it like a plague of locusts and snaffle all the goodies.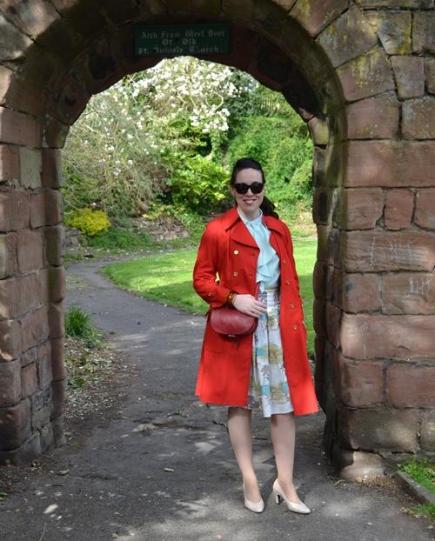 LADY IN RED: Trench coat and bag are from Wigan's Salvation Army
It's nothing special to look at from the outside, there are no fancy branded carrier bags and there's no dedicated vintage section.
As you step through the door you're greeted with a regular-looking shop with a regular set-up of rails and shelving. So far so normal.
But the old adage of not judging a book by its cover certainly applies here, it may not be all singing and dancing in its presentation but the stock they get is nothing short of phenomenal.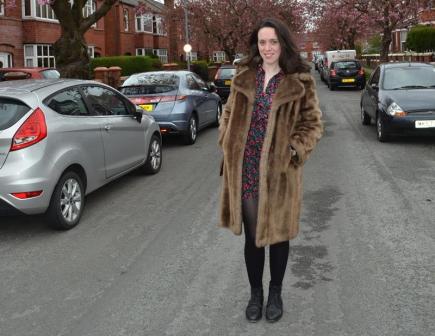 FUR-BULOUS! Faux fur coat from MM's top spot
On good days the rails are heaving with affordable vintage goodies that quicken the pulse and have you reaching for your wallet before you realise what you're doing… and they have a loyalty card scheme too.
It's the quality of goods, the reasonable prices and the charitable cause that has earned itself the accolade of being crowned number one in my top five.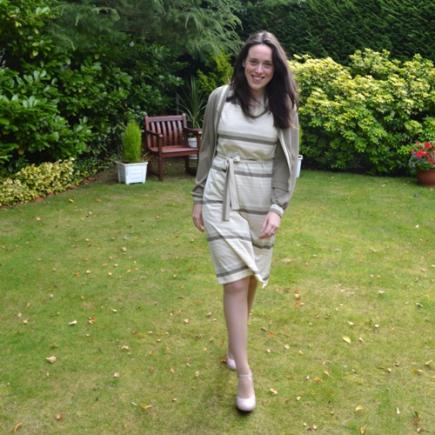 STRIPE-TACULAR: Riddella Modell suit from Salvation Army shop
To find a Salvation Army charity shop in your area click here.
What do you think? Do you think it's a fair top five or has it got your goat that I've missed off an absolute gem? Let us know in the comments section below.
You can find an extensive range of other vintage posts at Mancunian Vintage.