The death of Australian batsman Phillip Hughes last week left the world stunned, and the cricket community in grieving.
Hughes, who was struck in the head by a cricket ball while playing a match against New South Wales, was wearing a helmet at the time of the blow, but still sustained injuries which proved to be fatal.
MM took to the streets to find out whether Manchester think new measures should be brought in to ensure better protection for sport stars, to ensure their safety.
We asked you:
Do you think Phil Hughes' death could have been prevented by better protective headgear?
The general consensus on the streets was that Hughes' death was a tragic accident that could not have been prevented. However, some interesting suggestions were raised.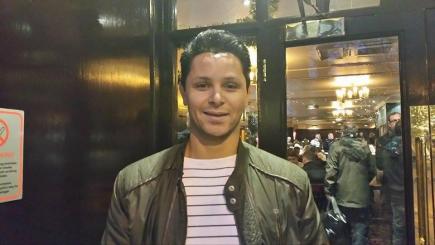 WE MUST DO MORE: David Paul feels cricketers need more neck protection
David Paul, 33, a plumber from Bury, feels that there should be a speed restriction on the ball.
He said: "I think they should have some more neck protection basically, something for the Adam's apple as well, and I think the head guard should go straight down all of their face. Every single match, and if you don't wear it, you get a fine.
"I think it'll happen again, because that ball weighs a lot, and maybe they should bowl slower. A speed restriction on the ball, maybe it'll make the game a bit longer, who knows?"
Natalie Harris, a 21-year-old student, said: "I'm not sure, because I think this cricketer was hit in the top of the neck, and I don't really see how they can really wear protective gear around that area and not stop them from playing the sport.
"I think cricketers go into the game knowing the risk, it's the same as rugby players. It's just an accident in the workplace, basically. I really just think that with these kind of sports, it's just a risk."
Tracy Clark, 47, a care worker from Manchester, said: "I know the bowler blamed himself but he shouldn't, because it's just one of those things that happen, but it's really, really sad. I think it is really sad. But it's like one in a million people that it happens to really."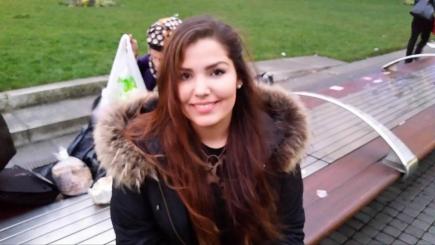 QUITE RARE: Inessa Williams said this was the kind of accident we don't hear of often
Manchester student Inessa Williams, 19, said: "There definitely has to be more precautions, but also the players themselves should sign something before they play, so there's nobody to blame if something like that happens because it's just going to create loads of complications.
"I've never heard of anything like this happening before, so it's quite new. I think that's because I didn't hear about it, people don't look into it that much because it doesn't happen all the time.
"There was really nothing that could have happened, I guess, it was just an accident."
Tristan Newins, a 27-year-old farm worker from Portsmouth, agrees that it was just a one off incident.
He said: "It was a freak accident, first one in a hundred years of cricket, hit him in a very peculiar area, it'd be very difficult, I play cricket myself, to protect that area of your neck, and there's probably one in a million chance of it hitting there and that accident happening.
"There was nothing that could have been done, as can be seen by the amount of press looking at like the bowler, no one's blaming anyone, it was just a freak accident, that's how I feel. With sports, there are risks whatever, so I feel you sign up to that when you turn professional."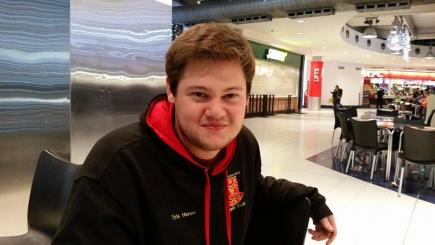 PART OF THE GAME: Chris Henne thinks the players know the risks involved when they step onto the field
American student Chris Henne, 22, thinks that the risks are part of the game.
He said: "I think when you play sports anyways, it's sort of a risk you take, you know the game, you know the risks you're associating yourself with, so if you agree to step on the field, I think you know the risks so I don't think you need more protection. It was just an accident, it could happen to anybody."
Pete Dennis, 52, from Bolton, said: "I don't really think that there was anything that would have stopped the cricketer getting hurt, you never hear of it happening and I don't think it'll happen again.
"It's just one of those shocking things, I feel sorry for the guys family, it must have been upsetting to watch, and now he's dead, and yeah, terrible."
Elaine Smith, a 44-year-old cleaner from Heywood, said: "It's shocking really. I think now that we know that it can happen to anyone, people will take note, but there's not really anything enforceable that can stop things like that happening.
"I mean he was wearing a helmet, but it happened anyway. Accidents happen at work all the time, but this was on TV and stuff because it was in sports, and it's not what you expect."
Sales assistant Alan Thompson, 30, said: "I've always thought cricket was a dangerous sport, I mean that ball's heavy and goes at some speed. I'm surprised there aren't more serious injuries. But if people decide to play it and take that risk, then that's up to them.
"I know they already wear some protective headgear, so there's not anything that could have changed what happened, and I think it was a one off, is was just really unfortunate."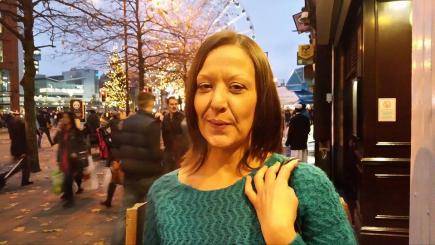 COULD HAPPEN AGAIN: Clare Coleman says just one tragedy like this should see precautions increased
Clare Coleman, 38, a shop manager from Coventry, said: "I definitely think there should be more precautions, I think there need to be some kind of neck guard further down the headline sort thing, I don't know, I'm not really sure.
"It could have been just a freak accident, but it's happened once, and it could happen again can't it? I'd like to see more protective clothing like they do in America, like American football."
Main image courtesy of Adam Kamran, with thanks.