Manchester is famous throughout the world for its musicians and footballers.
But if the word is uttered in countries like Cambodia, Iraq or Afghanistan a native might be more likely to respond with the word 'MAG' than 'Man United'.
MAG stands for the Mine Advisory Group, a Nobel Peace Prize-winning international charity based in the heart of the city on Peter Street.
The charity works in conflict-affected areas around the world striving to help communities reclaim land contaminated by mines and munitions.
International Communications Manager Sean Sutton is proud of his involvement with the organisation.
But he conceded that, for those who do not live in places where landmines pose significant a threat, the situation facing people in countries like Cambodia must be a difficult one to contemplate.
"Imagine if you were living in a village where you knew there were landmines and that your kids were at risk from landmines," he said.
"It's very hard for us to imagine that scenario. It would perhaps be like living on the very edge of the M6 without a fence!"
This year is MAG's 25-year anniversary and to mark the occasion they are holding a special event this Friday at Spinningfields as part of the United Nations' International Landmine Awareness day, which falls on April 4 every year.
Entitled 'Spinningfields Clears Minefields', the event aims to give visitors a unique insight into the work MAG does around the globe by converting 'The Lawns' into a virtual minefield.
Visitors will be able to try on and use the specialist equipment deployed by MAG to detect mines in what promises to be a fully-interactive experience.
There will also be interactive demonstrations from MAG staff, who will also be on-hand to provide anecdotes from their experiences in the field in countries such as Vietnam, Angola and Iraq.
The purpose of the event, which will take place from 8:30am until 6:00pm, is to raise awareness of the problems caused by landmines as well as MAG's work as a charity.
Despite their worldwide reputation following a quarter of a century of nullifying landmines MAG is still a relatively unknown entity in its home city.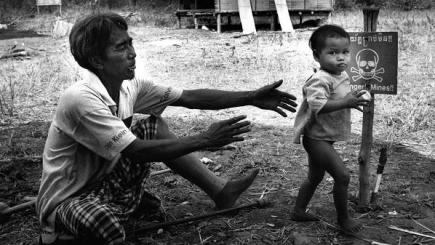 ON DANGEROUS GROUND: Cambodian families have no option but to live around minefields (©Sean Sutton with thanks)
This is something that the organisation's photographer Sean finds hard to believe.
"People know us and recognise us in all the countries we work in because we are a pivotal part their life and survival, but here we are not known and it is bizarre and it is a shame," Sean told MM.
"Hardly any international charity organisation is based in Manchester. We are quite unique and that is something we hope people would realise as well and be interested in supporting a locally-based organisation that does work all around the world.
"This day will help us communicate that; if you lived in the middle of a contaminated area, you would do everything you could to clear it and make the children safe."
Sean first came across the issue of landmines and the problems they cause while working as a media photographer in areas of conflict before joining MAG in 1997.
In his experience, he believes children are a specific cause for concern – stating that every day a child is killed or injured by a landmine.
"Children often look after animals and herd cattle and goats across land in other countries, so that also makes them particularly vulnerable," he said.
"But the biggest thing really is that children are naturally inquisitive, kids over here might find something in the woods and mess around with it.
"Kids in the countries we work in might find something that could kill them."
Throughout its 25 years, MAG has saved millions of lives and revitalised communities enabling previously-contaminated land to be used for farming or even just as a place for children to play.
The sheer quantity of land MAG has decontaminated is such that it is the equivalent to a one-metre-wide strip that could fit around the earth 130 times.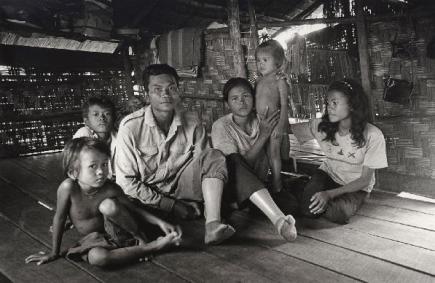 TRAGIC: Landmines have affected both parents of this family in Cambodia (©Sean Sutton with thanks)
After nearly two decades of personal involvement with MAG, Sean focused on the story of one particular husband and wife who he met in Cambodia to illustrate the positive impact MAG's work has on future generations.
"When I visited Cambodia, the people there were forced to actually live in the middle of minefields because of land rights," said Sean.
"If they didn't go back to their villages, they couldn't use other land because they'd have to pay somebody to use the land and they didn't have any money.
"Secondly, they knew if they didn't get back to their land somebody else would take it.
"They'd knowingly live in areas of contamination and they'd live in fear.
"One day, the husband of a family I met was walking to the rice field and a few hundred metres from their house he stood on a mine, he went to hospital and had an amputation.
"Six weeks later, he returned to the village and asked his wife if she could go and get him some medicine for his pain.
"So she went to a neighbour's house, got some medicine and on the way back just a few metres from their house she stood on a mine.
"She said to me: 'I took the medicine instead of him because I needed it more'.
"The couple told me they were the poorest family in their village of Chisang because neither parents could work as hard as others, due to their injuries.
"But they said the biggest thing for them was their children and their future and that if MAG hadn't come and cleared the area it would be a very different scenario.
"So it was a message of happiness in a way, despite the sort of tragic scenario they found themselves in, at least their kids were not going to stand on a mine going to school."
In all his years of involvement with MAG, Sean admits he never tires of seeing communities flourish after their land is cleared.
Already known across the world, MAG is looking to make a name for itself on these shores ahead of International Landmine Awareness day.
"Without this work people would be doomed in so many places," Sean added.
To find out more about MAG and Friday's 'Spinningfields Clears Minefields' event, visit MAG's website.